Sony Cyber-shot DSC-WX10 Review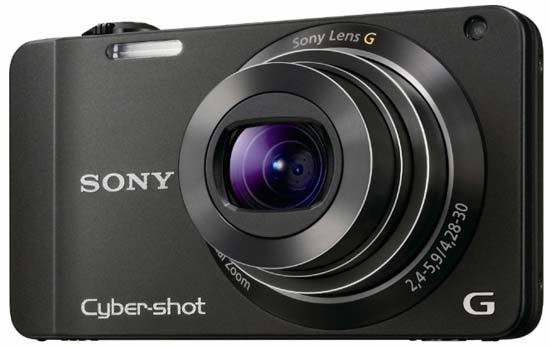 Introduction
The Sony DSC-WX10 is a stylish new compact camera with a vast array of advanced features. The WX10 has a 16.2 megapixel Exmor R CMOS sensor for better low noise performance, 1080i Full HD movie recording, 7x optical G Lens with a 24mm wide-angle setting and f/2.4 maximum aperture, and a 2.8 inch LCD screen. Also on offer are 3D Sweep Panoramas and 3D still images, high resolution panoramas, Superior Auto mode which combines up to 6 images to reduce noise and maximise dynamic range, 10fps continuous shooting, and Background Defocus mode to create portraits with a smoothly defocused background. The Sony DSC-WX10 is available in silver or black and costs around £279.99 / $279.99.
Ease of Use
Sony is well known for its pocket-sized Cyber-shot point and shoots majoring heavily on style, and the latest upgrade in the (familiar, rectangular) shape of the DSC-WX10 wisely refuses to buck that trend. We had the metal fronted, champagne-coloured option in for review (as opposed to sober black), and upon raising this unashamedly eye-catching example out of its box it's clear it has the requisite wow factor.
In good light our champagne WX10 almost resembles a bar of precious metal, feeling solid in the palm and boasting a weight of 126g with battery and card loaded plus portable, pocket sized dimensions of 95x53.5x23.3mm. Suggested UK pricing was £279 at the time of writing, which, while not cheap, going by first impressions at least seems fair.
Updating last year's WX5, the WX10 is not mere exterior gloss however; it boasts a feature set that includes nearly all of the latest must haves. A 'SteadyShot' image stabilized 7x optical zoom and retractable lens with a 24-168mm (35mm equivalent) focal range plus bright-ish f/2.4 maximum aperture feature alongside Full HD video in AVCHD format (with the additional option of MPEG4 capture). The camera can be connected up to your flat panel TV via HDMI output hidden under a side flap, though the necessary lead is an extra cost. USB lead, a mains plug and adapter unit so that the battery card be charged in camera are all provided however.
We additionally get a 16.2 effective megapixel maximum stills resolution from a 1/2.3-inch Exmor R CMOS sensor totaling 16.8MP, suggesting as with the WX5 the possibility of a decent low light performance from the WX10 despite that high pixel count and small-ish chip dimensions. ISO sensitivity runs from ISO100 up to ISO3200. Continuous shooting at up to 10fps at full 16MP resolution further indicates we should expect big things from the WX10 in the performance stakes. Indeed its maker is making a point of the camera's 'DSLR-like speed', suggesting that its lightning fast focusing is down to an audio speaker-style magnetic coil used to provide a 'back and forth' (rather than rotational) motion.
With stills and video composed and replayed via 2.8-inch LCD screen with a respectable 460,800-dot resolution and presented in 4:3 aspect ratio as default, recording is to removable SD, SDHC or SDHC media with the further option of using Sony's proprietary Memory Stick Pro Duo card for existing Cyber-shot owners. The WX10 certainly has most angles covered.
As well as being a stylish addition to Sony's Cyber-shot family, the DSC-WX10's predecessor in the WX5 was probably most notable for being the first, along with the TX9 (now also superceded by the TX10), to introduce Sony's 3D Sweep Panorama function to the range. This features again on the WX10 and automatically stitches together a rapid-fire sequence of images to produce one elongated stereoscopic one. Great if you own a 3D TV, the funny specs and want to generate your own content - and seeing friends and family on screen in 3D does have a certain wow factor and emotional draw.
| | |
| --- | --- |
| | |
| Front | Rear |
Also making a re-appearance within the same 3D shooting mode setting is the in-camera 'multi angle mode' allowing a shorter burst of 15-shots to be viewed lenticular-fashion, so with the illusion of 3D if you tilt the camera from side to side.  New this time around though, and also featuring on the WX10's TX10 sibling, is a further stereoscopic option in 3D still image mode. Just like on the WX10 this takes two consecutive shots - for the left eye and right eye - and combines them for the full brain-fooling effect.
Though we can't yet shoot James Cameron style 3D movies with the WX10, 2D moving footage is given almost as much prominence as stills on this Cyber-shot. A red record button marked 'movie' features at the top right hand corner of the Sony's backplate where it readily falls under the thumb as you grip the camera right handed.
By contrast at the front there's no handgrip to stop fingers slipping, just in practice the slightly raised and rough surfaced 'Sony Cyber-shot' logo. Movie capture has been further enhanced with a dual recording mode which allows low-resolution stills to be captured in the midst of filming, but for those looking to concentrate purely on making the most of their stills rather than gimmicks, background defocus and backlit-correcting HDR (High Dynamic Range) options further feature (under the scene options) to lift the WX10 above your average happy snapper. In many ways the WX10 is very similar to the TX10, the notable exception being that this camera isn't waterproof, shock or freeze proof.
Though the WX10 may look sophisticated and impressively so from the front, at the back the controls are rather more plastic-y and simplified, as well as being on the regulation-issue small side. Included here alongside the familiar dime-sized shooting mode wheel and multi directional control pad is a button marked with an enigmatic '?' which, as on the TX10, provides access to an in-camera help manual in capture mode. This allows for keyword searches as well as providing a basic feature overview and offering a degree of trouble-shooting. In review mode the same control doubles up as a delete button.
Those giving this a press might be doing so to find out why the camera includes two auto shooting modes - Superior Auto and intelligent auto - alongside the regular Program auto option. Also getting dedicated settings on the shooting mode dial are, slightly surprisingly, a manual shooting mode (allowing for adjustment of shutter speed and aperture value with subsequent presses of the unmarked 'OK'-type button in the midst of the familiar control pad), 'intelligent' Sweep Panorama, video (in addition to that dedicated record button), a grouping of 3D shooting options plus separate scene modes, which we've touched on.
| | |
| --- | --- |
| | |
| Front | Top |
You don't actually have to have the dial turned to video to begin filming - at which point the screen display is cropped to 16:9 widescreen format - a press of the aforementioned button will do it. Fortunately the optical zoom can be utilized when shooting video, but it's far slower to move through its focal range than when framing up a still image instead - no doubt to cut down on any distracting mechanical buzz as the lens makes its physical adjustments. Incidentally, if you do switch from AVCHD format recording to alternative MPEG 4 recording (via the set up menu), resolution also drops from 1920x1080 pixels to a maximum 1440x1080 pixels, though this isn't perhaps as obvious as it should be, and is only apparent if then going back and taking a look at the video option on-screen settings toolbar.
At the front the 24-168mm equivalent in 35mm terms, f/2.4 to f/5.9 Sony 'G' series lens unsurprisingly dominates proceedings, top right of which is a tiny porthole housing the AF assist and self-timer lamp. Over at the other side of the optic is one of the narrowest windows housing a flash we've ever witnessed on a digital camera; not only does this mean that in-camera flash looks almost embarrassed to be featured at all, it also means that it has the potential to be at least partly obscured by a stray finger when gripping the WX10 in the right hand. A sloping edge to the left hand side of the faceplate - when viewed lens on - seems to be there pretty much for show only, as when our fingertips attempted to get some purchase they ended up merely slipping about.
The top of the camera meanwhile features a raised and obvious shutter release button encircled by a chunky lever for operating the optical zoom, which there's equally no mistaking. To the left of this is a lozenge shaped power button recessed into the top plate to prevent accidental activation. Give this a press and the DSC-WX10 readies itself for the first shot in around two seconds, lens extending from flush to the body and LCD screen blinking into life accompanied by an audio flourish. A lamp next to the on/off button briefly illuminates in green at the same time, if only to further indicate the device is actually working.
Also on the top plate are holes housing left and right stereo microphones - another welcome feature at this price - and, set just back from them at the far edge, we find a third hole housing the built-in mono speaker. Once up and running the WX10 is as responsive as hoped for. Give the shutter release button a half press and focus and exposure are determined almost as instantly as your finger finds that half way point, AF points highlighted in green with a beep of affirmation that the user is free to go ahead and take the shot. Do so and with negligible shutter delay a full 16MP resolution JPEG is committed to memory in just over two seconds. The screen blanks out briefly before freezing to show the image being saved.
So far, so straightforward and so it continues on each flank of the camera; one side being devoid of any features whatsoever whilst the opposite end incorporates a covered HDMI output port and a lug for the attachment of a wrist strap. USB and AV output is alternatively provided via a joint unprotected multi-connector port at the WX10's base.
| | |
| --- | --- |
| | |
| Memory Card Slot | Battery Compartment |
The base also houses the rechargeable lithium ion battery, which is charged in-camera. Battery life is good for 360 shots according to CIPA standards. Alongside the battery and protected by the same sliding cover, is a joint use slot for either SD card or Sony's own proprietary Memory Stick Pro media, whilst over at the far end of the base (rather than dead centre) is a screw thread for fixing the Sony to a tripod if so wished.
The back of the WX10 is probably the most conventionally featured and set out, as we've already touched on. Camcorder style record button, dime shaped shooting wheel and camera manual button aside, also here is the four way control pad unobtrusively encircled by a scroll wheel, with playback button sitting just above and menu button just below.
Ranged at north, east, south and west around the pad are a means of adjusting the display, working through the flash settings (on, off, auto, slow sync, with red eye reduction selected from amid the set up menu), calling up self timer options (10 or two seconds, or activated when one or two faces are detected), and lastly switching drive modes, from single shot to continuous capture or a triple shot bracketing option. A press of the display setting meanwhile can add a live histogram to the basic screen info for those who want to watch out for clipped highlights or potentially lost shadow detail.
Beneath the WX10's command pad, as on its WX5 predecessor we find a menu button situated next to a tiny delete button. A press of 'menu' and a toolbar appears down the left hand side of the WX5's screen, with white icons presented against a black background. It's here we get to adjust image size and image ratio, from the full 16 megapixels in 4:3 ratio down to 12 megapixels or two megapixels if opting for 16:9 instead, exposure compensation (+/- 2EV), ISO sensitivity settings (from ISO100, rather than its forebear's ISO125, up to ISO3200), plus white balance, focusing (multi AF, centre AF, Spot AF, semi manual or manual AF via an on-screen slider bar) and metering (multi, centre and spot) settings. Smile shutter, exposure bracketing and face detection options are further available on the same toolbar.
While the WX10 may offer more than one might expect from a sub-£300 snapshot and be especially enticing if low light shooting or stereoscopic snaps are your bag, how does it measure up in practice? Do the images it provides match the gloss of its showy exterior, or suggest that gimmicks have been placed ahead of end results? Read on to find out.