Sony Cyber-shot DSC-WX10 Review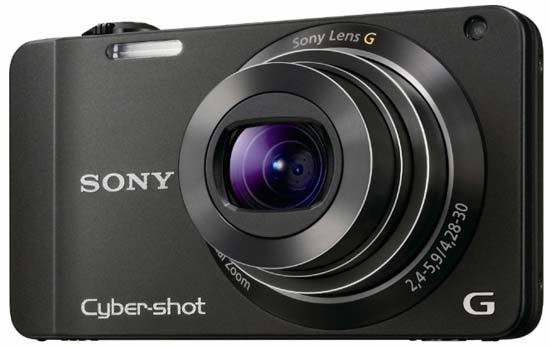 Image Quality
All of the sample images in this Review were taken using the 16 megapixel JPEG setting, which gives an average image size of around 5Mb.
Compared with a £100 snapshot (such as the Pentax S1 we were looking at alongside this), pictures from the WX10 appear impressively sharp and detailed for what is still a point and shoot model with a smallish lens and sensor yet a high pixel count. Even on default setting, colours are realistically vibrant, with reds, greens and blues 'singing' in particular. At times, when shooting on Superior Auto setting, the camera's desire to maintain both shadow and highlight detail within the same shot can result in pictures verging on appearing a little washed out and lacking in contrast, but it's easiest enough to twist the dial around to intelligent auto, program auto or manual if this proves to be the case. The idea is to get results straight from the camera that require little if any adjustment, and for the most part that is exactly what the WX10 delivers.
Though pixel fringing can occasionally be found if you're really looking for it, images are ever so slightly soft when shooting handheld at the telephoto end of the zoom even in broad daylight and extreme wide angle shots can result in converging verticals, none of the above is either a surprise nor a deal breaker. Moreover edge-to-edge sharpness is well maintained.
In terms of lower light performance as we make our way up the ISO settings, we were able to get usable results up to and including its top manually selectable ISO3200 setting, which is no mean feat. Of course, as we found with its WX5 predecessor here is some noise visible - inevitably perhaps - at this top setting and a slight smudging of detail. But as we say, this is relatively slight. Overall then a very good showing, and an option for those who want a reliable snapper to slip into a top pocket and take out with them for the evening.
Noise
There are 6 ISO settings available on the Sony CyberShot DSC-WX10. Here are some 100% crops which show the noise levels for each ISO setting.
| | |
| --- | --- |
| ISO 100 (100% Crop) | ISO 200 (100% Crop) |
| | |
|   |   |
| ISO 400 (100% Crop) | ISO 800 (100% Crop) |
| | |
|   |   |
| ISO 1600 (100% Crop) | ISO 3200 (100% Crop) |
| | |
Sharpening
Here are two 100% crops which have been Saved as Web - Quality 50 in Photoshop. The right-hand image has had some sharpening applied in Photoshop. The out-of-the camera images are a little soft and ideally benefit from some further sharpening in a program like Adobe Photoshop. You can't change the in-camera sharpening level.
| | |
| --- | --- |
| Original (100% Crop) | Sharpened (100% Crop) |
| | |
|   |   |
| | |
Chromatic Aberrations
The Sony CyberShot DSC-WX10 handled chromatic aberrations very well during the review, with limited purple fringing present around the edges of objects in certain high-contrast situations, as shown in the example below.
Example 1 (100% Crop)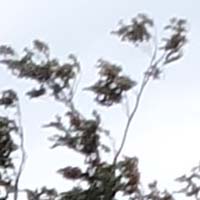 Macro
The Sony CyberShot DSC-WX10 offers a Macro setting that allows you to focus on a subject that is 5cms away from the camera when the lens is set to wide-angle. The first image shows how close you can get to the subject (in this case a compact flash card). The second image is a 100% crop.
| | |
| --- | --- |
| Macro Shot | 100% Crop |
| | |
Flash
The flash settings on the Sony CyberShot DSC-WX10 are Auto, Forced Flash, Slow Syncro, No Flash, with a Red-eye Reduction option in the Main menu. These shots of a white coloured wall were taken at a distance of 1.5m.
| | |
| --- | --- |
| Suppressed Flash - Wide Angle (24mm) | Forced Flash - Wide Angle (24mm) |
| | |
|   |   |
| Suppressed Flash - Telephoto (168mm) | Forced Flash - Telephoto (168mm) |
| | |
And here are some portrait shots. Neither the Forced Flash setting or the Red-Eye Correction option caused any red-eye.
| | |
| --- | --- |
| Forced Flash | Forced Flash (100% Crop) |
| | |
|   |   |
| Red-eye Reduction | Red-eye Reduction (100% Crop) |
| | |
Night Shot
The Sony CyberShot DSC-WX10's maximum shutter speed is 2 seconds, which is not good news if you're seriously interested in night photography. The shot below was taken using a shutter speed of 1/30th second at ISO 400.
| | |
| --- | --- |
| Night Shot | Night Shot (100% Crop) |
| | |
Sweep Panorama Mode
The Sony Cyber-shot DSC-WX10 allows you to take panoramic images very easily, by 'sweeping' with the camera while keeping the shutter release depressed. The camera does all the processing and stitching and now even successfully compensates for moving subjects. The main catch is that the resulting image is of fairly low resolution.