Sony Cyber-shot DSC-WX5 Review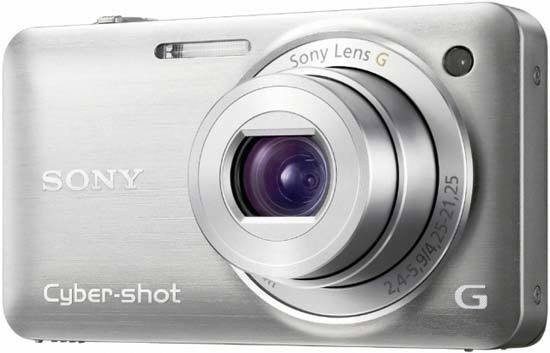 Introduction
The Sony DSC-WX5 is one of the first Cyber-shot compact cameras to offer 3D Sweep Panoramas. In addition the WX5 also features a 12.2 megapixel Exmor R CMOS sensor for better low noise performance, 1080i Full HD movie recording, 5x optical G Lens with a f/2.4 maximum aperture, 2.8 inch LCD screen, Superior Auto mode which combines up to 6 images to reduce noise and maximise dynamic range, and Background Defocus mode to create portraits with a smoothly defocused background. The Sony DSC-WX5 is available in silver, black, bronze or violet and costs around £225 / $300.
Ease of Use
Stylish point and shoot cameras are two-a-penny, so what's the hook with this one, being as diminutive as Nikon's Coolpix S5100 if marginally broader in depth? Well, Sony's 12.2 effective megapixel, 5x optical zoom Cyber-shot DSC-WX5 is notable, along with the DSC-TX9, for introducing the 3D Sweep Panorama functionality first seen on its NEX compact system cameras to the snapshot Cyber-shot range.
This means that anyone of us who can manage to sweep the well-made camera in a continuous arc can now take software-enhanced, elongated 3D snaps combining up to 100 sequential images to create one stereoscopic frame, although, again, the results are only viewable in 3D with a suitably equipped TV or monitor. The 3D pictures generated are saved as MPO files alongside the 2D JPEGs. On the camera's screen and when downloaded to a regular desktop, the results are distinctly flat and 2D. So in that respect Fuji's FinePix W3 with its lenticular screen display (not to mention its 'true 3D' twin lens and sensor set up) still has the advantage for those looking to create pure 3D content, and view it in situ. Nevertheless, when viewed on a large screen the Sony's results are impressive and fun in their own right, the depth drawing you into the image, which is surely the effect every photographer wants to have on their viewer.
And, fortunately for those of us who don't yet own a 3D-equipped viewing device, Sony has provided a compensation of sorts in another new feature introduced on the WX5 and TX9 in Sweep Multi Angle, also located with a twist of the rear plate shooting mode dial to the '3D' option. This combines a high-speed burst of 15 frames to provide a shorter panorama with a lenticular effect visible if tipping the camera from side to side. Of course if you hook the camera up to your TV when doing so there's the opportunity to experience the same effect on your regular 2D set. This second option in practice we found much less satisfying than the first and more of a gimmick, though nice to have a fallback if you haven't got that 3D set. We also get regular 2D intelligent Sweep Panorama mode of course, fast becoming a standard feature across the Cyber-shot range.
In fairness, creating multi dimensional media isn't the WX5's main thrust, and we can't imagine you'll be shooting 3D panoramas all day. In this respect the feature is perhaps better viewed as a fun little extra on a portable and easy to use pocket snapshot that also includes a bright and clear 2.8-inch, 4:3 aspect ratio, high 460,800-dot resolution LCD screen for framing and reviewing shots. In the expected absence of any optical viewfinder, the user is totally reliant on the WX5's backplate LCD for composition and review, so fortunately it proves an adequate tool.
| | |
| --- | --- |
| | |
| Front | Rear |
Among the headline features we also get an Exmor R CMOS sensor, first introduced into Sony's DSLR range, plus one touch Full HD 1080i video recording, Auto Focus tracking and up to 10 frames per second burst capture. The WX5 looks and feels the part too, thanks to its attractively brushed metal faceplate – although the big and obvious backplate buttons do let it down a little – and is overall small but robustly constructed, HDMI connectivity further provided with the requisite port hidden under a plastic flap to the side, while standard output is via unprotected port at its base. Official camera dimensions are 91.7x51.9x21.5mm, while the WX5 weighs just 130g without battery and card, so is marginally heavier in the palm than the Cyber-shot T99 we were testing alongside it in that respect.
To facilitate hand held shooting and cut down on instances of blur that 5x optical zoom is image stabilised and with a helpfully versatile focal range equivalent to a wide angle 24-120mm in 35mm terms it offers the ability to take in landscapes as well as pulling distant subjects closer, despite the distinct lack any handgrip. We were pleased to discover that the optical zoom can also be accessed during recording, with any mechanical noise as it makes transitional adjustments going almost unnoticed. The fact that the lever for the zoom has a ridged and rough upper edge helps prevent your finger slipping off it as you toggle left and right to zoom out or in respectively. There's no concession to a handgrip on this camera though, and its surfaces are distinctly slippery. The rear screen then perhaps inevitably attracts a fair share of finger and thumbprints as you try to hold it steady.
If you're using a tripod for best effect and consistency then, other goodies worth retrieving from under the WX5's bonnet include Superior Auto Adjustment mode which combines exposure information from a sequence of up to six images to produce one low noise, high dynamic range shot, whilst a new background defocus option combines two images to simulate the effect you'd get from a DSLR and a wide aperture, most effective when shooting a portrait. Both options are found ranged around the shooting mode dial, situated beneath the dedicated movie recording button top right of the backplate. Again, the differences between what we achieved shooting in regular intelligent auto mode on the Sony and results in Superior Auto mode were quite subtle, even when shooting the same subject and comparing the two images side by side, so like the 3D option you probably wouldn't buy the camera for this feature alone.
Nevertheless, its little extras such as the above which suggest that the WX5's official manufacturer's asking price of around £229 at the time of writing isn't actually that bad a deal.
| | |
| --- | --- |
| | |
| Front | Top |
Further indicating that there's more to this camera than just an attractive fascia are the large and obvious shutter release button encircled by a zoom lever and twin stereo microphones mounted into its top plate, plus dedicated drive mode button (for switching between single and burst mode capture), HD AVCHD insignia and bright f2.4 lens for (theoretically better) lower light shooting without flash. Power up the camera and with rear screen bursting into life and lens pulsing forward from its storage position flush to the body and the WX5 readies itself for the initial capture in all of two seconds; no match for a DSLR but quick enough to ensure most of the time you'll get that shot you saw in your mind's eye.
A half press of the shutter release button and focus and exposure is determined in a further second, AF points highlighted in green. Press down fully to take the shot and a full resolution JPEG is written to either SD card or Sony's own Memory Stick Pro Duo, with the two sharing the same narrow slot at the base. The process takes around two to three seconds; average in this class of camera then.
As indicated, it's the backplate of the WX5 where most of the camera's attractions lie. This isn't one of Sony's touch screen models so naturally we get a physical shooting mode wheel, the sizde of a half pence piece, with its not one but two intelligent auto settings, plus program, Sweep Panorama, movie and 3D settings, 14-strong scene selection options plus, interestingly background defocus option for anyone looking to ape DSLR type results with their portraiture. It's fair to say however that a snapshot camera such as this can really only deliver snapshot quality, and, if you do truly want superior quality, stick with a DSLR or one of the high performance compact models, such as the Panasonic LX5, Samsung EX1 et al. Using in-camera software fixes such as Superior Auto adjustment mode to preserve detail in both shadows and highlights for a shot with an increased dynamic range, can result in slightly washed out images that appear as if someone has overdone it with the Curves tool in Photoshop.
Beneath the shooting mode wheel we find a dedicated playback button squeezed between this and the four-way control pad immediately below. Ranged around this multi directional pad are a means of altering both screen brightness and the amount of information provided thereon, via the self-explanatory 'disp' (display) option at twelve o'clock on the dial. Continuing clockwise around the pad we find a means of adjusting the provided flash settings, though red eye reduction is not among them, merely auto, on, slow sync or off. Red eye reduction is, instead, turned on or off by delving into the set up mode proper, which requires a bit of hunting around the first time one comes to use the flash. Bottom of the pad we find two or ten second self timer options, plus the ability to set the self timer running when the camera detects one or two faces in the frame; again a useful tool when taking self portraits. At nine o'clock on the pad meanwhile is Sony's familiar smile shutter option – the camera automatically firing the shutter when a grinning face is detected.
| | |
| --- | --- |
| | |
| Memory Card Slot | Battery Compartment |
Beneath this pad we find a menu button situated next to a tiny delete button. A press of 'menu' and a toolbar appears down the left hand side of the WX5's screen, with white icons on a partly translucent white background. It's here we get to adjust image size and image ratio, from 4:3 down to 9 megapixels or two megapixels if opting for 16:9 instead, exposure compensation (+/- 2EV), ISO sensitivity settings (from ISO125 up to ISO3200), plus white balance, focusing (multi AF, centre AF or Spot AF) and metering (multi, centre and spot) settings.
Whilst one flank of the camera is devoid of any features entirely, the other includes a loop for attaching a wrist strap, plus the aforementioned HDMI connection, although the actual lead wasn't included with our review sample.
The bottom of the WX5 then includes a trap door with sliding catch, beneath which is revealed the shared compartment for both battery and media card. A screw thread for a tripod is ranged right over to one side of the camera, rather than featuring dead centre or directly below the lens.
Battery life here is good for an official 230 shots from the WX5. That's unremarkable but par for the course within its price bracket and within the point and shoot sector of the market.
And so, what of the images that the WX5 is capable of producing… does it transcend its snapshot status and do combination of quality sensor and brighter than average lens produce notably better results than humbler alternatives? Read on to discover for yourself…