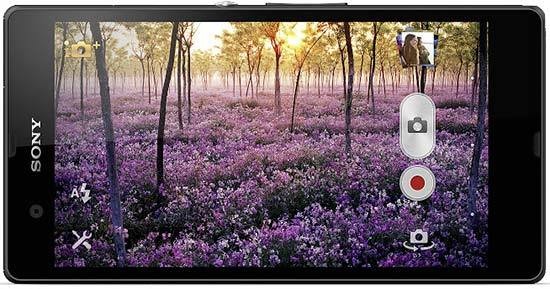 Introduction
The Sony Xperia Z is a feature-packed smartphone with lots of features aimed at the more discerning mobile photographer. Offering a 28mm equivalent fixed lens with a fast aperture of F2.2, the water-resistant and dust-proof Xperia Z also boasts a 13 megapixel Exmor RS image sensor, full 1080p high-definition video recording, a high resolution 5 inch LCD screen, 10fps continuous shooting, a built-in flash, Geotagging, High Dynamic Range mode, Sweep Panoramas and nine creative Picture Effects. The Sony Xperia Z is available now for around £530 / $775.
Ease of Use
The Sony Xperia Z smartphone features many of the technologies that have been featured in recent CyberShot cameras. In this review we're going to focus on what the Xperia Z offers photographers and find out if it can replace a conventional compact camera.
The Xperia Z is a large but slim and light smartphone that just about fits into a trouser or jacket pocket. It has an all-glass design that's both water-resistant (up to 1 meter) and dust proof, useful if you routinely expose your camera to the elements. The lens is a 28mm equivalent optic with a fast maximum aperture of f/2.2, alongside which is a small built-in flash that's not very powerful.
The Xperia Z uses the Micro SD memory card format, with a slot so annoyingly deep that we resorted to using a key to insert and release it. There's no physical shutter release button, instead replaced by a large soft version on the Xperia Z's impressive 5 inch LCD screen, with a smaller one-touch movie record button underneath. There are buttons for operating the digital zoom, but we wouldn't recommend using them as the image quality quickly deterioates the more you zoom in.
The combination of the wide-angle lens, f/2.2 aperture, effective built-in image stabilizer and maximum ISO speed of 1600 makes this smartphone better suited to hand-held low-light photography than most other comparable devices. There's no means of gripping the Xperia Z the front or rear, making it a little difficult to get to grips with, especially since its glass body is very smooth. Also, because the lens is very close to the edge of the body, you have to be careful not to let your left forefinger stray into the frame.
| | |
| --- | --- |
| | |
| Front | Apps Menu |
Press the small On/Off button on the side and the Sony Xperia Z quickly readies itself for action in under a second. You then have to select the camera icon to access the Xperia Z's camera app, which takes another second or so. We'd describe the general performance of the Xperia Z as snappy, with little waiting around for the camera to take a picture - its certainly just as responsive as the majority of compacts that we've reviewed.
By default the Xperia Z uses the Superior Intelligent Auto shooting mode. This works in virtually identical fashion to the intelligent auto modes of Panasonic's and Canon's compact ranges. Simply point the Xperia Z at a scene or subject and the camera analyses it and automatically chooses one of the pre-optimised settings to best suit. It also places emphasis on reducing blur and noise and increasing the dynamic range. It does such a good job that we used this mode for a lot of our shooting.
Face recognition and smile shutter functionality are also on board, the former mode biasing human faces in the frame and the latter mode firing the shutter when it detects a smiling subject. The Face Detection system automatically adjusts the focus, exposure and white balance for people in the frame, and can even be set to distinguish between children and adults. Smile Detection offers three self-explanatory options, Big, Average and Small. Used in conjunction, the Face and Smile Detection systems do result in more hits than misses, especially in contrasty lighting conditions, although all those smiling faces could ultimately freak you out a little!
| | |
| --- | --- |
| | |
| Image Displayed | Turned On |
The Normal shooting mode provides the full range of camera options and additionally allows you to change settings like the ISO speed and metering. The proven Sweep Panorama mode lets you capture a panoramic image very easily without the use of a tripod. All you need to decide is whether you would like to start from left or right, top or bottom. Then press and hold down the shutter release while doing a "sweep" with the camera in hand. Exposure compensation is available before you start the sweep, but the exposure is fixed once you depress the shutter button. After you are done with the sweeping, the camera does all the processing required, and presents you with a finished panoramic image. Note that if you do the sweeping too slowly, or you let go of the shutter release button too early, the panorama will not be completed.
Sony's long-standing HDR function is present to help even out tricky exposures, for example where a bright background would normally throw the foreground into deep shadow. You can see from the examples on the Image Quality page that this feature produces a photo with noticeably more dynamic range than one taken using one of the standard shooting modes, but at the same time without replicating the often "false" look of many HDR programs. It also usefully works when shooting video too.
Go on to take the shot and JPEG images are quickly committed to memory in a single second, the screen momentarily blanking out and then displaying the captured image before the user can go on to take a second shot. The Sony Xperia Z can shoot 9 megapixel 16:9 ratio pictures at up to 10fps, a very fast rate for a smartphone.
| | |
| --- | --- |
| | |
| ISO Menu | Settings Menu |
The Xperia Z can also shoot High Definition video clips at full 1080p HD with stereo sound plus the ability to change the Scene mode, self-timer, focus mode, exposure level, white balance, metering, image stabilizer and HDR options. The various options are 1920x1280, 1280x720 or 640x480 pixels in the MP4 format, all at 30fps. During video recording you can take a 1 megapixel still image by pressing the on-screen shutter button.
There's a small icon for playing back your images in the top-right of the screen. Users have the ability to dip in and out of created folders of images or the calendar view, view thumbnails, select slideshows and choose transitional effects and accompanying music, share or delete shots. There are also a multitude of in-camera eidting tools and retouching effects, including the ability to crop and sharpen an image and apply red-eye correction.
We're impressed by the Xperia Z's handling and repsonsiveness - it feels just like using a modern compact camera with a well-implemented touch-screen interface. Now let's take a closer look at its image quality...