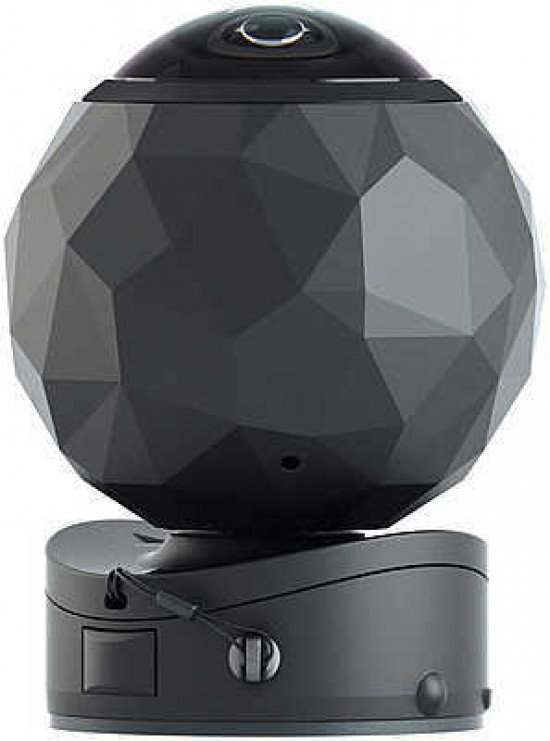 The 360fly is a new action camera that offers an angle of view of 360° horizontally and 240 degrees vertically. The camera features an acceleration sensor and orientation-identification, an image stabiliser, a multiple-element f/2.8 lens and a CMOS image sensor with a resolution of 1,504 x 1,504 pixels. Videos are stored in the unit's integrated 32GB internal memory. The 360fly communicates with Android and iOS devices over Bluetooth and WiFi. The camera will be available in January 2016 at an SRP of £429.
Press Release
Changing the Game for Actioncams: Spectacular 360-degree panoramic recordings with 360fly
The 360fly is the first actioncam that records everything exactly as it happens. Up until now this was only possible with a costly, ring-like setup of several cameras running on complex software, now the 360fly gives panoramic 360-degree recordings with one single actioncam, making this experience available for any occasion, be it the family holidays or extreme sports.
Sturdy design, waterproof up to 35 meters
360fly is able to withstand rough outdoor conditions and is waterproof up to 35 Meters when the microphone is locked. The actioncam is standardized following the protection rating IP67 - meaning that it is not only suitable for under water recordings but for situations involving lots of dust as well.
High-end multipart lens for unique HD-recordings
360fly records your experiences from any angle and perspective. It offers 360 degrees horizontally and 240 degrees vertically. A three-axis-sensor including acceleration sensor and orientation-identification provides excellent images. An image stabilizer reduces vibrations reliably. Spectacular recordings even at demanding lighting conditions are provided by a high-end multipart lens with an aperture of F2.8. A 2.26 CMOS image sensor enables recordings of a resolution up to 1,504 x 1,504 pixels. The integrated microphone records the sound. All videos are being stored directly on the 32 Gigabyte internal memory (two hours of recording capacity); the battery provides approximately two hours of power.
Controls, editing and export via Android and iOS app
Thanks to the free 360fly app an Android or iOS mobile device is an integral part of the camera system. Communication is established via WiFi or Bluetooth. The 360fly app turns a smartphone or tablet not only into a viewfinder but works as a remote control as well and offers options for video editing. Sharing your 360-degree recordings and experiences directly is possible at the push of a button for compatible social networks. On top of that the panoramic videos can be scaled down to standard 16:9 format or to a still image.
Safe grip almost anywhere – thanks to QuickTwist
Using the innovative QuickTwist system the 360fly can be attached almost anywhere. An actioncam adapter, compatible with almost any common mounting, is included with each 360fly. Further adapters will be available in the very near future.
Watching 360-degree panoramic videos via app or VR-device
Videos can be easily shared with friends and the whole world. While watching the videos on smartphone or tablet the viewing angle can be chosen in real time. If a user wishes to re-experience a whole recording as directly as possible, a VR-system like Google Cardboard comes into play.
Availability: January 2016 and the camera carries a suggested retail price of £429.00 inc VAT.
Your Comments