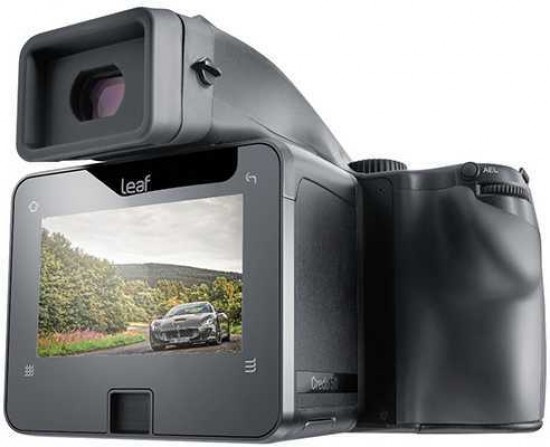 The Leaf Credo 50 is a fifty-megapixel medium-format back featuring a CMOS sensor. Giving photographers a wider ISO range of 100 to 6400 for greater versatility and higher performance, the Leaf Credo 50 offers very long exposures - up to an hour -, fluid high-quality live view for exact composition as well as more accurate and selective focusing, a claimed 14 f-stops of dynamic range, an enhanced image processor and a hi-res 3.2" touchscreen Available from 16 September 2014 in Mamiya, Contax, H and V mounts, the Mamiya Leaf Credo 50 Digital back is priced at $26,995 / €19,995.
Press Release
Welcome the Leaf Credo 50 Megapixel CMOS-based digital back.

Meet the newest addition to the Credo Family.
We are thrilled to announce our new 50 megapixel CMOS-based medium format digital camera back, the Leaf Credo 50. The new Credo 50 will give photographers a wider ISO range of 100 to 6400 for greater versatility and higher performance in capturing legendary Leaf colors under a variety of shooting conditions, including available light. Its new image processor improves Live View performance, data flow, while expanding dynamic range to 14-stops. For wedding, portrait, fashion and action shooting, this system delivers! Shoot Anything, Anywhere, Anytime!

Mamiya Leaf Credo 50 Features:
• Live View -- The Leaf Credo 50 supports incredibly fluid high-quality live view for exact composition as well as more accurate and selective focusing, whether it is done on the digital back's LCD, or on a computer monitor through Capture One software. 
• Compelling, Clean Color Rendition in 50 MP resolution. 
• Very Long Exposures - up to one hour. 
• Giant Touch Screen -- 3.2" display at 1.15 megapixel resolution.
• 14 f-stops dynamic range -- one shot captures retain amazing details in highlights and shadows
• Enhanced Image Processor -- faster and cleaner Live View, 2.3 GB Data Flow, 1.2 frames per second capture rate and faster read/write speeds.

Full specifications are available at: http://www.mamiyaleaf.com/credo50.html

Pricing and Availability:
The Mamiya Leaf Credo 50 Digital back* is priced at $ 26,995 / € 19,995. 
A full Mamiya Leaf Credo 50 system is priced at $ 30,995 / € 22,995. 
*Available in Mamiya, Contax, H and V mounts

For existing Mamiya Leaf customers, attractive digital back and/or camera system upgrades are available. 

The Mamiya Leaf Credo 50 may be ordered now through Mamiya Leaf partners world wide.(http://www.mamiyaleaf.com/partners.html) Shipping starts September 16, 2014.

For a hands-on demo of the Leaf Credo 50, please see this page: http://www.mamiyaleaf.com/arrange_for_a_demo.html
Your Comments