Meet the Kenro Team at The Photography Show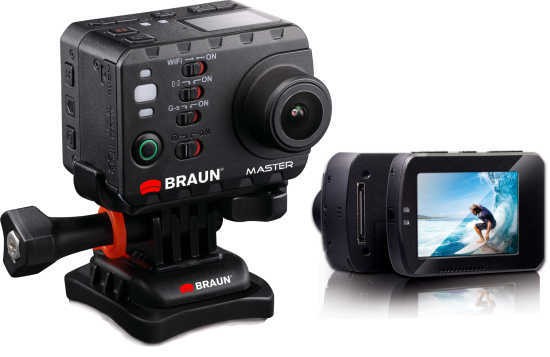 The Kenro team will be exhibiting a range of new products at the inaugural Photography Show in Birmingham. Visitors to the stand will have an exclusive preview of the Nissin i40 flash, the new Braun ActionMaster Camera (pictured), a collection of Benro Falcon Camouflage Rucksacks, a smartphone scanner and a Super 8 film scanner from Reflecta, and much more. You can meet the Kenro team at stand L65.
Kenro Press Release
Meet the Kenro team at The Photography Show

From the 1st - 4th of March, the Kenro team will be exhibiting at the inaugural Photography Show in Birmingham, presenting a vast range of top quality, innovative and uniquely designed new products.

Kenro is a privately owned family firm, which originally started trading in 1973 and are proud to be the UK´s major supplier to the retail photo industry of photo albums and photo frames. Alongside this, Kenro are also the official UK and Ireland distributors for, Braun, Reflecta, Benro camera tripods and bags, and Marumi Optical Products and are the UK distributors for Nissin Flash, plus worldwide distributors of the famous Kenair duster.

Some of the new products that will be exhibited this year include:

An exclusive preview of the Nissin i40 flash The pocket size i40 weighs just 203g but is capable of filling in shadows on even the sunniest of days and is great for travelling. Features include a flash output of GN40 at 105mm and the ability to tilt the head horizontally 180° to right and left and up 90° making it suitable for close up photography. This also makes bounce shooting more arbitrary, increasing the number of angles that can be used.
New Braun ActionMaster Camera
The new camera can record videos and take 10x zoom photos whilst being strapped to helmets, surfboards and other various mounts and can withstand depths of up to 100m underwater. With WIFI function, remote via your smartphone and up to 64GB memory, it is one of the most impressive sports cams to hit the market. It also sports a 16 megapixel still camera.

New Benro Falcon Camouflage Rucksacks
The Falcon series is a selection of innovative and hardwearing baggage solutions, designed to make an outdoor photographer's life a little easier. Teaming well-built design with supreme weight-distribution, the hardwearing backpack will keep expensive equipment safe and well organised.

New colours in the Hyacinth Shoulder Bag Range Designed for SLR (CSC) users, the Hyacinth series is a modern and stylish collection of camera bags.  The bags are available in two sizes and can be carried either by the strong carry handle or the shoulder strap, making them a versatile option. There are 4 colours available.

Smartphone Scanner
The latest innovation from Reflecta means smartphone users can easily digitise slides and negatives (35mm) as well as photos (9x13, 10x15cm) easily.

Super 8 Scanner
With a resolution of 1920x1080 p (Full HD) reflecta Super 8 Scanner allows your Super 8 films (5.78 x 4.01 mm) to digitize quickly and easily.

Reflecta Visilux Studiokit 300
The StudioKit 300 is an ideal starter package for those wanting their first portable studio lighting kit. Complete with sturdy carry-bag, the compact and low weight kit comprises of 2x Flash-Head VisiLux (300 watts), 2x Light Stand 220cm in height, 2x Softbox 50x70cm with rear diffusor and accessories.

Bergamo frame range
Ideally suited for galleries and photographic studios as well as quality retailers, the 6 multi-picture wall frames are supplied with double picture mats allowing two sizes of photos to be used. The series is manufactured in wood with a high gloss lacquer finish in either brilliant white or black and use high quality clear plastic instead of glass fronts, helping to keep them lightweight.

Braun Digi frame range
Three new additions to the Braun Digital photo frame range will be exhibited at the Kenro stand with screens ranging between 7" and 15". Designed to be a modern addition to any home or office, models are PC independent and some feature LED backlight technology allowing even higher picture rendition.

Other products include the new Benro carbon fibre video tripods with S8 Heads and the x8 Scanner.
Visitors will also be previewed with new Holiday and London themed photo albums.

Meet the friendly Kenro team at stand L65 at the NEC, Birmingham between the 1st - 4th March.
Your Comments