New Full HD Camcorders from Rollei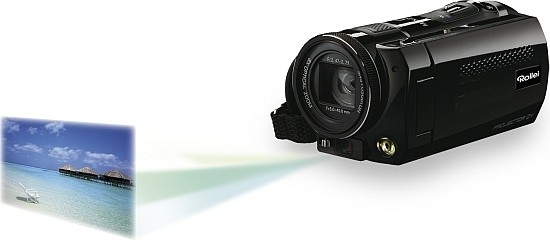 Rollei has launched three new Full HD camcorders that also take five-megapixel stills. The Rollei Movieline SD 800 P (€349.95, pictured) is probably Rollei's most interesting digital video camera to date with 8x optical zoom, image stabilisation and… a built-in projector! Note though that the projector's specifications are somewhat basic, with a resolution of only 320x280 pixels. Other highlights include a 3" touch-sensitive screen and a variety of scene modes. The Movieline SD 80 (€199.95) is a smaller, entry-level model that nevertheless offers a similar 8x zoom range and 3" touchscreen, plus time-lapse and slow-motion recording, face detection and electronic image stabilisation. Finally, the Movieline SD 230 (€249.95) boasts 23x optical zoom, a 3.5" widescreen touch panel, dual video recording function and image stabilisation. All of these models are equipped with 1/3.2 type CMOS sensors and SD/SDHC card slots, and each comes with an HDMI cable as standard.
Rollei Press Release
Achieve that cinematic feel with new models from Rollei Movieline
Hamburg, 1.8. 2011

Attention all filmmakers who love to screen their recordings as if at the cinema: Coming at the end of July 2011, Rollei introduces an alternative way of seeing things thanks to the new Movieline SD 800 P, SD 80 and SD 230 models. The following basic information nearly speaks for itself: Full high-definition resolution (1.920x1.080p), 30 frames per second, 5 million pixels and a large 16:9 touch panel. And that's not all: With the pre-record function, you'll never again miss your opening scene. When you confirm using the record button, the Rollei Camcorder adds the preceding three seconds on to the beginning of the clip.

Movieline SD 800 P
The Rollei Movieline SD 800 P—the highlight of the camcorder collection—will win you over with uncompromising high-definition quality, 8x optical zoom and superb sound quality. An additional feature of the Movieline SD 800 P worth highlighting is its 3" touch panel with which all settings can be adjusted using your finger. Amaze your friends and relatives by using the built-in projector to screen your Oscar-worthy videos at a size of up to 150cm on any available surface, all without a TV or connection cable. Great cinema from a tiny video camera with great potential! The integrated film stabiliser ensures blur-free recording in any situation imaginable. You can activate this function automatically in accordance with the necessary recording conditions associated with various functions including scene selection, contrast control and facial recognition.  Or you can manually choose from the different scene modes and achieve picture-perfect results in your videos and pictures regardless of the recording situation! Thanks to its unusually compact size—52x120x55mm—and light weight—only 280 grams (excluding battery and memory card)—this camcorder will fit easily into any pocket or handbag. Movieline SD 800 P will be available at the end of July 2011 with a recommended retail price of 349.95 EUR.

Movieline SD 80
The Movieline SD 80 is a smaller, full HD camcorder (dimensions: 52x120x55mm) for newcomers to the world of film. The camcorder's 3" (7.62cm) touch panel in 16:9 format, 8x optical zoom and 120x digital zoom make it an attractive option for beginners. Functions such as eight different scene modes, time lapse, slow motion, automatic facial recognition and electronic video stabilisation help ensure perfect results every time. The Rollei Movieline SD 80 (colour: black) will be made available in shops at the end of July with a recommended retail price of 199.95 EUR.

Movieline SD 230
The black Movieline SD 230, complete with its recording medium—the SDHC/SD memory card—is unique because of how compact, light and durable it is.. A 23x optical zoom and a 120x digital zoom allow you to skilfully capture even distant scenes on the 3.5" (8.89cm) touch panel in 16:9 format. The integrated video stabiliser compensates for hand vibrations more effectively than ever. Thanks to the dual stream function, your videos can be recorded simultaneously in 2 formats: full HD for at-home viewing and WQVGA for use on the internet (YouTube), for example. The slim, light Movieline (dimensions ca. 50.3x112x59.5mm) records videos of up to 80 minutes in length in MPEG 4 format. The Rollei Movieline SD 230 (colour: black) will be made available in shops at the end of July with a recommended retail price of 249.95 EUR.

Included in delivery:
The various upgrade options—up to and including a 32 gigabyte SD-/-SDHC memory card—create space for entertaining movies. Using a HDMI connection and the included HDMI cable, these movies can be easily viewed on an HDTV. AV and USB cables as well as a lithium ion battery are also included in the package.
Your Comments