Panasonic Announce Christmas Cashback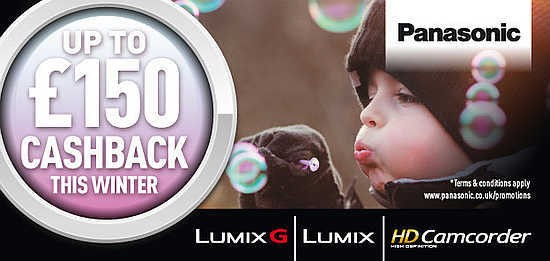 Panasonic UK are offering a range of promotions in time for the festive season. Those who purchase a qualifying Lumix camera or camcorder from a participating retailer before Monday 25 January 2016 will be eligible to claim up to £150 (€210) cashback. To take advantage of this offer, participants (aged 18 or over only) must complete the online registration form at the website below 28 days after product purchase.
Website: Panasonic UK Promotions
Panasonic Press Release
Christmas Cashback on Panasonic Imaging products
If you need a little inspiration in the lead up to Christmas, look no further as Panasonic are offering a range of cashback promotions in time for the festive season. If you purchase an award-winning Lumix camera or camcorder1 from a participating retailer2, between Wednesday 14th October – Monday 25th January 2016, you will be eligible to claim up to £150 (€210) cashback3.
Capturing those precious memories is so important and the festive season brings plenty of moments worth remembering. If you're looking for a new camera or planning to buy one for the budding photographer, look no further than Lumix G7 interchangeable lens camera. Packed with features including Wi-Fi and 4K Mode, which allows you to crop individual frames from 4K video footage, so it no longer matters if you didn't press the shutter at quite the right time. With a 16 megapixel sensor minimising distortion and graininess, capturing Christmas has never been so easy.
Also included within the promotion, the LUMIX DMC-FZ330 is the perfect camera for capturing the most magical moments from a distance. Both splash proof and dustproof, this camera is ready for the harsh winter environment if you decide to go the extra mile to get your shot.  Its 12 megapixel sensor and 12-600mm LEICA lens gives you the best chance to see Santa's sleigh, while 4K video recording and outstanding image quality will ensure your memory last a lifetime.
To claim the cashback on qualifying Lumix, Lumix G camera and camcorder models, participants (aged 18 or over only) must complete the online registration form at www.panasonic.co.uk/promotions 28 days after product purchase3.
1 DMC-LX100EBK, DMC-LX100EBS, DMC-LX7EB-K, DMC-FZ1000EB, DMC-FZ330EBK, DMC-FZ200EB9, DMC-FZ72EB-K, DMC-TZ71EB-K, DMC-TZ70EB-K, DMC-TZ70EB-S, DMC-TZ71/70EB-K/S with Accessory Kit (DMWTZ70KIT), DMC-TZ60EB-K, DMC-TZ60EB-S, DMC-TZ60EB-K/S with Accessory Kit (DMW-TZ60KIT / TZ60KIT1), DMC-TYZ578EB-K, DMC-TZ57EB-W, DMC-GH4RE-K, DMC-GH4HEB-K, DMC-GH4EB-K, DMC-GX8AEB-K, DMC-GX8AEB-S, DMC-GX8HEB-K, DMC-GX8HEB-S, DMC-GX8KEB-K, DMC-GX8KEB-S, DMC-GX8EB-K, DMC-GX8EB-S, DMC-G7HEB-K, DMC-G7WEB-S, DMC-G7KEB-K, DMC-G7KEB-S, DMC-G7EB-K, DMC-GX7KEB-K, DMC-GX7KEB-S, DMC-GX7CEB-K, DMC-GX7CEB-S, HC-X920EB-K, HC-WX970EB-K, HC-VX870EB-K, HC-V770EB-K/W, HC-W570EB-K, HX-A1ME-K/D.
2 Products purchased from Dixons Travel will not be eligible for this promotion.
3 Upload a copy of their full purchase receipt along with an image of the product barcode (showing the model number and serial number).
Your Comments