Photokina 2012 Highlights - Lenses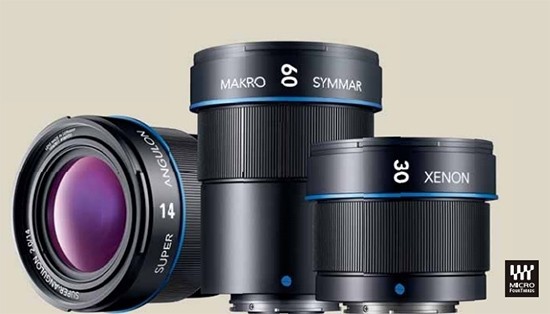 We have collected the most interesting lenses announced at (or just before) Photokina 2012. They are not necessarily the "best" lenses out there—making comparisons across multiple platforms would be quite pointless anyway—but they are all intriguing in one way or another.
Lens manufacturers like Carl Zeiss and Schneider Kreuznach are very active at this year's Photokina, with both announcing several new lenses for compact system cameras (as well as SLRs). Our top picks also include an interesting compact shift lens, a stabilised telephoto prime for medium-format cameras, a fast ultra-wide lens for digital SLRs with APS-C sensors, and more.
B.I.G. 15mm f/4.5 Shift lens for Micro Four Thirds


While shift (and tilt) adapters have been around for some time, the €999 B.I.G. 15mm f/4.5 is the first-ever dedicated shift lens for Micro Four Thirds. Weighing in at 200 grams the B.I.G. 15mm f/4.5 lens comprises 8 lens elements in 6 groups and comes with a built-in hood. With a maximum shift of 5.3mm, the lens enables users to avoid keystoning in architectural shots. It does not provide tilt functionality, though.
Carl Zeiss AF lenses for Fuji and Sony CSCs


At this year's Photokina, Carl Zeiss introduced a new family of autofocus lenses for compact system cameras (CSCs). Initially comprising a 12mm f/2.8, a 32mm f/1.8 and a 50mm f/2.8 macro lens - equivalent to 18mm, 48mm and 75mm respectively -, this new range of Zeiss AF lenses will be available for Sony NEX and Fujifilm X-mount cameras. This is an important development as the X system is still very new and the NEX system, while somewhat more established, is still a bit thin on fast primes. Exact pricing for the Carl Zeiss CSC lenses has yet to be communicated but the company says they will be "around the €1,000 mark" each.
Announcement | Hands-on photos
Fujifilm XF18-55mm f/2.8-4 OIS and XF14mm f/2.8 lenses


Fujifilm has added two new models to the Fujinon XF Lens range bringing the total number of lenses available to five. The 21mm equivalent Fujinon XF 14mm f/2.8 R ultra-wideangle prime lens is constructed of 10 elements in 7 groups, including 2 aspheric and 3 extra low dispersion elements, and a seven-blade rounded diaphragm. The lens features distance and depth of field scales on the barrel, making it suitable for zone focussing. The other lens, the 27-84mm equivalent Fujinon XF18-55mm F2.8-4 R LM OIS, is a compact standard zoom with optical image stabilisation.
Announcement | Hands-on photos
M.Zuiko Digital ED 60mm f/2.8 Macro


The M.Zuiko Digital ED 60mm f/2.8 is a telemacro lens with a maximum reproduction ratio of 1:1. Housed in a dust- and splashproof body, the M.Zuiko Digital ED 60mm f/2.8 Macro is designed to complement the similarly rugged Olympus OM-D camera (but can, of course, also be mounted to any other Micro Four Thirds body). Available from October, the M.Zuiko Digital ED 60mm 1:2.8 Macro lens carries a recommended retail price of £429.
Announcement | Hands-on photos
M.Zuiko Digital ED 17mm f/1.8


At the show, Olympus is showing off a prototype M.Zuiko Digital ED 17mm f/1.8 lens. This is an interesting moderate wide-angle lens that features both a distance scale and DoF marks, making it suitable for zone focusing, much like the existing (but considerably wider) 12mm f/2 lens.
Announcement | Hands-on photos
Panasonic Lumix G X 35-100mm f/2.8


The Panasonic Lumix G X 35-100mm f/2.8 is a fast, stabilised 70-200mm equivalent telephoto zoom lens for Micro Four Thirds system cameras. The optical formula comprises 18 elements in 13 groups including 2 ED and 1 UED lens elements, and an iris diaphragm with seven rounded blades.
Announcement | Hands.on photos | Sample images
HD Pentax-DFA645 Macro 90mm F2.8 ED AW SR


The HD Pentax-DFA645 Macro 90mm f/2.8 ED AW SR is a new, stabilised short-telephoto lens designed for use with Pentax medium-format digital and film SLR cameras. Featuring Pentax-original HD coating — a newly developed, high-grade multi-layer lens coating — and the Pentax-designed, lens-installed SR (Shake Reduction) mechanism, this lens offers a 35mm equivalent focal length of approximately 71mm (or approximately 65mm when mounted on a Pentax 645 film-format camera body.  As part of the AW (All Weather) series, this lens also boasts a dustproof and weather-resistant construction with 11 environmental seals.
Announcement | Hands-on photos
Samyang 10mm f/2.8 ED AS UMC CS


The Samyang 10mm f/2.8 ED AS UMC CS is a rectilinear ultra wide-angle prime lens designed for use with cameras that have APS-C / DX sensors. Giving an equivalent focal length of 15mm (or 16mm in the case of Canon EOS), the Samyang 10mm f/2.8 is a manual-focus lens scheduled to be available by the end of this year.
Announcement | Hands-on photos
Schneider Kreuznach Micro Four Thirds AF lenses


Schneider Kreuznach - a German company best known for its large-format lenses - has introduced its first-ever lenses designed for the Micro Four Thirds system. The first lens in the series, the 28mm equivalent Super-Angulon 14mm f/2 wide-angle lens, will be available by the third quarter of 2013. In the fourth quarter, it will be followed by the Xenon 30mm f/1.4 "universal" prime and the Makro-Symmar 60mm f/2.4 macro lens. The company is very active at this year's Photokina - in addition to the Micro Four Thirds lenses, it introduced a whole new line of interchangeable video optics, an ultra-wide angle lens for Phase One medium-format bodies and four new lenses for SLR cameras.
Announcement | Hands-on photos
Tamron SP 70-200mm f/2.8 Di VC USD


The Tamron SP 70-200mm f/2.8 Di VC USD is billed as the most compact full-frame, high-speed (f/2.8) telephoto zoom lens in the world. Equipped with VC (Vibration Compensation) and a USD (Ultrasonic Silent Drive) motor, the Tamron 70-200m f/2.8 lens will be available for Nikon, Canon and Sony mounts.
Announcement | Hands-on photos
Your Comments