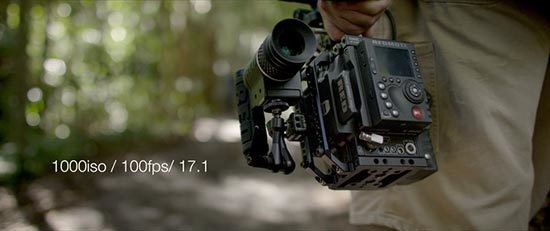 Cinematographer and director Mark Toia has released a short film captured with a RED cinema camera equipped with a 6K "Epic Dragon" sensor. The five-and-a-half-minute sample movie, which was posted on the RED User forum along with a lengthy user report, demonstrates an excellent dynamic range and a very film-like, gentle highlight roll-off that's not at all similar to the harsh highlight clipping produced by most other digital cameras. "RED Dragon now has the best highlight fall off I have ever seen from any digital camera," Toia says. "Beating film! Big call I know, but after shooting film and pushing it around in telecine chains for more than a decade, I can categorically say that this new sensor has a better range than film ever had... The images out of the Dragon are so smooth now… so so smooth, like low ASA large-format film."
The RED Epic Dragon sensor offers a resolution of 19 megapixels, which would be respectable for a digital stills camera, but what really makes it unique - in addition to the apparently unsurpassed dynamic range - is that it can maintain this resolution even when shooting video - at up to 86 frames per second to boot. This is approximately ten times the resolution of a Full HD movie. Toia's sample video, which you can see below, has been downsampled for Vimeo but it does show off the dynamic range and highlight handling of the new imager very nicely.
RED EPIC DRAGON - IT'S THE REAL DEAL ! from Mark Toia on Vimeo.
Source: RED User Forum
Your Comments