Samsung CES Hands-On Photos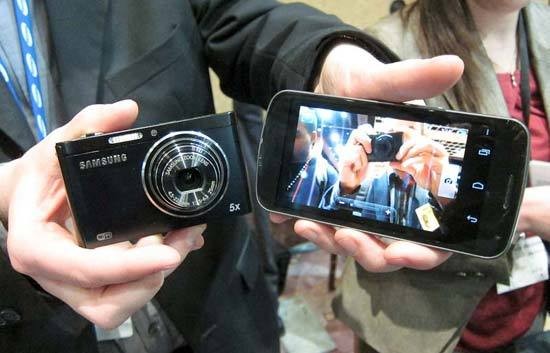 A detailed hands-on look at all of Samsung's new CES compact cameras.
It's all about Wi-Fi for Samsung cameras at CES, with four new models - the WB850F, WB150F, ST200F, and DV300F -  sporting the "F" moniker which denotes wireless connectivity. We were shown a pretty slick demo of the DV300F being controlled remotely by a Samsung smartphone, something that all four models will be capable of out-of-the-box.
In addition to wi-fi, the hero WB850F camera sports a 21x lens, 16 megapixels and GPS tracking, placing it firmly in the advanced travel-zoom catgeory and taking on the likes of the Panasonic DMC-TZ20.
Completing Samsung's CES lineup are the ST77 and ST66 entry-level compacts and the HMX-W300 all-action camcorder.
Take a close-up look at all the Samsung CES 2012 cameras in our extensive photo gallery.
Update: We've added some photos of camera section of the massive Samsung stand, which very much focuses on the sharing and connectivity aspects of the new wifi-enabled line-up.
A gallery of 38 photos of Samsung's CES 2012 cameras.
Image Gallery
Click on a thumbnail to see the full version.
Your Comments