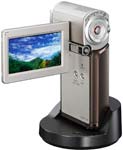 The new Sony HDR-TG1 Handycam is the world's smallest full HD camcorder. Weighing 10 ounces and measuring 1.3-inches wide by 4.7-inches tall by 2.5-inches deep, the Sony HDR-TG1 can record 1920 x 1080 HD video and 4 megapixel digital photos. "This new model is a great example of our expertise in miniaturization, as well as advanced imaging technologies with features like face detection." said Kelly Davis, director of camcorder marketing at Sony Electronics. The Sony HDR-TG1 camcorder will ship with supplied accessories in May for about $900.
Sony UK Press Release
MAKE EVERY MOMENT AN HD MOMENT: SONY DEBUTS WORLD'S SMALLEST HIGH DEFINITION 1080 HANDYCAM®*
                                                   
·    World's smallest, lightest HD 1080 camcorder*
·    Pure titanium body and scratch-resistant Premium Hard Coating
·    ClearVid CMOS Sensor with Exmor™ derived technology and BIONZ image processor for superb HD picture quality
·    Face Detection automatically adjusts focus, exposure, colour balance and skin tone for beautiful portraits
·    Built-in zoom microphone with Dolby Digital 5.1ch surround sound
·    BRAVIA Sync for control of playback functions using TV remote
Now there's no excuse for leaving your camcorder behind when you could capture the moment in incredible detail with High Definition. Sony's stylishly designed Handycam® HDR-TG3E is your perfect partner for nights out or weekends away. What's more, it's tough enough to keep up with today's active lifestyles – whether you're on the piste or paragliding.
Perfect for when you don't want to be weighed down, the TG3E slips effortlessly into a purse, bag or jacket pocket. Little bigger than your mobile phone, it's the smallest, slimmest, lightest camcorder* ever to feature 1920x1080 Full HD recording with crisp 5.1ch surround sound.
It's also the world's first camcorder that features a body using pure titanium – a material that's 40% lighter than steel and twice as strong as aluminium. The tough titanium shell is finished with a Premium Hard Coating. This extra-strong protective layer shrugs off everyday scratches – from active sports or hectic holidays – ensuring the HDR?TG3E keeps its high-fashion looks for longer.
The stylish new Handycam® has been created around the design concept of 'My HD to Go' – a pocket-sized HD 1080 camcorder that's small enough to carry at all times for capturing great movie moments. Its ultra-compact size, chic looks and tough finish makes the TG3E ideal for any situation, from family breaks to the smartest party.
The camcorder's elegant, pared down lines are complemented by easy, intuitive operation via the LCD touchscreen. Record, Movie/photo mode and zoom can all be accessed via a conveniently-placed thumb lever and buttons. With 'Quick On' mode activated, the TG3E is ready for action within a second of flipping open the bright, clear 2.7-inch Clear Photo LCD Plus touch panel.
Recording on Memory Stick PRO Duo media (4GB Memory Stick supplied) means there's no need to carry bulky tapes or discs if you're out for the evening or spending a weekend away and want to capture your favourite moments. An optional 16GB Memory Stick records up to 5 hours 55min of full HD movies (LP mode).
Despite its tiny dimensions, the Handycam® TG3E makes no compromises when recording beautiful, detail-packed HD 1080 images. Sensitivity and low-noise performance are assured by the ClearVid CMOS Sensor that features Exmor™ derived from technology found in Sony professional camcorders and a digital SLR cameras.
It's complemented by the powerful BIONZ image processing engine that maintains superlative image quality for video and stills shooting alike. Thanks to the speed and responsiveness of the BIONZ processor, high-resolution 4.0 megapixel still picture can be taken with photo mode, and 2.3 megapixel still pictures can even be taken during HD video recording.
Intelligent Face Detection automatically adjusts focus, exposure, colour balance for clear, beautifully realistic videos and still pictures of friends and family. It recognises up to 8 faces in one scene, making it easier to shoot people in different situations. For even better 'people pictures', advanced compression technology automatically allocates more data to human subjects for more detailed faces with greater detail and lower noise.
Also powered by the responsive BIONZ processor, D-Range Optimiser technology adjusts dynamic range for more natural reproduction of high-contrast and backlit scenes with strong highlights and shadows.
Sound quality is just as important as great pictures. 5.1ch digital surround sound quality is enhanced with an automatic Zoom microphone function that focuses on foreground subjects for crisper dialogue.
After shooting, Visual Index, Film Roll Index and Face Index make it easier to track down your favourite scenes on the large, easy-view touchscreen LCD.
Files stored on Memory Stick can be burned to DVD at the touch of the 'Disc Burn' button using the supplied Handycam Station. Alternatively, files can be backed up to your computer's hard drive. After transferring files to your PC, supplied Picture Motion Browser software makes it easy to organise and browse images by date in an intuitive calendar view. Alternatively, Map view displays where images were recorded when used with an optional GPS unit.
BRAVIA Sync makes it even easier to enjoy movies and still pictures on your HD television. Connect the TG3E to any BRAVIA Sync-compatible TV via HDMI cable (optional) and control playback functions with your television's remote.
Supplied accessories include USB and component A/V cables, Handycam Station and wrist strap for easy carrying. There's also a full range of optional accessories by Sony including a specially designed carry case and tripods.
The Handycam® HDR-TG3E is available from May 2008. It is available to pre-order now at www.sonystyle.co.uk
*among 1920x1080 HD 1080 camcorders, as of April 2008 (Sony Research)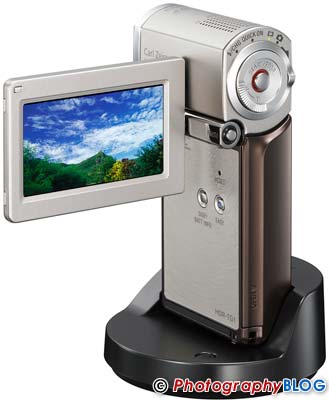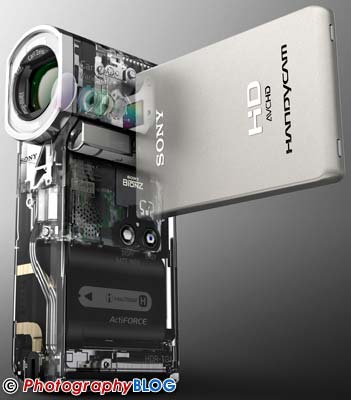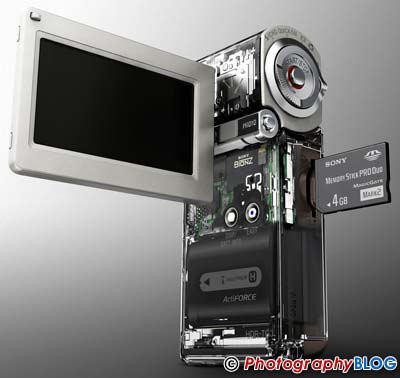 Your Comments