Zeiss ZX1 Now Available for $6000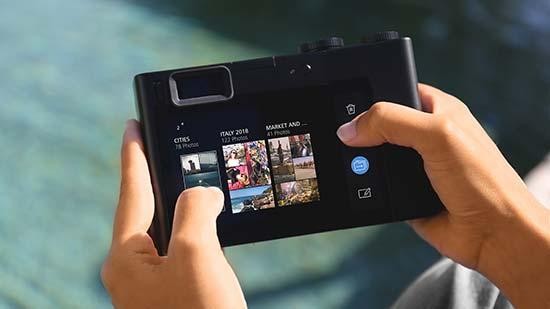 The innovative Zeiss ZX1 full-frame mirrorless camera that made its public debut two years ago at Photokina has finally seen the light of day.

The Zeiss ZX1 is now available in the United States and Germany priced at 6000 Dollars/Euros.
ZEISS Press Release
Innovative Camera Concept from ZEISS: Full-Frame and Full Connectivity for Creative Photography Workflow on the go
The ZEISS ZX1 is now available in the United States and Germany
• Hardware and software for a seamless creative process "Shoot. Edit. Share."
• Newly developed ZEISS Distagon 35 mm lens with perfectly matched ZEISS sensor for maximum image quality – without any compromises in the photographic process
• Combination of new camera technology and Adobe Photoshop LightroomTM features built right in
• Multi-award-winning ergonomic design allows high photo and video quality and the intuitive photo editing and publishing of smartphones

The ZEISS ZX1 is now available at selected dealers in the United States and Germany. "The concept of the ZEISS ZX1 opens up new ways in digital and connected photography," said Jörg Schmitz, Head of ZEISS Consumer Products on the sales start. "The ZEISS ZX1 combines the potential and superior image quality of a full-frame camera with the mobile experience and intuitive use of smartphones for photography." The sales start has been long awaited in the community. "We have once again worked intensively on the overall workflow and the smooth integration of hardware and software and are convinced that it was worth the wait," adds Schmitz.
Perfect for the Seamless Photography Workflow
A newly designed, built-in ZEISS Distagon 35 mm f/2 T* lens with autofocus is perfectly matched to the 37.4 megapixel full-frame sensor developed by ZEISS. The lens and sensor work together to create true-to-life images of the highest quality over the entire image featuring the typical ZEISS look. The look is characterized by an exceptional image definition, natural colors and a 3D pop effect. The virtually silent shutter allows to fully focus on what's happening in the shot and produce an image with a special atmosphere.
Discover Intuitive Image Editing
With its 4.3-inch multi-touch display, the ZEISS ZX1 allows photographers to professionally edit images directly on the camera. Using the Adobe Photoshop LightroomTM app built right into the camera, users can even professionally edit RAW images – with easy to use tools, sliders and presets. The ZEISS ZX1 comes with a free one-year Lightroom subscription including 1TB of cloud storage.
The visually clear user interface supports the user's individual workflow by providing direct access to the most frequently used functions via the display. Thanks to the distinctive bend in the display, the camera fits more comfortably in the hand and is particularly easy to operate.
The minimalist design represents the new and ambitious concept of the ZEISS ZX1 and has already received several international design awards, even before the product started to ship.
Share and Save Images in an Intelligent and Connected Way
The selected images can be uploaded directly to the cloud or social media platforms – without needing to first transfer them to memory cards or other external devices. "The camera addresses users who are increasingly shaping the world of photography: ambitious amateurs and creative professionals who want to quickly and efficiently capture their images and post them online to delight their audience," said Dr. Ulrich Wagemann, project manager for the ZEISS ZX1. "This requires a perfect workflow, and that's why we are breaking new ground conceptually".
The 512 GB internal memory provides enough space for almost 7,000 RAW files or more than 50,000 JPGs. Multifunctional interfaces such as Wi-Fi, Bluetooth, and USB-C ensure that users can connect nearly any conceivable peripheral device to the camera. At the same time, the camera's software can be updated wirelessly, i.e. without needing to connect it to an external computer.
Feedback from the First Users
The ZEISS ZX1 was tested by numerous photographers worldwide. Their feedback was continuously incorporated into the ongoing development of the camera concept. One of the first to test the ZEISS ZX1 was well-known music photographer and video director Greg Watermann. He describes his first experiences taking pictures of the streets of Miami Beach: "The image quality from the ZEISS sensor is really insane giving a level of detail much higher than I expected. And I love the lens – it responds just like any fast ZEISS 35 mm lens. The color is beautiful and detail separation in the highlights and the shadows is superb."

Also Swedish photographer Hans Strand was among the first to use the full-format camera and describes his experiences of processing pictures on the device: "The details and color rendition is also in the JPEG format so good with this camera. When working on the RAW files, I try to make it look as nice as the JPEG from the camera. They can be used right away."

Travel and street photography expert Csaba Desvari had the ZEISS ZX1 with him when he travelled through the streets of Manila: "The way this camera has been designed the minimal approach just works. It has a special vibe and the reduction to the essential invites to capture moments and use it again and again. Feels incredibly good in the hand." When asked about the handling of the fixed lens, he said: "Sometimes life does not wait for the right equipment. Therefore, the fixed lens camera gives me the freedom to be only a photographer and disconnect from being a gadget guru, who changes hardware continuously."
Availability and Price
The ZEISS ZX1 is now available at selected dealers in Germany at a price of 6,000 euros incl. VAT. In the United States it is available at a price of 6.000 US-Dollars excl. tax. Orders are possible starting from now on. Further information is available at www.zeiss.com/zx1.
Specifications
Dimensions (W x H x D)

142 x 93 x 94 mm (5.59 x 3.66 x 3.70")

Weight

837 g (29.5 oz) (with battery)

Lens

ZEISS Distagon T* 35mm f/2

Sensor

CMOS sensor, 24 x 36 mm,

39.5 MP total / 37.4 MP effective

Aperture range

f/2 – f/22 in 1/3 EV increments, automatic

ISO range

ISO 80 – 51200 in 1/3 EV increments; automatic

Shutter speeds

1/2000 – 30s in 1/2EV increments, automatic, mechanical leaf shutter use limited to 1/1000 s or longer, flash synchronization up to 1/1000 s

Display

4.3 " TFT LCD, 1280 x 720 px, 338ppi, capacitive

multi-touch enabled, scratch resistant cover glass with anti-fingerprint coating

Electronic viewfinder (EVF)

0.7 " OLED, 1920 x 1080 px, magnification 0.74x with diopter adjustment and proximity sensor

Diopter range

±3 dpt

Autofocus method

Hybrid AF based on contrast- and phase- detection

Focus modes

AF-S (MF override possible), AF-C, manual focus with magnification & peaking assist

Focus area modes

Single point (touch-enabled), touch & release

Exposure modes

Automatic, aperture priority, shutter speed priority, manual exposure

Exposure compensation

±3 EV in 1/3 increments

Exposure metering modes

Multi, center, spot (fixed)

Exposure bracketing

3 or 5 photos, from 1/3 to 2 EV increments

White balance modes

Automatic, shade, cloudy, daylight, white-

fluorescent, tungsten light, manual WB metering, color temperature
Drive modes

Single, continuous, self-timer (2, 10 or 20 s), interval, AE bracketing, panorama

Digital live view helpers

Level indicator, histogram, grid, depth of field, clipping

Image format/resolution

RAW (DNG) / JPEG: 7488 x 4992 px

Video format/quality

MP4 video, 4K (3,840 x 2,160 px) with 30 fps Full HD (1,920 x 1,080 px) with 60 fps

H.264, AAC audio codec

Audio

Built-in microphone (stereo) and speaker (mono)

Flash

Sigma SA-STTL-compliant flash hot shoe

Memory storage

512 GB SSD (built-in),

Move/copy to external storage via USB, or to NAS via Wi-Fi™ using SMB protocol

Tripod thread

DIN 4503 1/4-20 UNC

Connectivity (wired)

USB 3.1 Gen 1 with USB-PD (Power Delivery), HDMI Alt Mode for USB Type-C supported

Connectivity (wireless)

Wi-Fi 802.11b/g/n/ac, 2.4/5.0 GHz Bluetooth 4.2 LE

Editing software

Adobe Lightroom™ preinstalled

Social media

Yes

Cloud storage

Yes

Firmware update

Yes, firmware over-the-air via Wi-Fi™

Battery

3190 mAh 22.9 Wh Li-ion battery pack DD- PS1E, exchangeable

Power supply

AC adapter EA1045SJR, input 100-240 Vac 50-60Hz

output 5V/3A, 9V/3A, 15V/3A, or 20V/2.25A

Sales package content

Camera, lens ring, lens shade, lens cap, hot shoe cover, battery, AC charger, USB cable with

adapter, carrying strap & strap accessories
Lens Characteristics
Focal length

35 mm

Aperture range

f/2 – f/22

Focusing range

0.30 m (0.98 ft) – ∞

Free working distance

0.23 m (0.75 ft) – ∞

Filter thread

M52

Autofocus

Yes

Rotation angle of focus ring (∞ – MOD)

Focusing not mechanically coupled.

Rotation angle dependent on rotation speed.

Diameter max. (with lens shade)

75 mm (2.95″)

Diameter of focus ring

66 mm (2.60″)

* referring to 24 x 36 mm format
Image Gallery
Click on a thumbnail to see the full version.
Your Comments