Canon EOS 40D Review
Review Date: September 22nd 2007
Leave a comment about this Review
Image Quality
All of the sample images in this Review were taken using the 10 megapixel Fine JPEG setting, which gives an average image size of between 3-5Mb.
Noise
There are 6 ISO settings available on the Canon EOS 40D which you can select at any time. The 40D offers an ISO range from 100-1600, plus an extra ĎHIí setting corresponding to ISO 3200. Noise does increase with higher ISOs, but the quality holds up very well. Here are some 100% crops which show the noise levels for each ISO setting:
| | |
| --- | --- |
| | |
| | |
| | |
| | |
| | |
| | |
| | |
| | |
| | |
Sharpening
Here are two 100% crops which have been Saved as Web - Quality 50 in Photoshop. The right-hand image has had some sharpening applied in Photoshop. The 40Dís JPEGs are not as sharp as its RAW files. This seems to be a characteristic of EOS SLRs in general, and can be annoying. Itís not obvious, though, except in areas with finely-textured detail. JPEGs improve with sharpening, but not enough to make up the difference.
| | |
| --- | --- |
| Original (100% Crop) | |
| | |
| | |
| | |
| | |
RAW Format
The Canon EOS 40D enables users to capture both JPEG and RAW format files. We've provided a few RAW samples for you to download and evaluate.
Download Example #1
Download Example #2
Download Example #3
Chromatic Aberrations
The Canon EOS 40D's 18-55mm kit lens handled chromatic aberrations excellently during the review, with barely perceptible levels of coloured fringing mainly present around the edges of objects in high-contrast situations, as shown in the example below.
Example 1 (100% Crop)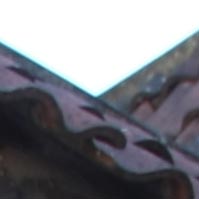 Macro
The close-focusing ability will depend on the lens fitted to the Canon EOS 40D, but the humble 18-55mm kit lens can focus remarkably close, and at full zoom itís capable of shooting close-ups as well as most compacts. The first image shows how close you can get to the subject in Macro mode (in this case a compact flash card). The second image is a 100% crop.
| | |
| --- | --- |
| | |
| | |
| | |
Flash
The flash settings on the Canon EOS 40D are Auto, Manual Flash On/Off and Red-Eye Reduction. These shots of a white coloured wall were taken at a distance of 1.5m. The flash coverage is pretty good, though at the wideangle setting itís possible to see a degree of shading caused by the lens barrel when the picture is compared to the one taken without flash. This effect disappears at longer focal lengths.
| | |
| --- | --- |
| Flash Off - Wide Angle (29mm) | Auto Flash - Wide Angle (29mm) |
| | |
| | |
| Flash Off - Telephoto (88mm) | Auto Flash - Telephoto (88mm) |
| | |
| | |
And here are some portrait shots. Thereís no redeye in either shot, even though one was taken with the redeye function switched on and one with it switched off. The pop-up flash is further from the lens than it would be with a compact camera, and this helps minimise any redeye effect.
| | |
| --- | --- |
| | Auto (100% Crop) |
| | |
| | |
| | Red-eye reduction (100% Crop) |
| | |
| | |
Night Shot
The Canon EOS 40D's maximum shutter speed is 30 seconds and there's a Bulb mode for even longer exposures, which is excellent news if you're seriously interested in night photography. Thereís no sign of noise or Ďhot pixelsí even during night shots of several seconds. With longer exposures like these, the Canon EOS 40D takes a second Ďdarkí shot to show up any wayward pixels so that the camera can process them out. The shot below was taken using a shutter speed of 13 seconds, aperture of f/8 at ISO 100. I've included a 100% Crop of the image to show what the quality is like.
| | |
| --- | --- |
| | Night Shot (100% Crop) |
| | |
| | |
Overall Image Quality
Itís hard to see any significant difference between the pictures taken by the Canon EOS 40D and those taken by the cheaper 400D model, although the results do seem particularly clean and saturated, so itís possible Canonís improved image processing system is making a difference. Itís annoying, though, that the JPEGs produced by this camera show the same slight softness as those generated by other EOS SLRs. The camera only shows the definition itís capable of if you shoot RAW files and process them in the Digital Photo Professional software provided or some other RAW conversion program. Even so, the overall quality is on a par with other cameras in this price range. The Canon EOS 40Dís Highlight Tone Priority mode is designed improve the highlight rendition Ė digital cameras are often accused of producing harsh or Ďblowní highlights with no detail. It does make a difference, but you have to look quite hard to notice it, and itís not really any kind of breakthrough. The exposure system is very good indeed, and the multi-pattern metering reliably produce great shots with no user intervention. The same goes for the auto white balance, which even worked well in artificial lighting. Of course, if you want precise and predictable colour, itís still better to work with the white balance presets.

PhotographyBLOG is a member of the DIWA organisation. Our test results for the Canon EOS 40D have been submitted to DIWA for comparison with test results for different samples of the same camera model supplied by other DIWA member sites.
Compare Prices
Support PhotographyBLOG: Buy the Canon EOS 40D from one of our affiliate retailers: