HP Photosmart A618 Review
Review Date: December 14th 2006
Leave a comment about this Review
Introduction
The HP Photosmart A618 is a thermal inkjet compact photo printer which can deliver a 10x15cm / 6x4inch print in a claimed time of 98 seconds. The A618 uses a single 3-colour HP 110 Tri-colour ink cartridge. Print resolution is 4800 x 1200 dpi from a computer, the maximum print size is 13x18cms, and it can handle photo papers up to 280 g/m² in weight. When used with HP's Advanced Photo Paper the A618 produces instant drying, water-resistant photos. The A618 supports 9 different memory card formats, the Pictbridge standard for direct printing without a computer, and Bluetooth support is built-in. The HP Photosmart A618 has a 2.4 inch colour LCD screen for previewing and selecting your photos. Measuring just 252 x 116 x 129 mm and weighing 1.57kg, there is also a handle and an optional internal battery to make the A618 truly portable.
Compare Prices
Support PhotographyBLOG: Buy the HP Photosmart A618 from one of our affiliate retailers:
Setup
The HP Photosmart A618 is extremely easy to setup, taking less than 5 minutes from removing it from the box to being ready to print. The Setup Guide poster is very easy to follow and there are just 7 steps to complete. Curiously in one of these steps, you have to snap a plastic faceplate on top of the printer. We're not quite sure why this isn't installed in the factory. Unlike the Lexmark P350 that we looked at last week, HP supply a proper, full ink cartridge instead of a reduced ink version, and there are 20 sheets of 13x18cm paper to get you started (which admittedly won't last too long). Once the A618 has automatically printed an alignment sheet, you're ready to go. The A618 uses a universal adapter plug; whilst this is handy if you ever take the printer abroad, it is quite a bulky solution. As with most printers, no USB cable is supplied. Overall first impressions are of a quality product that looks and feels more expensive than it actually is.
Media Options
The recommended paper type for the A618 is HP's Advanced Photo Paper, and the ink cartridge type is the 3-colour HP 110 Tri-colour ink cartridge, which uses HP's Viera inkset. You can buy paper and ink together in the HP 110 Series Photo Value Pack, which contains one ink cartridge and 120 sheets of 10 x 15 cm Advanced Photo Paper. This works out at £0.21 per print. You can also purchase the ink cartridge separately for £15 and there are various paper sizes available.
Ease of Use
The HP Photosmart A618 has a bright, clear and large LCD screen that can be rotated through 70 degrees, making it easy to view either standing up or sitting down, but it is relatively low-resolution. The printer's menu system is very easy to use, as are the various external controls. You don't need to read the hard-copy User Guide to understand how to use the A618.
The HP A618's photo improvement functions aren't particularly complex. There is a dedicated button for the Photofix function which simply turns it on and off, with no preview of the effects that the printer will apply. Photofix applies sharpening, lightens dark areas, reduces red-eye, and improves the overall brightness, colour and contrast. Photofix is automatically turned on whenever the printer is powered-up. This may be annoying if you'd always prefer the printer to leave your images unchanged, as you have to remember to turn Photofix off.
The Print Options menu is more interesting. Here you can make a print from the still frame of a video clip (AVI, Quicktime and MPEG-1 formats are supported, at a lower print resolution than normal), print an index page of all available photos, print a panorama (requires 10x30cm paper), stickers, CD labels or passport photos (with different sizes available). Choosing which photos to print is done by either scrolling through a thumbnail of each image, or selecting to print all photos or a range of photos.
You can also rotate an image, add a frame (the usual limited choice of unappealing clip-art designs), and add 3 different colour effects (Black and White, Sepia and Antique).
The HP Photosmart A618 also offers built-in Bluetooth connectivity, which is much better than the optional adapter that was not included with the Lexmark P350. It took us just a couple of minutes to connect a Sony Ericsson K750i phone and make a print - great news for all camera-phone owners.
The HP Photosmart Essential PC software supplied with the A618 is fairly basic, but perfectly straight-forward to use, perfect for its target audience. As well as printing, this application also allows you to edit your images (including Autofix, Red-eye Reduction and HP's Adaptive Lighting), create photo projects, and share your images in various ways (email, online, ordering prints).
Print Speed from Memory Cards
The HP Photosmart A618 took 13 seconds to find and display the first test image on our 1Gb Sandisk Ultra II memory card. Scrolling from one image to the next was instantaneous. You can zoom in on your photo by up to 5x magnification, although the relatively low-resolution LCD screen won't allow you to make any critical judgments. A green outline shows which parts of the image will actually be printed. We printed 4 images of various sizes as 10x15cm borderless, best quality photos, and timed them from pressing the Print button to the final print landing in the output tray.
| | | |
| --- | --- | --- |
| Image | Size | Time |
| Test Image | 1.4Mb | 1 min 51 secs |
| Two Children | 3.8Mb | 1 min 49 secs |
| Woman with Fruit | 4.8Mb | 1 min 48 secs |
| London Bridge | 7.8Mb | 2 mins 01 secs |
You can see that as the image size got bigger, the printer only got a little slower, taking a whole minute less than the Lexmark P350 to print the 7.8Mb photo of London Bridge. The typical print time of around 1 min 50 secs for the smaller photos still isn't very quick though, and it took 7.5 minutes to print our 4 test images.
Print Speed from a Computer
We installed the supplied software and connected the A618 to our test PC, then printed the same 4 images as before in exactly the same way. Printing times are no quicker from a computer than directly from a memory card, except for the largest image.
| | | |
| --- | --- | --- |
| Image | Size | Time |
| Test Image | 1.4Mb | 1 min 52 secs |
| Two Children | 3.8Mb | 1 min 47 secs |
| Woman with Fruit | 4.8Mb | 1 min 48 secs |
| London Bridge | 7.8Mb | 1 min 49 secs |
Print Quality
Prints from the HP Photosmart A618 are touch-dry straight out of the printer, which means that you can handle them without fear of smudging or smearing them. We also tested the waterproofness of the A618's prints, as HP boldly claims that they will withstand being held underwater. So we did just that, submerging a print in a big bowl of water. We couldn't even make the colours run by holding it underwater AND smudging it with our fingers! Very impressive. The A618's prints will definitely withstand attack from water.
Colours were on the whole over-saturated, with reds, greens and blues all brighter than they should be when compared with our test image. This is typical of this "consumer" class of printer as people generally prefer brighter colours, but the Lexmark P350 produced more realistic prints. Black and white shades were neutral, although a little washed-out, so the A618 would make a good choice if you required neutral black and white photos. The 250 g/m² prints feel like "real" photos and are very glossy.
Conclusion
Ratings (out of 5)

Design

4.5

Features

4.5

Ease-of-Use

4

Image Quality

4.5

Value for Money

4
If you can live with the over-saturated colours then the HP Photosmart A618 makes a great choice as a printer for all your family photos. Although the time taken per print is quite slow at around 1min 50 secs, the A618 works equally well in stand-alone mode or connected to a PC, unlike the Lexmark P350 that we recently reviewed. The printer's 64Mb of built-in memory ensures generally speedy operation when previewing and selecting your images, whilst as you would expect you can print true borderless prints without having to use your computer. The A618 has a recommended price of £99, whilst the Photo Value Pack includes 120 sheets of paper and ink cartridge for £25, making it quite good value. It also offers the added bonus of supporting both 6x4 inch /15x10cm and 7x5 inch / 18x13cm print formats, so you can print your best photos a little larger than normal. The HP Photosmart A618 looks quite stylish and is well-built, although we wouldn't use the 2.4 inch LCD screen to make any critical judgments about our images. Built-in Bluetooth is a welcome feature at this price-point, and buying the optional battery pack would make the A618 truly portable. In summary, the A618 costs the same as the Lexmark P350 and offers significantly better image quality, faster operation and more features. Next week we'll be taking a look at another main rival, the Epson PictureMate PM280...
Design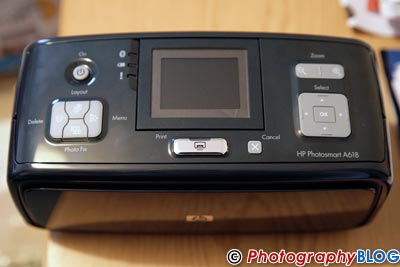 The HP Photosmart A618 kind of looks like a stylish blue toaster.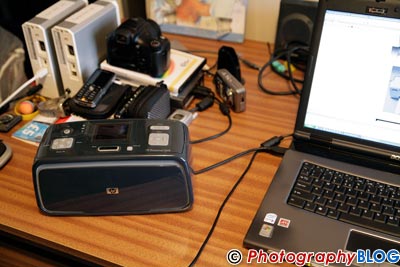 Merging in with the cluttered PhotographyBLOG office.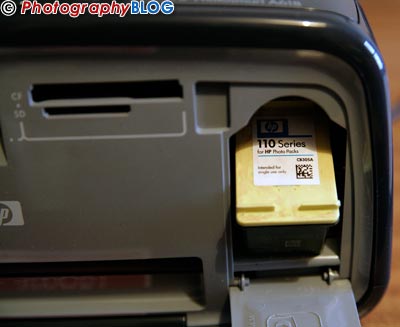 The single 3-colour ink cartridge is straight-forward to fit.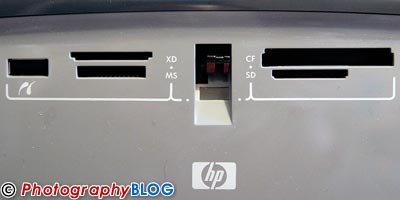 Some really exciting memory card slots.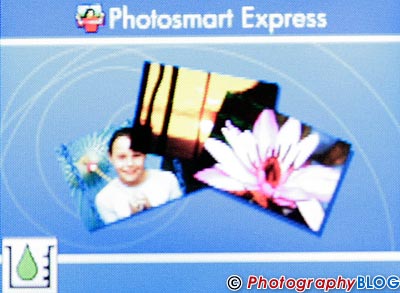 The default LCD screen view.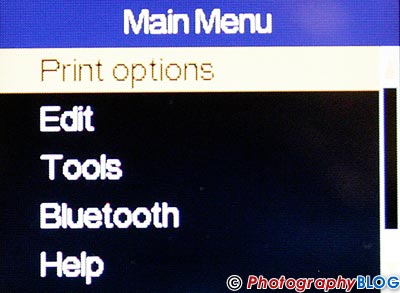 The really simple Main Menu options.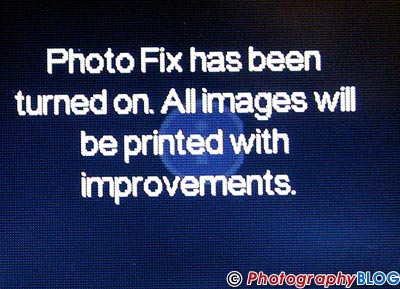 PhotoFix is either on or off for every image.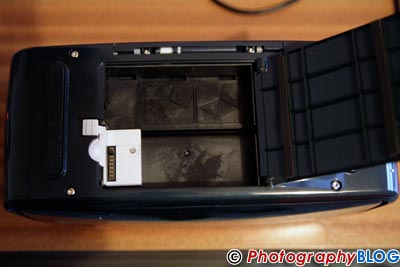 This is where the optional batter pack goes in the bottom of the A618.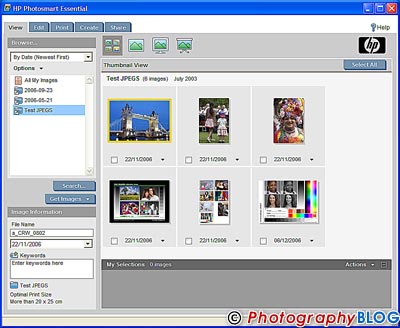 HP Photosmart Essential is the main PC software provided.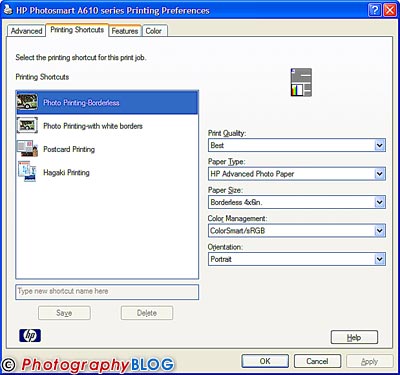 The HP Photosmart A618's Printing Preferences screen.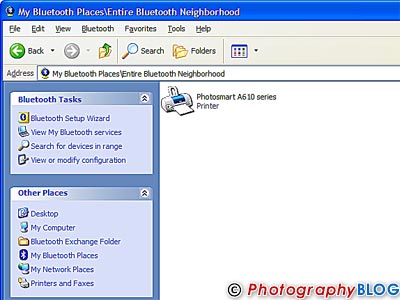 Conclusive proof that Bluetooth really does work!
Specifications
| | |
| --- | --- |
| Print technology | HP Thermal Inkjet |
| Print head nozzles | 600 colour ink nozzles |
| Print quality (colour, best quality) | Up to 4800 x 1200 optimised dpi when printing from a computer and 1200 input dpi |
| Print speed (colour photo, best quality on photo paper, 10x15) | As fast as 98 sec |
| Print speed (colour photo, draft quality on photo paper, 10x15) | As fast as 98 sec |
| Print speed footnote | Dependent upon type, print mode and approximate figures. Exact speed will vary depending on the system configuration, software program and photo density. |
| Page yield footnote | For information on cartridge page and photo yields, see http://www.hp.com/go/pageyield |
| Software included | HP Photosmart Essential and HP Photosmart Premier software |
| Battery recharge time | ~ 2.5 hrs |
| Standard paper trays | 1 |
| Recommended media | HP Advanced Photo Paper: 10 x 15 cm and 13 x 18 cm |
| Custom media sizes | 10 x 15 cm, 10 x 30 cm, 13 x 18 cm |
| Standard media sizes | 10 x 15 cm, 10 x 30 cm, 13 x 18 cm |
| Recommended media weight | HP photo papers up to 280 g/m² |
| Maximum input capacity (sheets) | Up to 20 |
| Maximum input capacity (cards) | Up to 20 |
| Standard output capacity (sheets) | Up to 20 |
| Standard memory | 64 MB |
| Compatible operating systems | Windows® 98 SE, 2000, Me, XP Home, XP Professional, XP Professional x64 Edition; Mac OS X v10.3.9 and higher |
| Standard connectivity | USB - compatible with USB 2.0 specification, PictBridge, memory card slots, wireless capability with built-in HP bt450 Bluetooth capability and PC Adapter |
| Minimum system requirements | Pentium® II (or equivalent) or higher; 64 MB RAM; 200 MB available hard disk space; SVGA monitor (800 x 600, 16-bit colour); 4x CD-ROM drive; USB port and USB cable (not included); Windows® 98 SE, 2000, Me, XP Home, XP Professional, XP Professional x64 Edition |
| Acoustic power emissions | 5.5 B(A) |
| Dimensions (W x D x H) | 252 x 116 x 129 mm |
| Dimensions with trays up (W x D x H) | 252 x 118 x 126 mm |
| Package dimensions (W x D x H) | 300 x 165 x 211 mm |
| Weight | 1.57 kg |
| Package weight | 2.5 kg |
| Power consumption | 14 watts average (printing), < 3 watts average (idle), < 1 watt (off) |
| Power supply type | External power supply module, optional internal Lithium-Ion battery (not included, sold separately) |
| Power requirements | Input voltage: 100 to 240 VAC (+/- 10%), 50/60 Hz (+/- 3 Hz) |
| Operating humidity range | 5 to 95% RH |
| Recommended operating temperature range | 15 to 35° C |
| Non-operating humidity | 5 to 95% RH |
| Recommended humidity operating range | 20 to 80% RH |
| Electromagnetic compatibility | EN 300 328; EN 301 489-1; EN 301 489-17; CISPR 24 / EN55024 , CISPR 22 / EN55022 Class B, FCC Title 47 Part 15 Class B |
| Safety | IEC 60950: third edition: 1999; EN 60950: 2000; UL 1950/CSA22.2 No. 950, third edition: 1995; NOM 019-SFCI-1993; GB4943: 2001 |
| Energy Star certified | No |
| What's in the box | HP Photosmart A618 Compact Photo Printer, HP 110 Tri-colour Inkjet Print Cartridge (5 ml) CB304AE, HP Photosmart Essential Software, setup guide, user's guide, power supply, USB cable |
| Warranty | Standard one-year limited hardware warranty. Warranty and support options vary by product, country and local legal requirements |
Leave a comment about this Review
Compare Prices
Support PhotographyBLOG: Buy the HP Photosmart A618 from one of our affiliate retailers: