Olympus E-3 Review
Review Date: January 9th 2008
Author: Gavin Stoker
Leave a comment about this Review
Image Quality
All of the sample images in this Review were taken using the 10 megapixel SHQ JPEG setting, which gives an average image size of around 6Mb.
Noise
There are 6 main ISO settings available on the Olympus E-3 which you can select at any time if the camera is in the normal shooting mode. With the same combination of processor and sensor, unsurprisingly the clean bill of health awarded to shots taken on the E-410 at high(er) ISO's is also deserved by the Olympus E-3. Stick to ISO 800 and below in the main and there are no problems to report, while noise levels at ISO 1600 are more than acceptable. Here are some 100% crops which show the noise levels for each ISO setting:
| | |
| --- | --- |
| | |
| | |
| | |
| | |
| | |
| | |
| | |
| | |
| | |
Sharpening
Here are two 100% crops which have been Saved as Web - Quality 50 in Photoshop. The right-hand image has had some sharpening applied in Photoshop. The out-of-the camera images are a little soft at the default sharpening setting. You can change the in-camera sharpening level to one of the different preset levels if you don't like the default look.
| | |
| --- | --- |
| Original (100% Crop) | |
| | |
| | |
| | |
| | |
Chromatic Aberrations
The Olympus E-3's 24-120mm kit lens handled chromatic aberrations excellently during the review, with very small levels of purple fringing mainly present around the edges of objects in high-contrast situations, as shown in the example below.
Example 1 (100% Crop)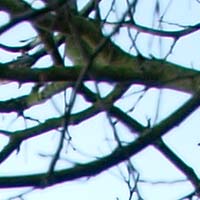 Flash
The flash settings on the Olympus E-3 are Auto, Manual, Red-eye reduction, Slow syncro with red-eye reduction, Slow syncro, 2nd curtain and slow syncro, and Fill-in for exclusive flash. These shots of a white coloured wall were taken at a distance of 1.5m.
| | |
| --- | --- |
| Flash Off - Wide Angle (28mm) | Auto Flash - Wide Angle (28mm) |
| | |
| | |
| Flash Off - Telephoto (82mm) | Auto Flash - Telephoto (82mm) |
| | |
| | |
And here are some portrait shots. The Auto setting caused a tiny amount of red-eye, which the Red-eye reduction mode successfully removed.
| | |
| --- | --- |
| | Auto (100% Crop) |
| | |
| | |
| | Auto & Red-eye reduction (100% Crop) |
| | |
| | |
Night Shot
The Olympus E-3's maximum shutter speed is 60 seconds and there's also a Bulb mode for exposures up to 30 minutes long, which is excellent news if you're seriously interested in night photography. The shot below was taken using a shutter speed of 1 second, aperture of f/3.2 at ISO 800. I've included a 100% crop of the image to show what the quality is like.
| | |
| --- | --- |
| | Night Shot (100% Crop) |
| | |
| | |
Overall Image Quality
I was initially – yet pleasantly – surprised at how warm and well-saturated images are straight out of the E-3 when left to its 'natural' default settings; that is to say skin tones looking healthy rather than Judith Chalmers/Donald Trump orange. When using the E-410 and E-510 DSLRs I often switched to the in-camera vivid setting, as the default seemed to lack the punch of the scene before me – but didn't feel the need of it here. At the supplied lens' maximum wide-angle setting it's undoubtedly perfect for capturing landscapes or getting up close for that sub-fisheye 'in your face' look. The detail it delivers is also sharp and pleasingly crisp – and I'm not only talking about the winter frost that was on the ground for some of our test shots. Other than that, images are well exposed, with a pleasing degree of both highlight and shadow detail maintained, plus purple fringing noticeable only under extreme magnification and if shooting in particularly contrast-y scenarios. Under artificial light is when white balance suffers, the image taking on a hue of whatever the dominant (obviously non-white) colour in the scene is, unless of course you've manually set up the white balance beforehand. So, it's not a deal breaker by any means. And, although noise is visible at most settings from mid point in the E-3's ISO range and upwards, it's only the case if you zoom in particularly closely – meaning that it's well controlled and shouldn't present any adverse issues. Overall, image quality is impressive, with little or any post processing required bar possibly an application of unsharp mask.

PhotographyBLOG is a member of the DIWA organisation. Our test results for the Olympus E-3 have been submitted to DIWA for comparison with test results for different samples of the same camera model supplied by other DIWA member sites.
Compare Prices
Support PhotographyBLOG: Buy the Olympus E-3 from one of our affiliate retailers: