Panasonic Lumix DMC-FS25 Review
Review Date: February 10th 2009
Author: Mark Goldstein
Leave a comment about this review
Introduction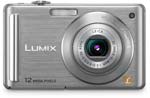 The Panasonic Lumix DMC-FS25 is the new range-topping model in Panasonic's FS line of compact digital cameras, designed to be a more affordable version of the popular FX series. The Panasonic FS25 has a 5x wide-angle zoom lens equivalent to a versatile focal length of 29-145mm, a new 1/2.33-inch 12.1 megapixel CCD sensor, large 3 inch LCD screen and slim, compact body. Aimed firmly at the point-and-shoot photographer, the Lumix DMC-FS25 features Panasonic's Intelligent Auto mode, which now has its own dedicated button and includes AF tracking, Intelligent Exposure and Face Detection with red-eye correction. The FS25 provides slideshows complete with music, there's a new Photo Frame mode and it can record WVGA (848 x 480) movies at 30 frames per second. Panasonic's optical image stabiliser, Venus Engine IV processor and ISO 1600 at full image resolution complete the headline specification. Available in silver, black and gold, Mark Goldstein found out if the Panasonic Lumix DMC-FS25 is a worthwhile successor to the FS20 model.
Ease of Use
The Panasonic Lumix DMC-FS25 is an extremely compact digital camera, measuring just 9.7cms wide and 2.2cms deep, which means that you can carry it in a trouser pocket without noticing it. Panasonic have somehow fitted in a wide-angle 5x zoom lens equivalent to 29-145mm on a 35mm camera into this tiny body. Models of this size from other manufacturers typically have a 3x zoom lens that starts at 35mm or higher. The wide-angle lens makes this one of the more versatile compacts in terms of focal range, especially as it is coupled with Panasonic's Mega O.I.S system, which helps to ensure that the majority of photos taken in good light are sharp. If you're used to a standard 3x zoom lens which usually starts at around 35mm wide, then you will find that the lens on the DMC-FS25 provides an entirely new angle of view that can only increase your creativity. Take it from me, you won't want to go back to a "standard" zoom after using the 30mm lens on the FS25, especially as it offers a telephoto setting of 145mm which is perfect for head and shoulders portraits and even more candid close-ups.
The DMC-FS25 is a well-built camera, with a high quality plastic body and controls, and subtle brushed silver finish to the front and matt black at the rear. The camera's design is dominated by the lens on the front and the large 3 inch LCD screen on the rear. There is no optical viewfinder, which follows a recent trend in digital cameras, and this does make the camera a little difficult to keep steady at the telephoto end of the zoom, especially given the disappointingly slow maximum aperture of f/5.9 at the telephoto focal length. Panasonic have retained but also slightly changed the joystick control from the FS20. Importantly you can no longer press it to access the menu system or set options - instead there's a new Menu/Set button above the joystick. I found this counter-intuitive at first, expecting to be able to "click" the joystick to choose options, and the joystick itself is still a little unresponsive. There's also one other area in terms of the DMC-FS25's design and build-quality where Panasonic have taken a small backwards step - the battery compartment and SD card slot is flimsier than the one on the previous FS20 model. The only other thing that I really didn't like was the poorly-positioned tripod mount.
| | |
| --- | --- |
| | |
| Front | Rear |
As this is purely a point and shoot camera with no manual controls, the Panasonic Lumix DMC-FS25 is not overly complex in terms of the number of external controls that it has, just 10 in total. The majority of the controls are clearly labeled and common to most cameras. Found on top of the camera are the on/off switch, responsive zoom lever and shutter button, and the new IA button, which provides instant access to the clever Intelligent Auto mode. Unfortunately the Extra Zoom button has been removed to accommodate the IA button (you now have to select a Picture Size in the menu system to activate this function). Also the IA button looks rather grey and plastick-y and out-of-keeping with the rest of the design.
With the exception of the new Menu/Set button and tweaked joystick, the rear of the FS25 is identical to the FS20. There's a Quick Menu button which provides quick access to most of the principal creative controls, including ISO speed, image size, image quality and white balance (there are 8 settings in total). You can still access all of these options from the main menu system too. The clever mode dial from the FX55 that selected the various shooting, scene modes and image playback has been replaced with a less intuitive combination of a Playback/Shooting Mode switch and separate Mode button. This system has one main drawback - you have to keep switching between the shooting or playback modes, rather than just pressing a button to review your images whilst in a shooting mode, as on most other digital cameras.
If you have never used a digital camera before, or you're upgrading from a more basic model, reading the easy-to-follow manual before you start is a good idea. Thankfully Panasonic have chosen to supply it in printed format, rather than as a PDF on a CD, so you can also carry it with you. The large 3 inch LCD screen is the only way of framing your shots, so if you have to have an optical viewfinder, look elsewhere now. The main menu system on the Panasonic Lumix DMC-FS25 is straight-forward to use and is accessed by pressing the Menu/Set button located above the navigation joystick. There are two main menus, Record and Setup. Most of the camera's main options, such as white balance, image quality, auto-focus mode and ISO speed, are accessed here, so the Record menu has 14 options spread over 3 screens, and the Setup menu 20 options over 4 screens. As mentioned previously, the Quick Menu button on the rear of the camera speeds up access to some of the more commonly used options. Due to the large LCD screen and restricting the number of on-screen choices to five, the various options and icons are very clear and legible.
| | |
| --- | --- |
| | |
| Front | Top |
First introduced on the FX series of cameras, the DMC-FS25 features an upgraded version of Intelligent Auto Mode. Panasonic have tried to make things as easy as possible for the beginner by providing this shooting mode, which allows you to point and shoot the camera without having to worry about choosing the right mode or settings. Intelligent Auto Mode automatically determines a number of key criteria when taking a picture, including selecting the most appropriate scene mode (from 5 commonly used presets) and ISO speed, and turning face detection, image stabilization and quick auto-focus on. The Intelligent Auto Mode now includes Intelligent Exposure, which increases exposure only in the under-exposed areas of the image, Digital Red-eye, which automatically detects and removes red-eye, and AF Tracking, which continually tracks a moving subject and keeps it in focus, without you having to hold the shutter button halfway down as on most other cameras. In practice this system works very well, with the camera seamlessly choosing the most appropriate combination of settings for the current situation. The 5 available scene modes are Portrait, Landscape, Macro, Night Portrait and Night Scenery, so obviously not all situations are covered by Intelligent Auto Mode, but it does work for the majority of the time. It makes it possible for the less experienced photographer to easily take well-exposed, sharp pictures of people, scenery and close-ups by simply pointing and shooting the camera.
As with all current Panasonic models, this camera has an anti-shake system, dubbed Mega O.I.S. Turn it on and the Panasonic Lumix DMC-FS25 automatically compensates for camera shake, which is a slight blurring of the image that typically occurs at slow shutter speeds when the camera is hand held. There are two different modes, Mode 1 is on all the time including image composition, and Mode 2 is only on when you press the shutter button. In practice I found that it does make a noticeable difference, as shown in the examples on the Image Quality page. You don't notice that the camera is actually doing anything different when anti-shake is turned on, just that you can use slower shutter speeds than normal and still take sharp photos. Thankfully leaving the anti-shake system on didn't negatively affect the battery-life, with the camera managing over 300 shots using the supplied rechargeable Li-ion battery.
The start-up time from turning the Panasonic Lumix DMC-FS25 on to being ready to take a photo is fairly quick at around 2 seconds. Zooming from the widest focal length to the longest is a lot slower though at around 4 seconds. Focusing is quick in good light and the camera achieves focus most of the time indoors or in low-light situations, helped by the focus-assist lamp. The camera doesn't have any problems locking onto the subject in low-light situations. The visibility and refresh rate of the 3 inch LCD screen are perfectly acceptable, and the pixel count of 230,000 is adequate, with little visible grain. It takes about 1 second to store an image, allowing you to keep shooting as they are being recorded onto the memory card - there is no LCD blackout between each image. The Panasonic Lumix DMC-FS25 has a slow Burst mode which enables you to take 1.8 frames per second for up to 3 images at the highest JPEG image quality. Overall the Panasonic Lumix DMC-FS25 is average in terms of operational speed.
| | |
| --- | --- |
| | |
| Memory Card Slot | Battery Compartment |
A couple of new "fun" features have been added to the FS25, which in reality are things that you'll probably try once then forget about. You can actually change the on-screen icon which appears at the top of the LCD screen to indicate that your subject is in focus, from the default circle to a car or heart, amongst others. The FS25 also adds a new Photo Frame scene mode, which places a border around the frame before you take a picture, allowing you to precisely position your subject before capture. When printed, the photos look like postcards in picture frames. Unfortunately there are just 3 rather cheesy designs on offer, and even worse, the Picture Quality is reduced to just 2 megapixels. All rather under-whelming. The most useful addition is less fun but ultimately actually worth having - the My Scene mode the allows you to assign up to two scene modes, providing a small degree of personal customisation.
Once you have captured a photo, the Panasonic Lumix DMC-FS25 has a good range of options when it comes to playing, reviewing and managing your images. You can quickly scroll through the images that you have taken, view thumbnails (up to 30 onscreen at the same time and in a special Calendar view), zoom in and out up to 16x magnification, view slideshows, delete, protect, trim, resize, copy and rotate an image. You can also select favourite images, sort images into categories, add a text stamp and set the print order. The Dual Play mode allows you to view 2 images onscreen at the same time, useful if you want to compare similar images. Slideshows have been enhanced with the addition of four new transition effects (natural, slow, swing, and urban) complete with music, although the default tunes are pretty terrible and I couldn't find any way to add my own. The Display button toggles detailed settings information about each picture on and off, such as the ISO rating and aperture / shutter speed, but there is no histogram available during either shooting and playback. When taking a photo, pressing the Display button toggles between displaying the detailed information, gridlines to aid composition, and no information at all.
In summary, the Panasonic Lumix DMC-FS25 is an easy-to-use, fairly responsive compact camera with a versatile 5x zoom lens that is particularly well suited to the beginner or anyone who requires a purely point-and-shoot camera. Now let's take a look at its image quality.

PhotographyBLOG is a member of the DIWA organisation. Our test results for the Panasonic Lumix DMC-FS25 have been submitted to DIWA for comparison with test results for different samples of the same camera model supplied by other DIWA member sites.