Sanyo Xacti HD2000 Review
Review Date: February 12th 2009
Author: Gavin Stoker
Leave a comment about this review
Introduction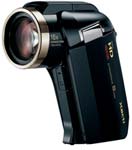 The Sanyo Xacti HD2000 is a pocket-sized dual stills and video camera, offering a combination of 8 megapixel photos and most impressively, Full HD, 1080p, 60 fps movies. The HD2000 can also shoot video in slow-motion at either 240 fps or 600 fps, and there's a HDMI output on the supplied docking station for hooking the camera up to a HD TV set. Featuring a flip and twist 2.7 inch LCD screen, 10x optical zoom (16x advanced zoom available in video mode), 12fps continuous shooting mode, and Face Chaser technology that can detect up to 12 faces, the Sanyo Xacti HD2000 sits at the top of the recently-unveiled Xacti 2009 line-up. Reflecting this lofty position, the HD200 costs an eye-watering £549 on launch, so does it offer enough features and performance to justify the large outlay in these credit-crunched times?
Ease of Use
Sanyo has been marketing its Xacti range of digital camera and camcorder hybrids for what seems like a good few years now. And yet, while admiring their vertical styling - somewhere between a Star Trek blaster and a hair dryer - plus comfortable gun-like grip, we have to date found them to be neither as successful as a standalone stills camera, nor as formidable for picture quality as a dedicated video camera. With the advent of High Definition video capture (as opposed to bog-standard VGA), Sanyo has overhauled its range and re-launched under the best-of-both-world's 'Dual Camera' branding. The black with gold detailing, vertically styled Sanyo Xacti HD2000 reviewed here currently tops the new Dual Camera range of six in total. For those who prefer a less esoteric camcorder design, a horizontally styled palm-sized version is available in the VPC-FH1.
Having witnessed much fanfare and enthusiasm (from Sanyo admittedly) at its recent UK press launch, naturally we're interested to see whether it performs better than its merely average predecessors. Of course, performance has to be weighed against price, and Sanyo's Xactis have generally sold around the £300 mark, which for a camcorder with HD capability is a veritable bargain. However, the CMOS sensor sporting HD2000 doesn't just boast an HD Ready 1280x720 pixels, but rather a Full HD 1920x1080 pixels at 60fps for smoother replay, which Sanyo is claiming as a world first, going partly towards justifying its expensive sounding £549 UK price tag. It's also worth mentioning that it records video in MPEG-4 format rather than the newer AVCHD, the latter developed to allow for greater compression of memory hungry files.
At least this ensures that the HD2000's footage will replay relatively easily in the most recent versions of QuickTime, which most of us already have installed on our PCs or Macs. Software for Windows users only provided on CD ROM includes Nero 8 Essentials and Xacti Screen Capture 1, plus the instruction manual, though a chunkier-than-usual hard copy is also very usefully provided in the box. The Sanyo Xacti HD2000 also comes with a desktop docking station that keeps the unit upright, featuring AV, USB, power in and HDMI (High Definition Multimedia Interface) ports, the latter only usually found on high-end DSLRs, but making perfect sense for hooking the unit up to your widescreen digital TV here.
Other key features pitched more directly at the photographer include 8 megapixel stills, interpolated up to 12 megapixels at its highest setting, a 10x optical zoom for photos, 12fps sequential shooting, 1cm macro shooting, plus the amusingly named 'Face Chaser' technology that can detect up to 12 faces in the frame, with a flip out and twist widescreen format LCD monitor with which to frame the action. Despite its mainly plastic feel and construction, the Sanyo Xacti HD2000 is reassuringly weighty in the palm at 311g with card and battery inserted, lending it an impression of substance even if, for us, it can't quite match the ruggedness of Sony's own vertically stacked TG3 HD device, priced at just £30 more.
| | |
| --- | --- |
| | |
| Front | Rear |
Helping keep the Sanyo Xacti HD2000's dimensions compact enough for it to be slipped inside a jacket pocket is its reliance on SD or SDHC (up to 32GB) removable media for file storage, as opposed to some competing HD camcorders that also feature a built-in hard drive. Of course the advantage of SD is that the camera's capacity is expandable by virtue of the user simply opting for a larger card at a relatively low cost, and in that respect it suggests itself as a more 'future proof' proposition. No card came bundled with our review sample however, so we'd suggest going for at least 2GB to take advantage of those high-resolution memory hungry video files alongside stills. A 4GB SD will allow for 1,000 images or around half-an-hour of Full HD footage. We'd expect to see more emphasis on SD as the prevailing data storage format for camcorders in the near future, as Sanyo's new 'tactical and operational' partner in Panasonic also thinks this way the future lies.
Unusually for a digicam/camcorder hybrid, the Sanyo Xacti HD2000 does come with a built-in pop-up flash, activated by a right hand side-mounted button (if viewing the unit from the back). The usual array of settings is offered: forced flash, red eye reduction or off joining auto activation. Just behind the flash bulb, protected by a sliding plastic cover that maintains its sleek dimensions, is a shoe (though as the manual points out, not a hot shoe) for slave flash, the unobtrusively clever inclusion of which comes as some surprise. Just below this on the same side of the 'dual camera', falling parallel with the flash button, is a recessed eyelet for attaching a wrist strap, and continuing down we find a sliding, removable cover that protects the rechargeable battery compartment (when fully charged claimed to be good for the capture of 355 stills or an hour and a half's video), neatly incorporated into the handgrip.
Moving over to the left hand side of the Sanyo Xacti HD2000, we find this given over almost completely to the flip out and twist widescreen ratio 2.7-inch, 230k-dot resolution LCD, turned in to face (and thus blending in with) the rest of the handgrip when not in use. The on/off power button is hidden behind the screen in its dormant state, but once you have the camera up and running, simply folding the LCD back flush to the body deactivates the model, while, conversely, folding the screen back outwards has the user up and shooting again in an instant. Built into the back of the screen is a microphone. The HD2000 will also handle the attachment of accessory stereo mic via a hidden shared compartment with a second port for attaching a set of headphones, located at the top of the grip just underneath the lens. Adjacent to this on the other side of the grip is a sensor to pick up on directions from the provided remote control.
Given its pistol styling, the main operational functions are controlled not via some forward mounted trigger but via a circular pad on the rear of the Sanyo Xacti HD2000, falling readily and naturally under the thumb as your forefingers snake around the fairly featureless gun handle grip. On closer inspection, the centre of this command circle has been dissected into two halves: the left hand side forming a shutter release button for the taking of still images and the right hand side a record button for shooting video. A slider switch top right of this lets the user alternate between record and play. Unfortunately, if you're in review mode and a photo opportunity presents itself, simply pressing the shutter release button won't throw you back into capture mode - you have to physically adjust the switch to its 'correct' setting for that to happen. If you're not careful and are concentrating more on subject than camera - as ideally you should be - it's also easy for your thumb to inadvertently slip from stills capture across to video, so closely placed are the large-ish relevant controls.
| | |
| --- | --- |
| | |
| Side | Rear |
Mirroring this rec/play switch on the left-hand side of the circular control pad is a second slider, spring-loaded this time, for controlling the zoom and alternating between maximum wide angle and telephoto settings, the 10x optical range accessible in stills shooting mode here equivalent to 38mm-380mm in 35mm film terms. Switch to shooting video however and you've alternative access to a 16x Advanced zoom (or 44.4mm-710mm), stretching up to a 160x digital zoom. As the view you're provided on the flip-out LCD is biased toward a widescreen one for the video buffs, a dedicated button at twelve o'clock on the rear control pad marked 'photo view' crops the one shown to more representative proportions by introducing black bars left and right of frame. This button seems slightly extraneous, as pressing the shutter release button halfway has the same result. We also found you then had to press the shutter release harder and in a more definite manner than rival compacts for it to actually go on and take the shot. You know when it's done so because you're rewarded with the sampled sound of a shutter firing and the screen blanking out momentarily - 8 megapixel, un-interpolated still images committed to memory in a second or so.
To the left of the Sanyo Xacti HD2000's screen, which can rotate through a 270° arc, is a built-in speaker and slider switch marked normal and simple. Choose the latter and, as expected, the majority of operational options are disabled, leaving the user with the choice of selecting only image size, focus and flash modes. Directly below the shutter release/record buttons at six o'clock on the control/command pad is the self-explanatory 'menu' button. Press this and the user is rewarded with six folders, each containing a screen's worth of options from which to select.
The first three of these are given over to recording functions. You tab through the choices using a small joystick positioned just below the aforementioned control pad; this again falling under your over worked thumb. Handily, the recording menus have positioned key requirements such as selecting stills and video resolution near the top. Likewise its standard issue selection of pre-optimised scene modes, which as well as sports, landscape and night portraits also feature snow and beach, fireworks and low light 'lamp' settings - the latter working with an ISO range that tops out at ISO 1600, though ISO 3200 is otherwise manually selectable. Or of course you can simply leave the HD2000 set to auto and point and shoot to your heart's content.
Sanyo has also thrown in no less than three in-camera filters: monochrome and sepia we'd expect, to which is added the beautifying 'cosmetic', for subtly sympathetic portraiture. You also get multi pattern, centre-weighted or spot metering to select from and, as indicated, a commendably broad ISO range, running from ISO 50 up to ISO 3200, plus program, shutter priority, aperture priority and manual exposure modes. Using the small joystick to tab through these options is a little fiddly at first, requiring a certain dexterity of thumb, but you get used to it.
| | |
| --- | --- |
| | |
| Memory Card Slot | Battery Compartment |
The second set of three folders contain the standard set-up menu options as found on just about any digital compact, governing start up displays, operational 'bleeps' and so forth, plus the ability to format the card in use. Incidentally there's no internal memory to fall back on, and a disembodied American-sounding female voice will firmly remind you to insert a card if at any time you've fail to do so. More experienced users might possibly find this level of hand holding irritating, but then I don't own a Sat Nav either. Unusually, the set up folders also contain the ability to adjust image settings from the default 'normal' to vivid, soft, or soft & vivid appearance. We can't help but feel users might have been better served had these been more logically included within the recording menus, where they're less likely to be overlooked.
Swap the aforementioned slider switch from record to play and you're faced with the same trio of set up menus, plus two further playback menus, providing the usual slideshow, protect, delete or image resize options. There's also an automatic 'contrast correction' editing function selectable in-camera, should you want to save yourself the need to apply Photoshop Levels later. The adjusted image can either be set to over-write the original or saved alongside it. Videos can likewise be edited to a limited degree: cutting or joining sequences. Moving down the rear 'spine' of the Sanyo Xacti HD2000's pistol grip we come next to a plastic door with flip open catch protecting the removable SD media slot, and below this again a second catch protecting a port for attaching a mains power lead, doubling up on the one already provided by the supplied docking cradle. The base of the unit also features an unprotected port for attaching the HD2000 to said cradle, plus a screw thread for mounting it on a tripod.
So, Sanyo's top-flight Xacti is easy to use and fairly straightforward in operation, though not without its occasional quirks. In effect its cool design has also been its undoing and it feels compromise has been made to achieve its sleek and unique Star Trek phaser / hairdryer looks. Which is perhaps why the less exciting but more conventional looking FH1 has been released in tandem. But does this pistol grip model come out firing on all cylinders or firing blanks when it comes to image quality?

PhotographyBLOG is a member of the DIWA organisation. Our test results for the Sanyo Xacti HD2000 have been submitted to DIWA for comparison with test results for different samples of the same camera model supplied by other DIWA member sites.