Sony Cyber-shot DSC-T300 Review
Review Date: December 29th 2008
Author: Gavin Stoker
Leave a comment about this review
Introduction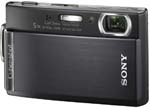 The Sony Cyber-shot DSC-T300 is an updated version of the original T100 model, predominantly adding more megapixels, a bigger screen and slightly wider zoom lens. Aimed firmly at the fashion-concious consumer, the 10 megapixel Sony T300 offers a unique combination of 5x inset zoom lens equivalent to 33-165mm and a massive 3.5 inch LCD screen, currently the most powerful zoom and largest LCD in Sony's T-series. Less than half an inch thick, in addition the T300 boasts high-definition output so you can take full advantage of any HD equipment already in your home. The new model incorporates Sony's new intelligent scene recognition (iSCN), with the advanced iSCN mode going even further by taking two photos, the first using your settings and the second using iSCN. Retailing for less than £250 / $400, the Sony Cyber-shot DSC-T300 certainly looks the part and has a great list of features, but can its performance and image quality match the camera's all-round style?
Compare Prices
Support PhotographyBLOG: Buy the Sony Cyber-shot DSC-T300 from one of our affiliate retailers:
Ease of Use
Last year we rated the Cyber-shot T100 and remarked on how Sony must have hit on something with its wafer-slim T-series Cyber-shots, as both Casio and HP had recently aped its ultra slim flat fronted, flip-open faceplate mechanism and coldly Teutonic look. Of course Fuji also is currently marketing its own sliding faceplate compacts in the likes of the Z100FD and Z20D. The popularity of such cameras that do their best to disguise what they are (the Sony T300 more closely resembles a fancy cigarette case) appears set to continue. This Transformer-like 10.1 megapixel T300 update, available in silver or lurid red finishes, is again closer to the slide-open-and-snap ethos of the mobile phone than a traditional stills camera.
And, whereas its pocket-friendly snapshot predecessor was already an exercise in design minimalism with an LCD swallowing up most of the back plate, the Sony Cyber-shot DSC-T300 goes one further and does away with the familiar four-way control pad, rear zoom rocker switch and menu buttons to give the even larger 3.5-inch LCD full reign. Fittingly at this point in time given the ubiquitous nature of the Apple iPhone and its own copycats, the Cyber-shot T300 delivers an almost entirely touch screen operation. I say 'almost', because as you begin to pick up the brushed metal camera and study it further, you discover the zoom rocker has been miniaturized and now lives on the top right edge of the body, where, though initially easy to miss, it automatically falls under your forefinger. Thankfully, it can be used in both shooting JPEG stills and MPEG1 format, 640x480 pixels video. As is logical, the shutter release button has been located alongside, where it is only ever a fingertip away.
With a half press the Sony T300 is commendably quick to determine focus and exposure, signaling this has been achieved with an affirmative 'bleep', and follow through with taking the shot at a full press. The screen blanks out momentarily while a shot is being written to card, a process taking 2-3 seconds. If you then flip immediately to playback however, you are sometimes rewarded with a black screen and a momentary 'processing data' message – which suggests the process could be faster. Next along from the shutter release button are two slender recessed controls. The first is a dedicated playback button, the other the main power on/off button. And those are the only 'physical' controls on the Sony Cyber-shot DSC-T300. For playback, the T300 offers HD output compatible with Sony's Bravia range of TVs, but you'll have to budget extra for the optional connecting cable.
Press the aforementioned power button or slide open the faceplate and the Sony T300 readies itself for action in a second or so, the rear LCD bursting into life sound tracked by an ident-like 'sting'. The central portion of the screen displays the image in 4:3 ratio, while two menu bars with white text or icons on an all-black background frame it at either side. You get a choice here of auto, program, scene, simplified 'easy' or video shooting modes. With a 230K-dot screen resolution, visibility is good indoors, but in bright sunshine, and as the only compositional tool available to you in the absence of an optical viewfinder, the LCD obviously suffers – affording you the ability only to make out general shapes rather than specific details.
| | |
| --- | --- |
| | |
| Front | Rear |
And, although not a deal breaking flaw, the bigger screen set against the otherwise diminutive dimensions – not to mention the T300's slippery smooth fascia – means that there's very little either side of the LCD on which to get a grip when operating the camera. While attaching the provided hand strap is therefore a must, the monitor inevitably becomes covered in thumb and finger prints – so you'll find yourself constantly wiping it clean. There's a grey plastic touch key provided that clips onto the strap should you wish, but I found tapping a fingernail against the screen both quicker and more intuitive.
While the Sony Cyber-shot DSC-T300's 5x optical zoom (33-165mm equivalent in 35mm terms) with Carl Zeiss optics betters most similarly credit card sized digital compacts, like last time the mechanism is also internally stacked, so at no point does any lens barrel protrude from the body. With the sliding lens cover open, and the lens itself ranged to the far right of the body when viewed front on, alongside it is revealed a small window for the self timer/smile shutter lamp, and, along from this again, a lozenge shaped window for the built-in flash and finally a trio of pinpricks indicating an integral microphone.
While the above styling is eye-catching and the metal build quality impressive, under the T300's bonnet it's very much 'business as usual' for Sony. It shares many of its features with the more conventionally designed Cyber-shot W300 (save for the latter's whopping 13.6MP resolution). These include a Bionz imaging processor powering its user-friendly Smile Shutter (the camera automatically takes a picture when your subject emits a toothy grin) and Advanced Face Detection features, namely the ability for the camera to bias either children or adults in the frame. You also get a D-Range Optimiser delivering even results when faced with high contrast scenes, dual anti blur functionality courtesy of built-in Super SteadyShot (activated at the point of the shot being taken, continuously adjusting or deactivated) and light sensitivity up to ISO 3200 to combat the effects of camera shake, plus intelligent scene recognition so all you truly have to do is point and shoot.
| | |
| --- | --- |
| | |
| Top | Bottom |
But back to the Sony Cyber-shot DSC-T300's LCD screen, its toolbars and menu screens, which are logically laid out and so quickly become intuitive to use. Like other Cyber-shots in the series, a 'home' function located at the top of the left toolbar gives an instant overview of the camera's features and functions, providing access to the basics of shooting and playback modes, along with slideshow and direct print options, plus the ability to format the Pro Duo Memory Stick in use. Below this, and next on the left hand toolbar, is a means of adjusting capture resolution via a strip that extends out across the screen in the style of a web banner, immediately below of which are similarly displayed options for self timer and ISO sensitivity (ISO 80 to ISO 3200), with a menu button located at the very bottom.
Press this last option and the left toolbar is replaced by one of two further grey on white toolbars, allowing access to face detection settings (including touch-specific face detection – i.e you touch a face in the frame for the camera to determine its bias – plus full auto and the ability to bias either children or adult faces). You also get a slider to adjust exposure compensation (+/- 2EV) tweak white balance, activate SteadyShot anti shake or jump to one of two further Shooting Settings menus. These include the ability to call up a nine-zone compositional grid on screen if wished, as well as activate/deactivate the AF illuminator lamp. Back in capture mode, and examining the right hand on-screen toolbar we discover the options for the flash, auto or macro shooting and display set up button, including the ability to adjust LCD brightness and turn on or off a live histogram display.
Press the playback button atop the Sony Cyber-shot DSC-T300 meanwhile, and you're again presented with an image taking up the central portion of the screen, flanked by option toolbars either side. Top left on the playback toolbar is the home button once more, immediately beneath which is a button for calling up stored images as a series of thumbnails. Tap on one to select it and enlarge said image to fill the screen. Next down is a button for calling up the plethora of slideshow options that cover both the visual and musical, and beneath this a delete button. At the very bottom on the left hand flank is once more a menu button.
| | |
| --- | --- |
| | |
| Battery Compartment | Memory Card Slot |
Tap this and you're presented with a veritable Aladdin's cave of playback options, including the ability to sort images by faces, the date they were taken, add paint, stamp or frame effects, re-size for the web or HD display, plus retouch images. These options contain some more unusual features such as the ability to apply a fisheye lens or cross filter effect to shots. Scarily, you can even 'modify' faces so that they appear they are smiling, Joker-style. The right hand toolbar in playback mode provides the ability to tab left and right through a section of images, with, again, a display button beneath. Here you can also call up a histogram and adjust LCD brightness. Press the shutter button at any time during the making of such adjustments to immediately pop back to capture mode.
While the left hand flank is devoid of any controls, the right hand side features a large metal loop via which the hand strap is attached. The base of the Cyber-shot T300 meanwhile features a screw thread for attaching the camera to a tripod and a compartment with sliding catch housing both lithium ion rechargeable battery and (optional) Memory Stick. There is a measly 15MB internal cache to fall back on straight out of the box however, and a battery life of just two hours or 260 images could be further improved on.
Like its T100 predecessor, with (very) minimal external controls the Sony Cyber-shot DSC-T300 manages not to leave the impression that anything is necessarily lacking. Indeed, and as detailed above, it boasts quite a lot more than you'd expect from a camera that is as much about form as function. With this in mind let's take a look at the image quality the T300 delivers and discover whether the camera is anything more than a pretty fascia.

PhotographyBLOG is a member of the DIWA organisation. Our test results for the Sony Cyber-shot DSC-T300 have been submitted to DIWA for comparison with test results for different samples of the same camera model supplied by other DIWA member sites.
Compare Prices
Support PhotographyBLOG: Buy the Sony Cyber-shot DSC-T300 from one of our affiliate retailers: