Sony Cyber-shot DSC-T700 Review
Review Date: February 23rd 2009
Author: Zoltan Arva-Toth
Leave a comment about this review
Introduction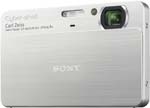 The Sony Cyber-shot DSC-T700 is an ultra-slim, ultra-compact digital camera featuring a metal body, a sliding front plate and folded optics. Highlights of the T700 include a 10 megapixel sensor, a 35-140mm equivalent 4x zoom lens, a large and high-resolution touch-sensitive rear screen, Super SteadyShot optical image stabilisation, face and smile detection technology, an anti-blink function, intelligent scene recognition, compatibility with Memory Stick Duo cards and a whopping 4 Gigabytes of internal memory. The Sony DSC-T700 currently retails for around £289 / $330 - carry on reading our in-depth review to find out if it's worth a look.
Compare Prices
Support PhotographyBLOG: Buy the Sony Cyber-shot DSC-T700 from one of our affiliate retailers:
Ease of Use
The Sony Cyber-shot DSC-T700 has a stylish minimalist design that is complemented by the use of high-quality materials, mostly metals. As a consequence of this, the camera weighs considerably more than you would guess from its dimensions alone. Still, it is very much a pocketable snapper that you can take along practically anywhere you go. If you don't like the idea of carrying a camera in your shirt pocket, you can also buy a well-made genuine leather carrying case for it, complete with a leather wrist strap that attaches to a small eyelet on the left side of the camera, when viewed from the front. Attaching this strap - or else the one that ships with the camera itself - is mandatory to be sure the ultra-thin T700 never slips out of your hands. My impression was that the highly contemporary styling of the camera conflicted with the decidedly retro looks of the case - but from a purely functional point of view, the combo worked well.
Like its immediate forebears, the Sony DSC-T700 has very little in the way of external controls. Apart from the power, playback and shutter release buttons - all of which are located on the thin top plate of the camera - there is only a tiny zoom lever in the upper right corner, when viewed from the back. In fact, even the power button seems redundant, as it is much more convenient to turn on the camera via the sliding faceplate - not to mention that this is required for the lens sitting behind this sliding cover to, quite literally, "see the light" anyway. Why the power button, then? Well, the only use I see for it is when you switch on the camera for playback purposes only. This can be done by way of the playback button, but if you then want to switch the T700 off rather than go to record mode, the only way to do this quickly is by pressing the power button.
The front of the camera features a slimline flash, a small built-in microphone, an auto-focus assist lamp and of course the lens, all flush to the body. None of these is seen when the sliding cover is closed, which makes the T700 look more like a stylish if undersized cigarette case than a camera. Thanks to its folded design, the lens never extends, with both focusing and zooming taking place inside. The lens itself is a Carl Zeiss Vario-Tessar, whose angle-of-view range is similar to that of a 35-140mm zoom on a 35mm camera. The maximum aperture is f/3.5 at the wide end and f/4.5 at full telephoto. With the lens being very close to the top right corner when viewed front on, it is prone to being fully or partially blocked by a finger, particularly when shooting movies.
The back of the Sony Cyber-shot DSC-T700 is even more Spartan, featuring nothing but the 3.5", 921,600-dot wide-screen LCD and a small, centrally aligned Sony logo immediately below it. The only things breaking the symmetry are three thin ribs running parallel to each other on the right-hand edge, which are probably meant to provide something of a thumb relief. I did not find much use for this, preferring instead to support the camera with my thumbs from below.
With the LCD serving both as a viewfinder and as the main control interface, its quality is crucial. Fortunately, Sony did not cut corners here. The 921,600-dot resolution is the highest yet on a compact digital camera, the viewing angle is wide and outdoors visibility, while not exceptional, is certainly above average. What's not so hot is that the excellent resolution of the screen is utilised neither in live view nor in instant post-view - which isn't exactly instant by the way - only in playback. As far as touch-sensitivity goes, this is one of the better screens, making the T700 somewhat less frustrating to use than a number of other cameras sporting similar touch-screens. Having said that, I shall also point out that the screen proved much more obedient to the long nails of my wife than my somewhat chubby male fingertips - which is fine as long as you consider the T700 a product targeted primarily at a hip young female crowd. Of course you can also use a stylus if that is your sort of thing. This way you can also prevent fingerprints from appearing on the screen, which don't wipe off easily (although neither do they seriously interfere with picture taking or image playback).
| | |
| --- | --- |
| | |
| Front | Rear |
In record mode, the screen shows a live image with overlaid shooting info - including a very useful live histogram if enabled - plus a number of icons. Since the aspect ratio of the sensor is 4:3 - as opposed to that of the LCD, which is 16:9 - the live image does not take up all the space available on the display, which has enabled Sony to line up the most frequently used interactive icons in a vertical row on either side of the image. Thus the live image isn't over-cluttered like it is on a number of other compacts. Of course if you choose to shoot in 16:9 mode, the live image fills the screen completely, and all icons are overlaid, including those that can be interacted as well as those that cannot, which you may find a little confusing. Apart from that, the control interface is fairly intuitive to use. A 'Home' icon in the top left corner takes you to the main setup menus, irrespective of what shooting mode you are in. By contrast, the number of options brought up by touching the icon labeled 'Menu', located in the bottom left corner, varies with the chosen shooting mode.
Speaking of modes, these are accessed by way of yet another icon, just above the menu 'button'. Touching it brings up a number of options, each represented by, yes, you have guessed it, an icon of its own. These include 'Landscape', 'Soft Snap', 'Twilight Portrait', 'Twilight', 'Auto', 'Program Auto', 'Easy Shooting', 'High Sensitivity', plus a movie mode, and a 'Scene Selection' setting, where you can choose from additional scene modes such as 'Gourmet', 'Beach', 'Snow', 'Fireworks', 'Underwater' and 'Hi-Speed Shutter'. As said, the available menu items differ greatly across these shooting modes, with ten being accessible in 'Program Auto', but only two in 'Easy Shooting'. The ten advanced settings include pixel count / aspect ratio, face detection mode (the options here being 'when touched', 'auto', 'child priority' and 'adult priority'), recording mode  ('normal' a.k.a. single shot, 'burst' and bracketing in either 1/3, 2/3 or 1 EV increments), white balance (auto or one of seven presets but no custom WB), flash level, red eye reduction (auto, on or off), D-Range Optimiser (off, D-R or D-R Plus), colour mode (normal, vivid, sepia or black-and-white), SteadyShot (shooting only, always on and off), while the tenth menu item provides direct access to the Shooting tab of the setup menu. Again, be reminded that only in 'Program Auto' mode do you gain access to all of these settings - in the other modes, your choice is more limited. Notable by their absence are the shutter priority, aperture priority and manual modes available on more advanced cameras - in other words, you cannot control the shutter speed or the aperture setting yourself.
In the bottom row, you may find up to four icons used to adjust the focus mode, the metering mode, the ISO sensitivity and the exposure compensation. As with the menu items discussed above, these may not be available in every shooting mode. There are a couple of auto-focus options (Multi AF, Centre AF and Spot AF) as well as a few preset focus distances (1m, 3m, 7m and infinity), which allow a sort of zone focusing. When using Multi AF, you can set the focus point by touch practically anywhere in the frame. This I found to be one of the best uses for a touch-screen - it is actually faster than the AF point selection methods provided in some SLRs! The metering options are Multi (evaluative), Center[-weighted] and Spot, the last of which seems almost like a perversion on a point-and-shoot camera like this (but it is welcome nonetheless). ISO can be set to one of seven levels, and an Auto ISO mode is also provided. This strives to stick with lower values, so if you want the camera to automatically select higher ISO levels, you need to choose the 'High Sensitivity' shooting mode. Finally, exposure compensation is a very welcome feature, and is best used in conjunction with the optional live histogram overlay.
In the left column of icons, you can set the flash mode (auto, on, slow sync and off), the focusing range (auto, macro and supermacro, the last of which disables the optical zoom but allows you to focus on subjects that are 1cm from the lens) and the preferred display mode. This is also where you can enable the live histogram mentioned earlier on.
As regards the speed of operation, the Sony Cyber-shot DSC-T700 can be described as fairly snappy. When popping in a fully charged battery for the first time, startup may take quite long - but on subsequent occasions, it is completed in about a second. Focusing is admirably quick for a camera in this class, and shutter lag is barely noticeable, provided you 'feel' the two stages of the shutter release, which isn't always the case. At its best, the Sony Cyber-shot DSC-T700 can capture a photo surprisingly quickly. When taking the last-but-one photo in the Sample Images section (of the cheerful little girl), I thought it would go straight to the dustbin, as she covered the lens with one of her hands right after I had pressed the shutter release button. To my surprise and delight, the T700 took the photo almost instantly, resulting in a true 'keeper'. The captured shot, however, does not display immediately, as noted earlier on in this review. Furthermore, this not-so-instant post-view is low resolution only, making it impossible to judge focus accuracy without entering playback mode. In playback, photos are displayed fairly quickly, but they do take some time to clean up, as the camera first displays a low-res version only. Still on the topic of speed, the T700 has a burst mode, in which I have been able to capture 6 photos in a matter of about 3 seconds using the internal memory, which means the camera can take photos at around 2 frames per second in this mode. While this is not SLR speed, it is respectable  nonetheless for this class of camera.
| | |
| --- | --- |
| | |
| Front | Battery Compartment |
In movie mode, the Sony Cyber-shot DSC-T700 can capture video clips at up to 640x480-pixel resolution and a frame rate of 30fps. These are quite ordinary specifications - and may come as an unpleasant surprise to those who have hoped for HD video - but there is good news as well: you can use the zoom! Yes that means the optical zoom, not just the digital version as on many other digicams. This is made possible by the practically silent internal zooming, whose sound is not picked up by the otherwise quite sensitive microphone, and is therefore not disturbing. Importantly, exposure compensation is also available for movies and not just stills, so over- and underexposure can be avoided.
Like many other Sony compacts, the Cyber-shot DSC-T700 has a number of 'cool' features that are not necessarily present in other manufacturers' digicams. One of these is smile detection, marketed as 'Smile Shutter'. When enabled, it allows the camera to automatically take a picture whenever it notices that someone in the frame has begun to smile. Then there is the anti-blink function, whereby the camera takes two images in rapid succession, analyses them, and discards the one in which the subject blinked (if they blinked in both shots, it sends you a warning message). Even more science-fiction-like is the T700's way of face detection, which does not only recognise faces (at a number of angles) but can also determine if they belong to an adult or a child; hence the 'child priority' and 'adult priority' options listed above. Focus, white balance, ambient and flash exposure are all optimised for the face(s) detected. Finally, the T700 features Sony's intelligent scene recognition technology. This is similar to what we have seen from Panasonic - when enabled, it can recognise the type of scene you are trying to photograph, and pick the most appropriate scene mode on its own.
The camera has a fairly comprehensive set of playback options. These include retouching / post-processing tools such as soft focus, partial colour, retro, red eye correction, trimming, unsharp masking,  radial blur, cross filter, fisheye effect and the dubious  option of putting a smile on the face of someone who forgot to say 'cheese' when photographed. Organising the stored images can also be done in a number of ways. One of the more standard features is a calendar view, which is easy to use, but you get a few additional image management options as well. For example, you can designate some of your shots as favourites, the camera can filter photos by faces (using its almost scary ability to automatically make a distinction between babies, children and adults) and even compile a little scrapbook with the background of your choice. A well-implemented slide show completes the picture (pun not intended).
The Sony Cyber-shot DSC-T700 has only one memory card slot, which accepts Memory Stick Duo and Memory Stick PRO Duo cards, but it has an internal memory as well. And what a memory! At 4 Gigabytes, it is easily the largest internal storage I've seen in a digital camera. This means that you may not even have to buy a card at all, but if you do, here's a smart way of using it: record your high-resolution photos on the card, download them to your computer using the supplied Picture Motion Browser program, and use the latter's ability to automatically upload reduced-resolution versions of these photos back into the internal memory of the camera. This way you can store tens of thousands (!) of VGA-res images in the camera itself, ready to be shown on the rear screen to anyone who cares to see them, while keeping the hi-res originals on the computer for printing and archiving. This raises the "coolness factor" of the T700, while being an actually useful feature. Please note that if you plan on recording video on the memory card rather than the internal memory, you will need a Memory Stick PRO Duo.
The T700 draws power from a proprietary Li-ion battery that slides into the same compartment as the optional memory card, which opens to the bottom of the camera. Both card and battery are protected from falling out even when the door is open. The battery cover bears the InfoLITHIUM trademark, but unlike some other Sony cameras powered by an InfoLITHIUM battery, the T700 does not display the remaining power in percentage form. There is a single port on the bottom of the camera for connecting the T700 to a traditional TV or a computer using the supplied 'octopus' cord. Finally, it has a tripod socket, which is apparently made of metal, but is not aligned with the lens' optical axis.
In use, I have found the Sony Cyber-shot DSC-T700 to be an above-average point-and-shoot camera thanks to its mostly speedy operation and adequately responsive touch-screen, as well as its ability to use the zoom even while recording a video clip. But how does the quality of its still images stack up? Read on to find out!

PhotographyBLOG is a member of the DIWA organisation. Our test results for the Sony Cyber-shot DSC-T700 have been submitted to DIWA for comparison with test results for different samples of the same camera model supplied by other DIWA member sites.
Compare Prices
Support PhotographyBLOG: Buy the Sony Cyber-shot DSC-T700 from one of our affiliate retailers: