Vosonic X'S Drive Super VP6210
Review Date: 6th June 2005
Introduction
The Vosonic X'S Drive Super VP6210 is an all-in-one portable storage device, music and video player and 12-in-1 card reader. The VP6210 features a 2.5-inch hard disk drive, ranging from 20Gb to 80Gb capacity, and three memory card slots which support 12 different types of memory cards. A 2 inch colour LCD screen on the VP6210 allows you to view and manage your digital photos (JPEG and some RAW formats) and watch MPEG-1 or Motion JPEG videos. The VP6210 can also play MP3 and WMA music files. As the Vosonic X'S Drive Super VP6210 is basically a hard-drive in a stylish metal case, any type of file that you would normally find on a computer can be stored on it. You can copy your digital photos from a memory card onto the VP6210, and then copy them from the VP6210 onto your computer via a speedy USB 2.0 connection. So is the Vosonic X'S Drive Super VP6210 the ultimate all-round entertainment device, or has it bitten off more than it can chew? Find out by reading my review.
Price
The Vosonic X'S Drive Super VP6210 has a recommended retail price of £235 inc. VAT for the 20Gb version that I reviewed. There are also 60Gb and 80Gb versions available which cost £279 and £289 respectively (inc. VAT).
Features
The Vosonic X'S Drive Super VP6210 supports 8 different kinds of memory card; Compactflash Card type I / type II (CF), IBM Microdrive, Smartmedia Card (SM), Memory Stick (MS), Memory Stick Pro (MS Pro), Secure Digital (SD), MultiMediaCard (MMC) and XD Picture cards (XD), which fit into one of the three card slots on the sides of the unit. 4 other formats are supported with the use of a suitable adapter (not supplied) - they are Mini-SD, RS-MMC, MS Duo and MS Pro Duo.
The Vosonic X'S Drive Super VP6210 uses a fast USB 2.0 interface for quick file transfers to your PC (also backwards compatible with USB 1.1 ports). When it is plugged into your PC the Vosonic X'S Drive Super VP6210 also doubles up as a multi-card reader/writer, so you can save yourself some money by not having to buy a card reader as well.
The Vosonic X'S Drive Super VP6210 is powered by a rechargeable 3.7V Li-ion FUJIFILM NP-120 battery which has a lifespan of around 3 hours when the LCD display is on, or up to 6 hours in LCD standby mode. Alternatively you can use the supplied 100-240V AC/DC adapter to plug the Vosonic X'S Drive Super VP6210 into the mains power in most countries; this is also the way in which the battery is recharged.
The VP6210 can be used to display digital photos in JPEG format (up to 16 megapixels) and in Nikon, Canon, Fuji, Olympus and Kodak RAW formats via a recent firmware upgrade - FW.FROA-1.1.5 (Nikon (D100, D70, D1X, D1), Canon (1Ds Mark-II, 1Ds, 1D-II, 1D, 20D, 10D, 300D (Digital Rebel, Kiss Digital), D30, Power Shot G2), Fujifilm (S2 Pro), Olympus (E-1), and Kodak (DSC Pro SLR/c, DSC Pro SLR/n, DSC Pro 14n)). You can view all image files as a list or thumbnails, copy and delete images, view EXIF information and watch a slide show. You can also zoom in and out of a specific image and rotate it anti-clockwise.
The Vosonic X'S Drive Super VP6210 can playback music in MP3 and WMA formats. You can play, pause, stop, rewind and fast forward individual tracks, create playlists by organising files into folders, repeat and shuffle tracks, and there are 6 different Equalizer modes to choose from (Bass, Classic, Dance, Live, Rock, Treble). Volume is controlled by the Up and Down buttons on the front of the device. The headphone socket is located under a plastic flap on the top of the unit - the Video Out connector and Power Lock switch are also located here.
The VP6210 can playback videos in MPEG-1 and Motion JPEG formats. The display resolution is 352 x 240 pixels at 30 frames per second. You can play, pause, stop, rewind and fast forward videos.
On the front of the Vosonic X'S Drive Super VP6210 are 10 buttons which perform different functions depending on whether you are viewing photos, playing music etc. The VP6210 has a 2 inch colour LCD screen, although there is no mention in the documentation of how many pixels it has. There is a small recess marked Reset on the bottom of the unit which allows you to reset the device and a remote sensor for use with the supplied remote control. The VP6210 can be connected to a TV via the Video Out connection (NTSC and PAL formats). It weighs 330 grams including the hard-drive and battery, and its dimensions are 135 (L) x 86 (W) x 35 (H) mm.
The following items are supplied with the Vosonic X'S Drive Super VP6210: User Manual, Setup CD, USB Cable, AV Cable, AC/DC Adapter, Carrying Case, Remote Control and a pair of Stereo Earphones.
Design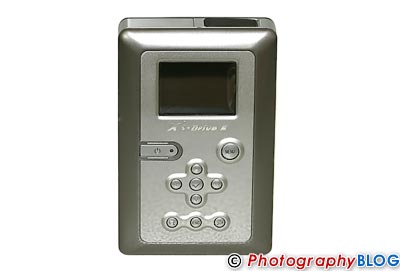 Front / 2 Inch LCD Screen / 9 Buttons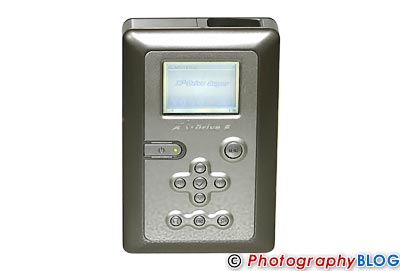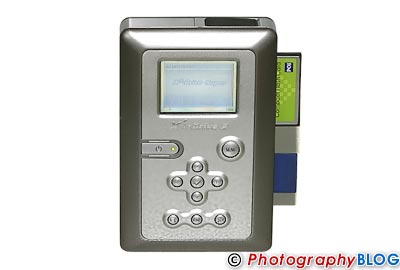 Front / Memory Cards Inserted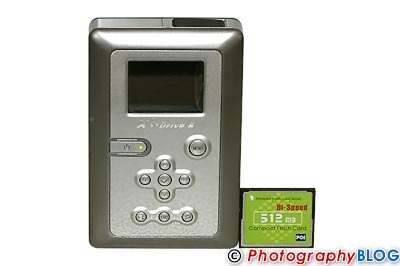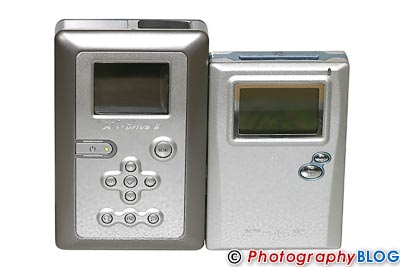 Compared to the Vosonic X'S Drive II Plus VP2160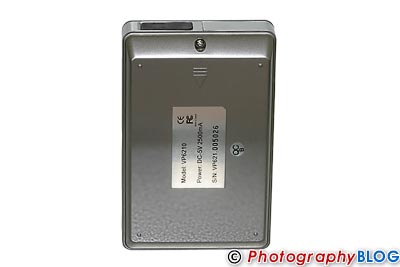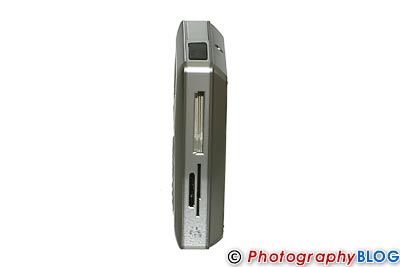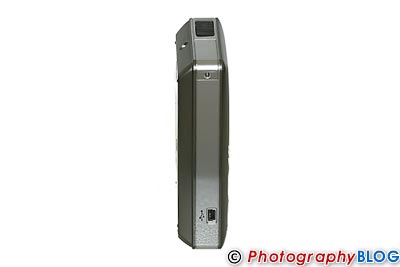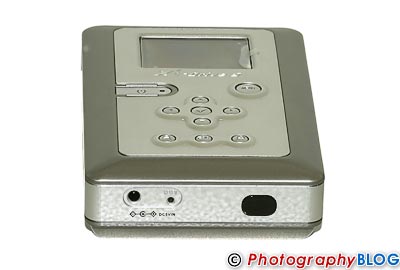 Bottom / DC Power Socket / Reset Button / Remote Sensor (for remote control)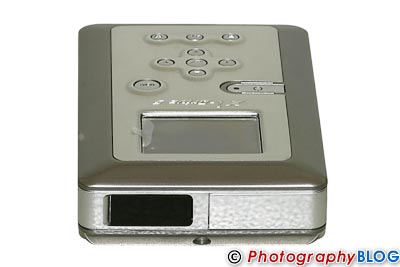 Top / Headphones Connector / Video Out Connector / Power Lock Switch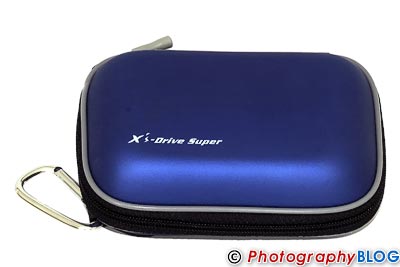 Ease of Use
The Vosonic X'S Drive Super VP6210 is probably the most complex portable storage device that Vosonic has produced, thanks to the colour LCD screen, music and video options, although it is by no means difficult to use.
It's fairly straight-forward to copy your photos onto the Vosonic X'S Drive Super VP6210. Insert the memory card into the correct slot on the side of the device. The card appears as an icon on the LCD screen. Select it by using the arrow buttons and then press the Menu button. A context sensitive menu appears onscreen - select Full Backup and press the Tick button to to copy the contents of the memory card onto the CP6210's hard drive (you will be asked to confirm the backup - press the Tick button again). During the transfer process, the LCD screen lights up and displays where the files are being copied from, where they are being copied to, the name of the file that is currently being copied and a progress bar to show how many files have been copied. You can select Cancel at any time to abort the transfer. It only took 3 minutes 35 seconds to copy the contents of a full 512Mb 24x speed PQI compact flash card (86 Canon EOS 10D RAW files, 488Mb total data). This gives a very fast transfer rate of 2.27Mb/Sec (488Mb transferred in 215 secs).
The transfer of the files from the Vosonic X'S Drive Super VP6210 onto your PC is also easy to accomplish. Plug one end of the supplied USB cable into a USB 2.0 port on your computer and the other into the mini-USB port on the side of the Vosonic X'S Drive Super VP6210, turn the device on, which creates 4 new drives in Windows Explorer (one for the Vosonic X'S Drive Super VP6210's internal hard-drive and one for each of the 3 memory card slots). You can insert your memory card and use the Vosonic X'S Drive Super VP6210 as a card reader, or you can copy and paste the contents of the internal hard drive onto your PC. If you know how to use Windows Explorer, then you know how to access what is stored on the Vosonic X'S Drive Super VP6210. The USB 2.0 connection means that the Vosonic X'S Drive Super VP6210 is a lot quicker to transfer files onto your PC than the X'S Drive - it took exactly 1 minute for 488Mb data. A small green LED next to the power button indicates that a transfer is taking place (the LCD screen goes blank).
Unlike the much simpler Vosonic X'S Drive II Plus VP2160 that I reviewed last week, the Vosonic X'S Drive Super VP6210 enables you to see and check your files once they have been copied onto the device. The addition of the 2 inch LCD screen allows you to check what is stored on the device at any time via the folder-like hierarchy, and you can therefore verify if a transfer has been successful or not before you format your memory card (if you have sufficient time that is!). Copying files onto the VP2160 is more rudimentary as you can only check if a transfer has been successful by watching it take place (not after the event).
The VP6210's colour screen also allows you to playback the images that you have downloaded - this is the first ever Vosonic device to offer this feature, and puts it in direct competition with the likes of the Apple iPOD Photo. Finding your images via the interface is very easy and the VP6210 didn't take long to display a 7MB Canon EOS 10D RAW file - around 1 second. Zooming in and out of the image and scrolling around is also very snappy. There aren't too many other playback options available though - display EXIF information if it's available, view a slide show with each image displayed for approximately 1 second (which can't be changed), rotate an image and select an image to use as a background for the LCD screen.
My main complaint about image playback on the VP6210 is that the 2 inch screen, although perfectly adequate in terms of resolution, is too small for anything other than verifying that your images have downloaded successfully. I wouldn't use this device to share my photographs with other people, for example, unless I connected it to a TV. Now this is probably also a valid criticism of the iPOD Photo, which also has a 2 inch screen, but after reviewing the Epson P-2000 with its gorgeous 3.8 inch display, the VP6210's just doesn't come up to scratch. When you consider that the UK price difference between the P-2000 and the VP6210 is only around £50 (the P-2000 can be bought for £294.31 at Amazon.co.uk), the lines between the two devices start to blur and the Epson P-2000 looks like a better buy in terms of viewing images.
Video playback on the Vosonic X'S Drive Super VP6210 is very similar to the Epson P-2000, in that both devices offer rather limited support in terms of file formats. With a display resolution of 352 x 240 pixels at 30 frames, the VP6210's video playback is not going to encourage lengthy viewing. Vosonic have improved the music playback features of the VP6210 in comparison with its previous generation of devices - the VP3310 didn't offer fast forward or rewind functions - but it is not as feature rich as the Apple iPOD or most dedicated digital music players. The VP6210 falls into the "fine for occasional use" bracket, but if you want a music player that also displays photos, rather than the other way around, then consider another device instead.
The Vosonic X'S Drive Super VP6210 has improved on a couple of other things that annoyed me about the older X'S Drive. Firstly, the noise of the unit has been significantly reduced, so although not whisper quiet, it is now barely discernible. Secondly, the biggest design flaw of the original X'S Drive is the Power and Copy buttons, which are slightly raised above the level of the rest of the device, leading to the unit inadvertently turning itself on. Vosonic have addressed this on the Vosonic X'S Drive Super VP6210 by indenting the Power button within the body of the unit and making the Copy process selectable via a menu option rather than a dedicated button.
Conclusion

(out of 5 stars)
The Vosonic X'S Drive Super VP6210 attempts to be a lot of things to all people, but ultimately ends up being master of none. By trying to be a storage device, photo viewer, music player, video player and card reader, I feel that the VP6210 is just too much of a compromise. Its main strength lies in what Vosonic have always been good at - delivering an easy to use, well-made portable storage device, which also happens to be their quickest model ever in terms of transfer speed, taking just 3 minutes 30 seconds to copy a 512Mb memory card. What is less impressive are all the extra features that Vosonic have added. The 2 inch colour LCD screen is too small for anything other than verifying that your images have downloaded successfully, whilst music and video playback are both limited in terms of functionality. The final nail in the coffin is ultimately the cost of the VP6210. The 20Gb version that I reviewed costs £235 - for £60 more you can buy the Epson P-2000, which offers a gorgeous 3.8 inch screen, more intuitive interface, 40Gbs of storage and similar music and video features. Or if you only shoot JPEGS you could buy an Apple iPod Photo for around the same price as the VP6210 and get far superior music playback (although you do sacrifice the built-in memory card slots and video capability). If you're a photographer who just wants a portable way of backing up your photos, I'd suggest another Vosonic product, the no-frills VP2160, which is a lot cheaper and easier to use than the VP6210.
Related Links