Adobe Photoshop Elements 14 Review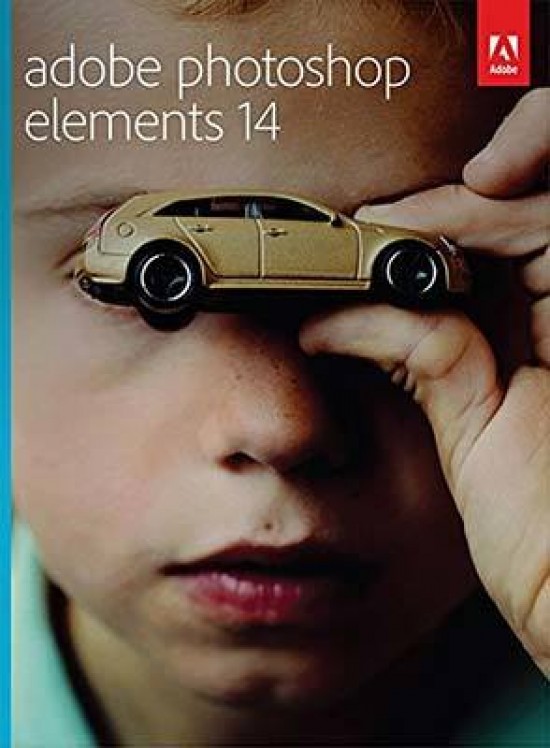 Image Editing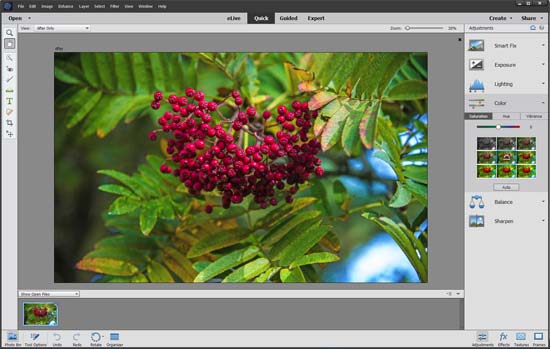 The Quick Edit mode, each adjustment offers a nine image variations style grid, plus a slider to fine tune the adjustment, click on the thumbnail that works for your image.
Select an image and Click on the Editor button which is located at the bottom of the screen. The first option is Quick edit, this is the ideal starting point for anyone new to image editing or if you just want to make quick image adjustments. The adjustments are made via a series of variation style drop down boxes which include; Exposure, Lighting, Colour, Balance and Sharpen. Image effects (FX) and Textures can also be applied over an image as well as Frame borders, although the supplied frames are not that inspiring. Located on the left hand side there are a few tools for basic editing, such as Magic wand, Red eye, Whiten Teeth, Straighten, Text tool, Spot healing, Crop and Move tools. The quick edit mode is suited to the user who just wants quick results, and as such it delivers all that is expected.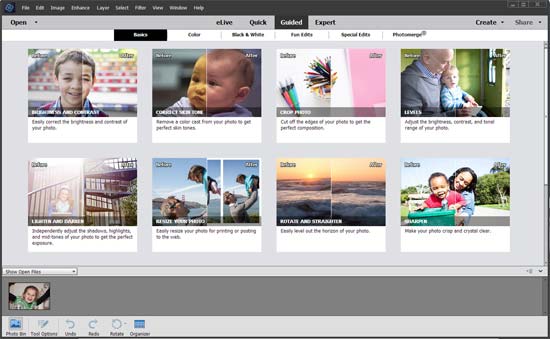 The Guided Edits has six screens each containing a Step by Step guide on how to achieve a desired effect or adjustment.

The Guided Edits section at first glance seems to be more basic than the Quick Edit mode, however, all is not what it seems. Hidden behind the seemingly simple interface are 34 step by step Guided edits to help you achieve some great results. The menu options include; Basics, Colour, Black & White, Fun Edits, Special Edits and Photomerge. Clicking on any of the menu options and you are presented with large thumbnails with before and after previews, drag over the image to see the before and after effect. Click on the thumbnail for the effect you want to apply and you are taken through a step by step guide on how to achieve the result with your image. Most of these worked extremely well with our images and could be further tweaked, if required, when opened in the Expert mode.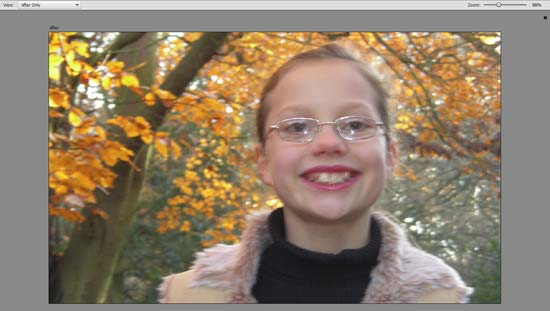 The New Auto shake Reduction works well with images that have a small amount of camera shake.
There are several Enhancements in Elements 14 but only two new features. Auto Shake Reduction, this feature is located in the Enhance drop down menu. The shake reduction worked well on photos that have a small amount of camera shake, but for extreme shaky photo's the recycle bin is maybe a better option. Auto Haze Removal, this works really well with landscape photographs which display a lot of distant blue haze, apply the filter multiple times for a stronger effect.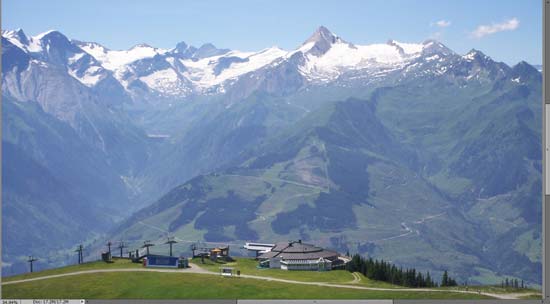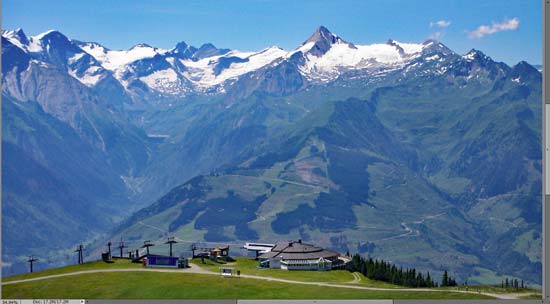 The New Auto Haze Remover works very well, apply the filter multiple times for a stronger effect.
The enhanced features include; Looks, which can be found in the Quick Edit mode, FX section. There are 11 looks just click on the look that you require and each one will give you five variations to choose from.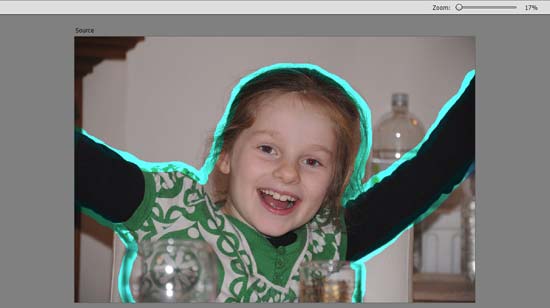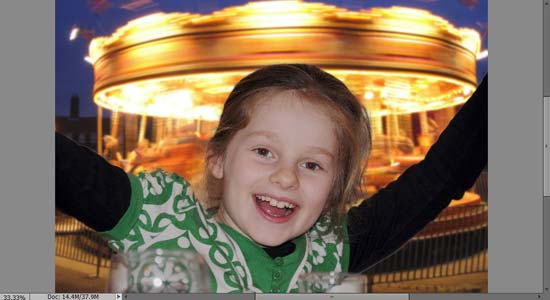 Make a selection of a person or object using Guided Edits > Photomerge - Compose, and combine it with a new background. Fine hair was preserved in the resulting image.
Making Selections has been made easier, just paint over an area and Elements does the rest. Fine hair detail can be preserved by simply painting over the hair. Now combine the cut out onto a new background. This can be found in the Guided Edits under PhotoMerge.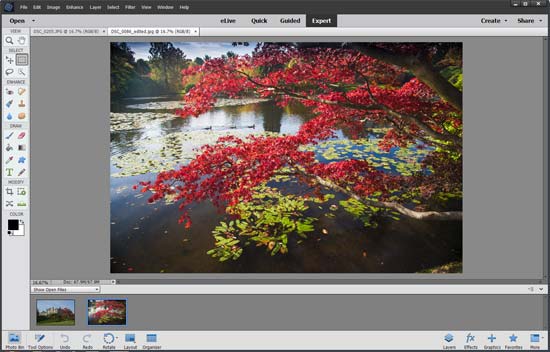 The Expert mode gives you full control on image editing. Use the drop down menus for more options.
The Expert Edit mode is for the person who wants to fine tune their photo, or apply multiple edits. Whilst it may not have all the advanced features of Photoshop CC it does provide sufficient tools and image control for most users. For those who want to experiment, there are plenty of drop down menus for you to explore. These drop down menus are available in Quick, Guided and Expert modes.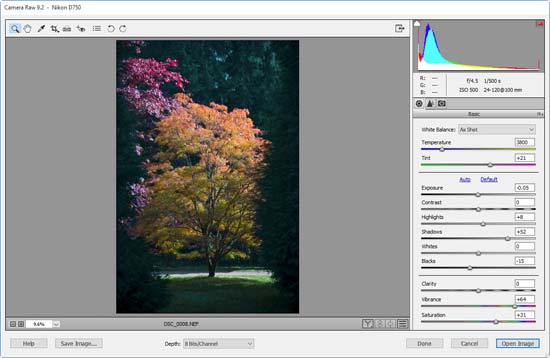 Elements 14 includes Camera Raw 9.2, although not as comprehensive as the version supplied with Photoshop CC it still produced great, albeit limited, results.
PSE 14 includes Camera RAW 9.2. This is a cut down version and lacks many features compared to the version included with Photoshop CC, nevertheless, it does give you control on colour temperature, exposure, contrast, vibrance, saturation, sharpening, noise reduction etc.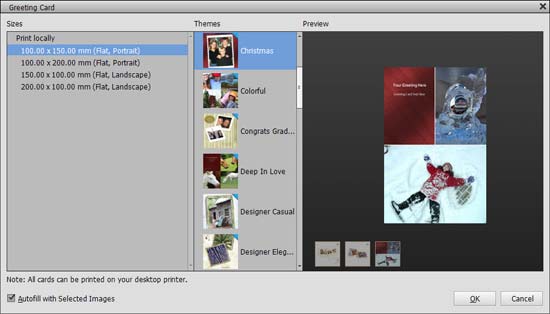 Create Prints, photo books, cards, calendars, CD jackets or post the final results to a Social Media web site. Photoshop Elements 14 has all the options built in.
Finally, at the top right corner of each mode there are two drop down lists, Create and Share. Create includes; Photo Prints, Photo Book, Greeting Card, Photo Calendar, Photo Collage, Instant Movie, Video Story, DVD with Menu, Facebook Cover, CD Jacket, DVD Jacket and Slideshow. Use the Share list for sharing photos with social media sites or DVD burning.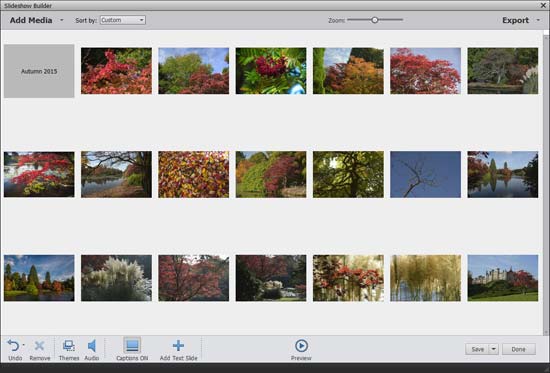 Create Slideshows from selected images and rearrange the sequence by dragging the thumbnails to the required slot.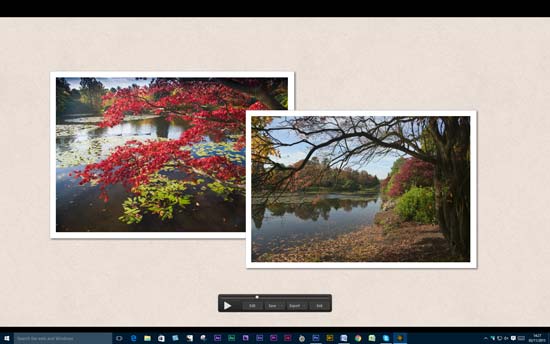 Slideshows using the supplied themes lack inspiration.
Your Comments