Canon EF-S 35mm f/2.8 Macro IS STM Review

Introduction
The Canon EF-S 35mm f/2.8 Macro IS STM lens is the first of its kind in the EF-S range. For use with Canon's APS-C sensor cameras, the lens features a unique built-in Macro Lite technology to illuminate close-up subjects.

As it's a dedicated macro lens, it has a 1.0x magnification, with a close focusing range of just 0.13 metres. It also features an Optical Image Stabilizer with Hybrid IS and a 7-blade circular aperture. The lens has Super Spectra Coating which has been designed to reduce ghosting and flare.

Being an STM lens, it has a stepper motor - designed for quick, quiet and smooth autofocus - something which videographers may find particularly appealing.

The Macro Lite can be configured to either shine on the left hand side, right hand side or both, giving you full flexibility to illuminate super-close subjects. Those who need to photograph products, such as jewellery or food, may be drawn especially towards this lens.

The Canon EF-S 35mm f/2.8 Macro IS STM retails for £399 / $349.
Ease of Use
As the Canon EF-S 35mm f/2.8 Macro IS STM is an EF-S lens, that means you can only use it with Canon's APS-C cameras. We've been using it with the Canon EOS 77D.

It is a very small and light lens, and would make an ideal walk around lens - the focal length being 56mm (equivalent), it's quite a good option for street photography and a general lens for every day usage. Although it is designated as a macro lens, you can use it for more general subjects too if you prefer.
There is a white square near the back of the lens, which you can match up with the white square on the lens mount to attach it easily. This white square (instead of a red dot), is another marker that this is an EF-S, rather than EF lens.
On the side of the Canon EF-S 35mm f/2.8 Macro IS STM lens, there's an AF / MF switch, for turning on manual focus. There's also an image stabiliser switch - again, for turning on (or off) the OIS. You might want to switch stabilisation off when working with a tripod or other way to keep your camera perfectly still.
There's also a button for switching on the front macro lites. The button won't do anything if the camera is not switched on, or if it's in sleep mode. Once not in sleep mode, press the button once to switch the lights on at full intensity, press it again to switch to a lower intensity light, and once again to switch the lights off. If you hold down the button, you can switch to only using one of the two macro lights - this can be useful if you only want or need to illuminate one side of a subject. You will need to hold down the button again to switch back to using two lights.
Around the front of the lens is a focusing ring, which is quite slim. It is ridged, so you should be able to find it when holding the camera up to your eye. It's quite a loose movement when moving the ring, so it can be quite difficult to achieve extreme precision when it comes to fine-tuning focus, but it's not too bad. There's also no hard stops, so it's not immediately obvious when you've reached infinity focus.
A lens hood is supplied in the box of the Canon EF-S 35mm f/2.8 Macro IS STM, but if you attach that you can't use the macro lites, so it's best reserved for when you're using the lens for general purpose work.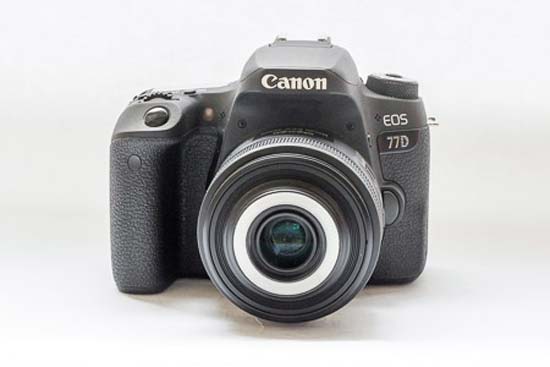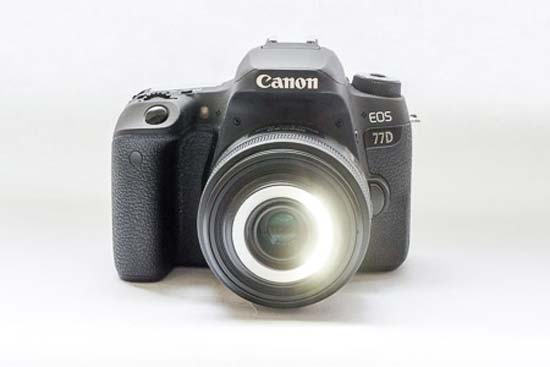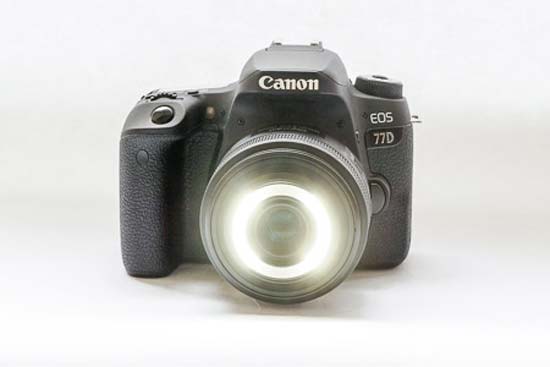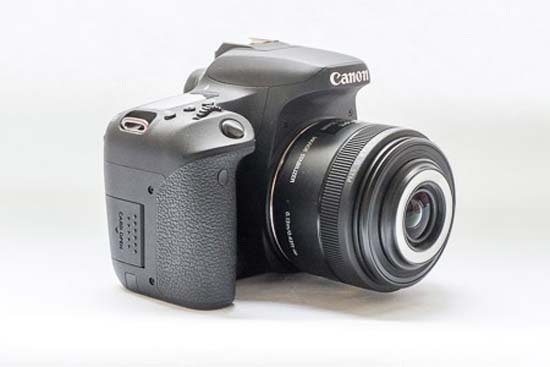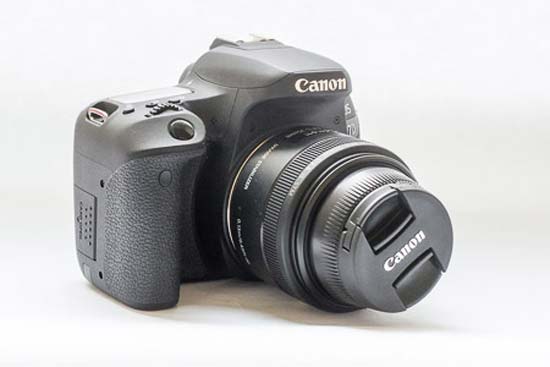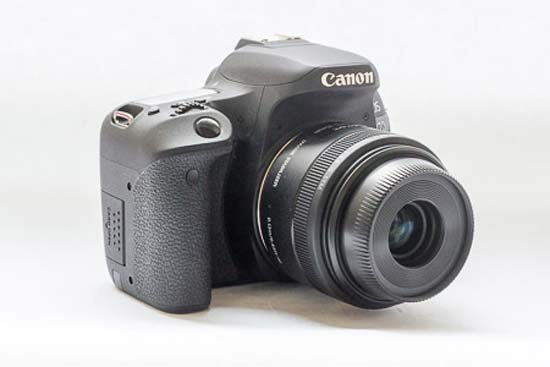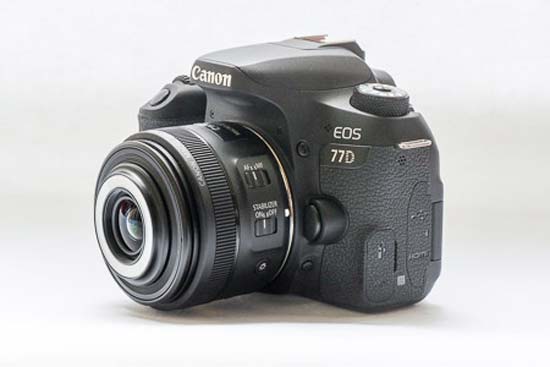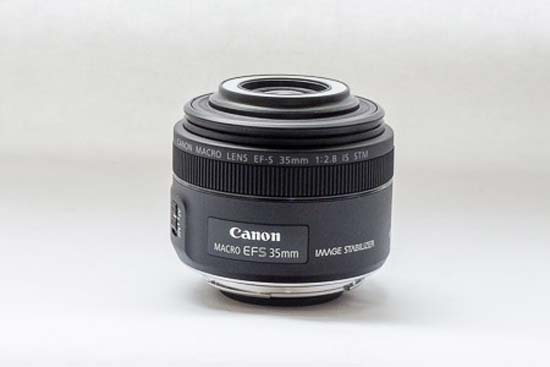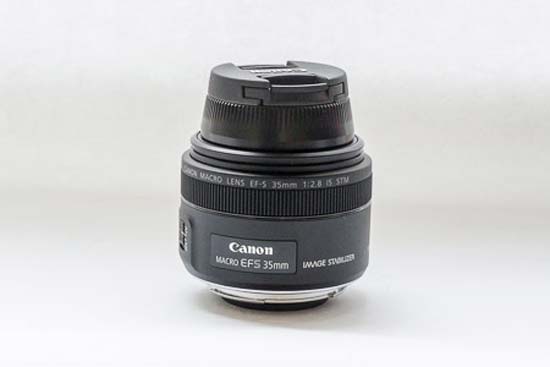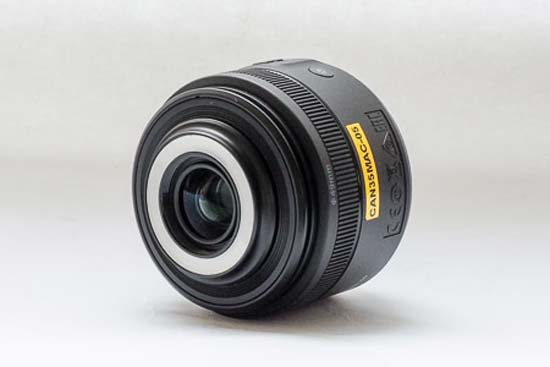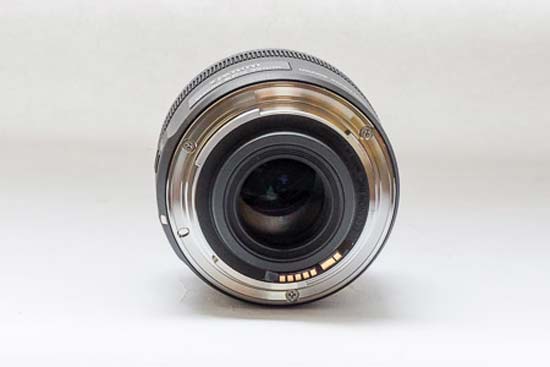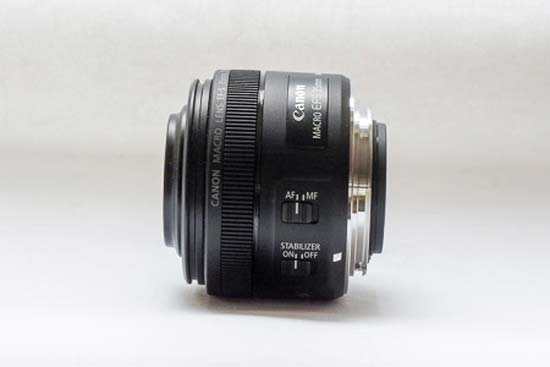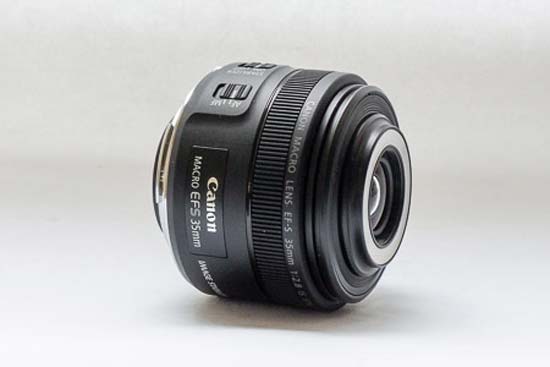 Focal Range
The 35mm focal length gives an angle of view of 42 degrees, and a 35mm film equivalent focal length of 56mm.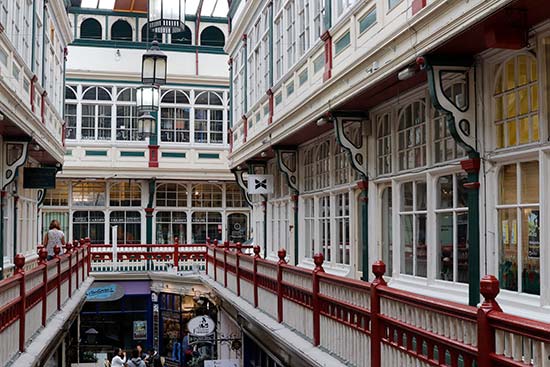 Field of view at 35mm
Focusing
The Canon EF-S 35mm f/2.8 Macro IS STM is an STM (stepper motor) lens. This means it has been designed for quieter and smoother autofocus - something which may be of particular benefit when shooting videos. Indeed, when focusing, the lens is barely audible at all, and certainly won't be something you can hear over ordinary ambient noise. This also makes it a good choice for photographing in discreet situations.
In the majority of situations, the lens locks onto the target very quickly, only hunting in lower light conditions. Focusing is internal, so the lens remains the same length at all times - that's also good news for anyone who wants to use a filter.
Chromatic Aberrations
Typically seen as purple or blue fringes along high-contrast edges in a photograph, chromatic aberration can be a problem for some lenses. Here with the Canon EF-S 35mm f/2.8 Macro IS STM, it seems to be very well controlled - only being visible in some scenarios, and only particularly noticeable when examining at 100%.
Light Fall-off
In JPEG images, you can see some slight light fall-off in the corners when shooting at the lens' maximum aperture of f/2.8. By the time you step down to f/3.5 the effect is lessened, being imperceptible by the time you get to f/5.6. When looking at the corresponding raw files, light drop-off is a little more evident (at f/2.8), but it's still unlikely to be something you'll notice when shooting ordinary scenes and subjects - as opposed to a white wall.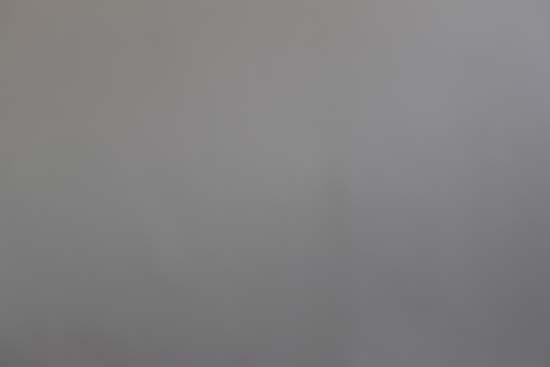 Vignetting at 35mm
Distortion
As we'd expect from a lens of this kind, distortion isn't an issue.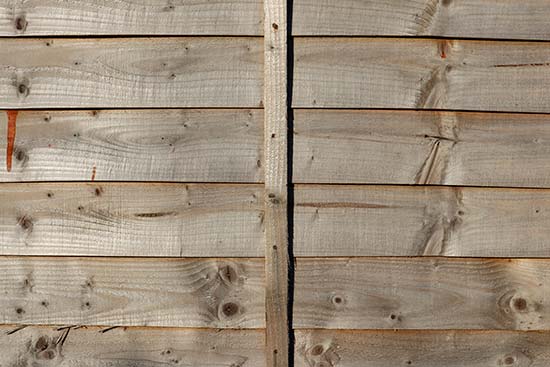 Macro
The Canon EF-S 35mm f/2.8 Macro IS STM is a dedicated macro lens. The closest focusing distance is 13cm, while the maximum magnification ratio is 1.0x. You can get extremely close to the subject with this lens, making it perfect for photographing very small items and still filling the frame.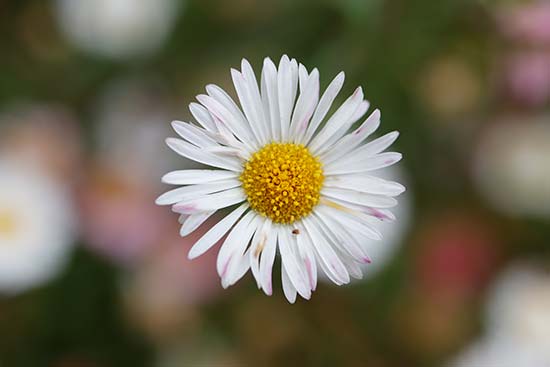 Lights
The following images show the effect of the macro lights turned on to left only, right only, and both at once (full intensity).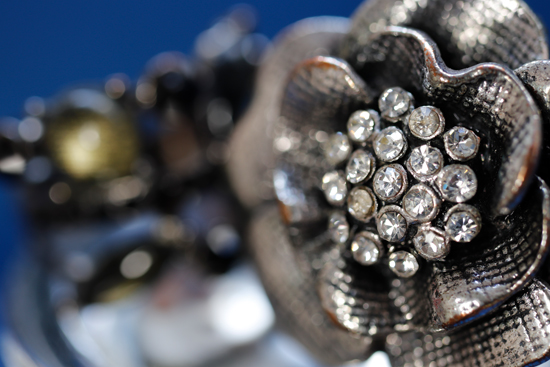 Left Light On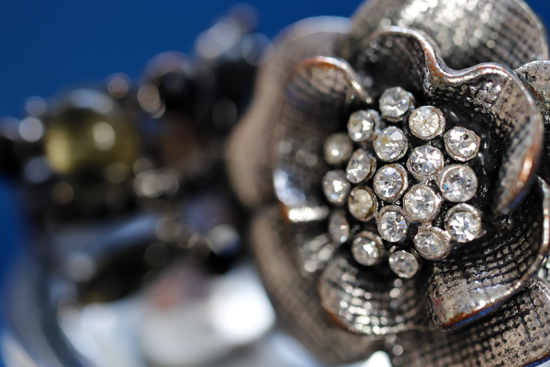 Right Light On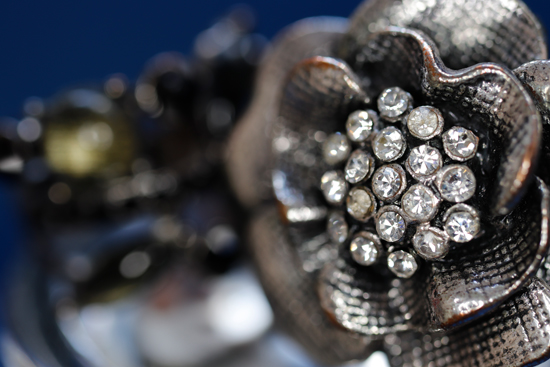 Both Lights On
Bokeh
Bokeh is a word used for the out-of-focus areas of a photograph and is generally described in qualitative terms, such as creamy, harsh, smooth and so on. The Canon EF-S 35mm f/2.8 Macro IS STM lens offers a wide maximum aperture which makes it easy to create shallow depth of field effects. The out-of-focus areas are rendered nice and smoothly, but the quality of bokeh can be quite subjective - for that reason we have provided a few samples so you can have a look for yourself.
Sharpness
In order to show you how sharp this lens is, we are providing 100% crops on the following page.