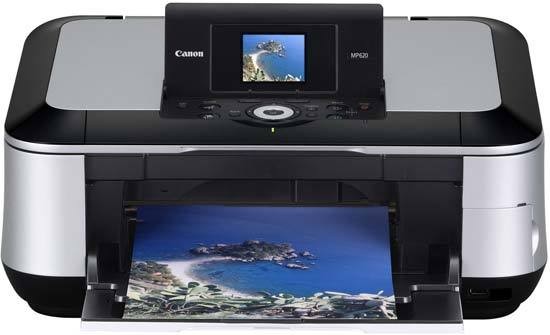 Printing
The primary reason you'll be looking at one of these devices though is most likely the printing. The Canon Pixma MP980 includes automatic duplex printing, making it easy to print on both sides of the page, and is reasonably fast at printing normal documents. But, we're interested in photo printing here. Here the MP980 does an amazingly good job. I ran both glossy and luster photo papers through with a series of test images that include hard to reproduce colors like red and blue, as well as grayscale tones to check for neutrality in the prints (Figure 4).
The Canon Pixma MP980 has two feed paths - a cassette for normal weight papers, and a rear feed for heavier photo papers like Canon's Fine Art Rag. Both paper paths can be loaded at the same time with the user selecting the correct path in the print driver (heavy paper types will automatically select the rear feed path). Canon includes profiles for gloss/semi-gloss, matte, photo rag, and their new high-end Platinum series papers. I found the quality of these profiles to be uniformly good, although I was able to improve detail in the denser blacks by building my own custom profiles with a DataColor SpyderPrint.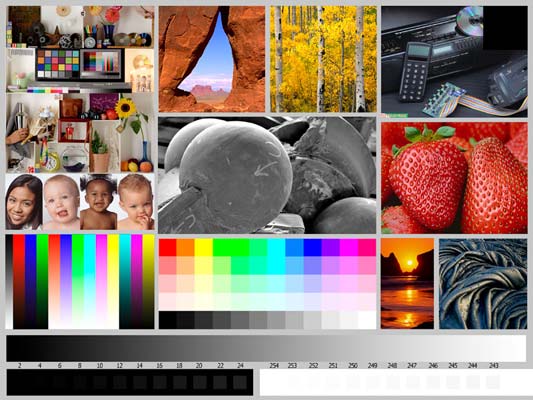 Figure 4
Color accuracy with is excellent - good reds and skin tones as well as accurate greens. Overall, the prints tend to come out about ½ stop too bright though, losing some detail in white and light skin tones. I compensated for this in the driver to correct and was happier with the results. There is a slight amount of bronzing, or gloss differential in the blacks that can be seen when viewing the prints from an angle.
Although the Canon Pixma MP980 has a dedicated gray ink cartridge and a grayscale mode, I found that prints done in grayscale had a green cast to them that wasn't present when printing in color mode. The gray ink does give prints a smoother tonal range than previous models, with no apparent banding in gray ramps that were problematic with previous four color printers.
The MP980 supports printing on heavier fine art papers and does a beautiful job with these, coming close in quality to the Pixma Pro 9000 printer (an eight color dye ink printer).
Your Comments