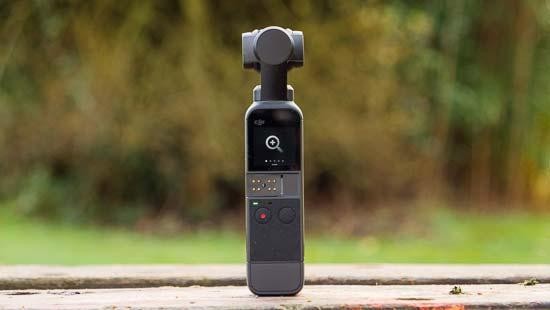 Conclusion
There is no doubt that the DJI Pocket 2 is a powerful camera, able to make silky smooth videos with excellent sound. And it's all from something that can slip into your pocket. 'Small and mighty' seems apt.
It also offers a range of shooting modes that go beyond most other alternatives. Timelapse boasts motionlapse while stabilised slow motion videos look all the better. And each reliable mode is a doddle to use.
The Pocket 2 isn't perfect. Image quality in and of itself isn't the best, mainly seen through regular highlight clipping and noise in low contrast light.
Battery life is modest, too, while the device can get hot during charging and with power hungry modes like 4K video recording.
If you're connecting a smartphone via the adaptor, the balance is off and the connection a little fragile. In time, we wouldn't be surprised if the adaptor breaks or loses its reliable connection. Still, this setup, that hard plastic Cover can cradle the phone.
There has also been a price hike in this second iteration - it's 50% more than the OSMO Pocket. We think all of the many improvements merit the higher cost.
However, you've also got the option of the DJI OM 4 smartphone gimbal at a third of the price. Because if stabilised video is your main concern, why not simply use a small gimbal?
Is the DJI Pocket 2 worth the extra money over pairing the OM 4 gimbal with your existing smartphone? Well it's much smaller, its functionality less restricted, plus once you start investing in the Creative Combo kit it feels like a full, no-fuss package.
In its own right, the DJI Pocket 2 is a highly capable pocket camera for video makers on the move or working solo. For its size, it's in a class of its own.
Ratings (out of 5)
Design
4.5
Features
5
Ease-of-use
4.5
Image quality
3.5
Value for money
4