Panasonic Lumix G100 Review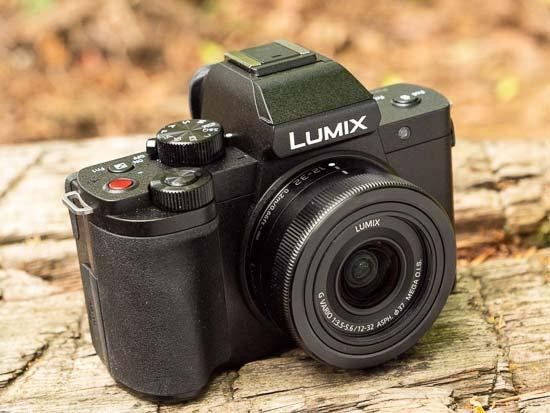 Introduction
The Panasonic Lumix G100 is the latest addition to the company's micro-four-thirds range of mirrorless cameras, but with a twist. It's aimed squarely at Vloggers, offering some innovative tech and geared to help those pointing the camera at themselves.

Introduced hot on the heels of the Sony Z-V1 - another Vloggers' camera - the tiny G100 is compatible with the range of micro-four-thirds lenses, but is a natural pairing with the 12-32mm collapsible kit lens, with a combined weight of only 412g.

There's also a new tripod grip that connects to the G100 via USB 2.0 and can be used to start/ stop video recording or to take pictures. It provides a comfortable hold for V-Logging and transforms to a table-top tripod with ease.

While the G100 is set up with V-Logging in mind, it also appears to be an adept photography tool, featuring a 20.3-million-pixel sensor without low pass filter and a high-resolution vari-angle touchscreen and EVF to compose those images.

But the real point here is how the Lumix G100 fares for V-Logging, and why would a V-Logger opt for a G100 over, say, a smartphone, the new Sony Z-V1, or even another Lumix camera like the G90? Panasonic thinks it has the answers, so read on to find out.

The Panasonic Lumix G100 will be available from the end of July with a suggested retail price of £589.99 for body only, £679.99 for 12-32mm lens kit, or £719.99 for 12-32mm lens and tripod grip kit. From 24th June until 31st August, UK customers can buy a G100 body or lens kit and get a free tripod grip by redemption.
Ease of Use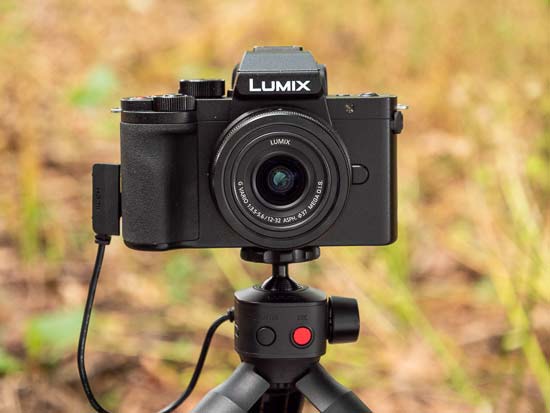 Front of the Panasonic Lumix G100
Before we get into the nitty gritty of how the Panasonic Lumix G100 is geared up for V-Logging, let's take a look around the camera. As you'll discover, there is more to the G100 than your own self - it's a capable photography tool.
If you're looking for a small and light interchangeable lens camera system, micro-four-thirds is the first place to look. And the G100 takes things to a whole new level - it's tiny.
We've held the Panasonic Lumix G100 alongside the (albeit comparatively large) GH5 and it's like a younger sibling. And it's naturally paired with the collapsible 12-32mm kit lens, which is as small as they come and decent optically, too.
Besides size and weight, another perk to the camera and kit lens pairing is that the hybrid 5-axis image stabilisation is available (the optically stabilised 35-100mm lens is another in the Lumix G range with the same compatibility). More on stabilisation later.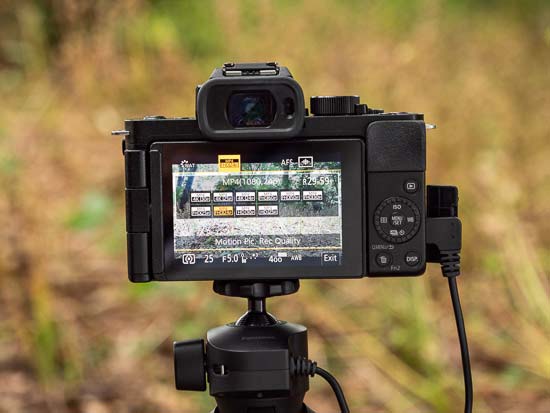 Rear of the Panasonic Lumix G100
We had the Panasonic Lumix G100 kit for our test, which also includes the new tripod grip. It mounts to the camera via the tripod bush and connects via USB 2.0 in order to activate the video record on/ off and shutter release buttons. The grip is compatible with a number of other Lumix G cameras.
The whole kit combined is featherweight and easy to hold whichever direction you point the camera, whether via the tripod grip or directly on the reasonably sized camera grip. It all feels good.
You can leave the tripod grip on and use the Lumix G100 for photography no problem. Yet, without the grip in place, the diminutive camera is as comfortable to operate as you could hope for.
Certainly, having that wonderfully large and high resolution EVF helps. Not many cameras this size can boast a viewfinder of the same standard - a 3.68-million-dot unit - or even one at all.
The vari-angle touchscreen ain't half bad, too. It's the standard 3in size but has a very high resolution of 1.84-million-dots. It flips out to the side of the camera unimpeded by any ports, and of course swivels for front viewing.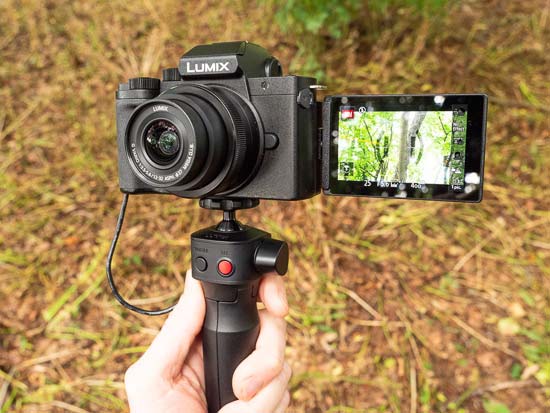 Tilting LCD Screen
Touchscreen functionality is extensive. Touch focus and shutter, menu navigation, playback. There's no area found wanting. Panasonic has really gone all out with the EVF and touchscreen, treating us to a ludicrously good viewing experience.
There is one port on the screen hinge side of the Panasonic Lumix G100 - a mic socket - which is clear of the screen's swivel. Sadly, you won't find a headphone jack, which is a shame for a camera designed for V-Logging.
Any video creator needs to monitor sound before a take (and after) and those built-in speakers through playback are all you have, and not enough. We'd take a headphone jack that is in the way of the screen swivel over no headphone jack at all.

For such a small camera, the top buttons are reasonably large - a shiny red button for video recording, customisable Function buttons that by default are set to (wireless) image share, exposure compensation and Live View switch. Surrounding the shutter release is a large top dial primarily used for exposure changes and it feels great in the hand.
On the underside is the battery and memory card door and it's possible to open the door while the tripod grip is still in place. A regular tripod plate will get in the way. Inside you'll find the SD card slot a tiny battery. The BLG10E unit has a meagre 1025mAh capacity and consequently the G100 has a modest battery life well under 300 shots.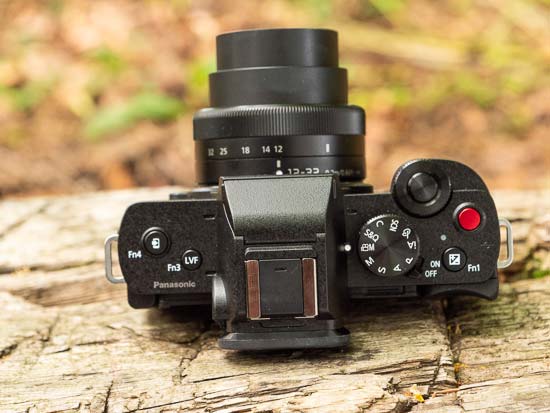 Top of the Panasonic Lumix G100
Elsewhere, we have the standard USB 2.0 connection for the tripod grip and for charging - whether that is via the wired charger (included) or a power bank. Purchasing the latter or some spare batteries is a good idea.
There's plenty more that we could talk about, which is testament to the Panasonic Lumix G100, but we really should switch focus to V-Logging with the camera. We've used the G100 for some walking and talking action and for some easier table-top needs (the camera can be used as a webcam).
Whatever you like to talk to a camera about, the most intriguing and exclusive feature in the G100 is 'OZO Audio' (by Nokia). What is OZO Audio? In this case, it's three internal mics (presumably omnidirectional) that offer a range of audio options.
Panasonic Lumix G100 Nokia OZO Audio Auto Mode
Panasonic Lumix G100 Nokia OZO Audio Surround Sound Mode
In the video selfie mode - that is when the screen is front facing - there is the OZO Audio option on screen that reveals five settings; Auto, Surround, Front, Tracking and Back.
Tracking sound is really neat. Paired with face and eye detection AF (which is automatic in video selfie mode), OZO Audio knows where you are in shot and selects the particular microphone to pick up the best possible sound (and dampen the others).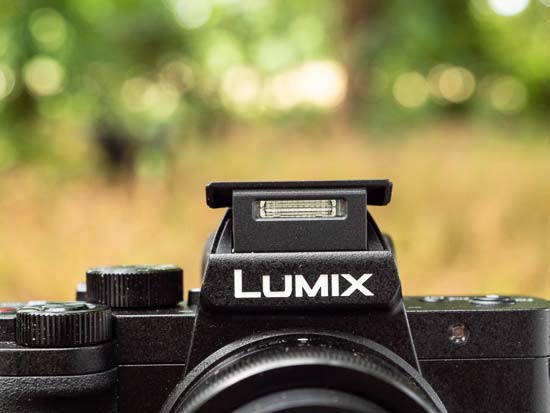 Pop-up Flash
Panasonic Lumix G100 Nokia OZO Audio Front Mode
Panasonic Lumix G100 Nokia OZO Audio Back Mode
And the other audio options are how they sound. Front just uses the front microphone for talking to camera videos and ignores sound from any other direction, while Back is aimed at sound (talking) from behind the camera. With those options, you're essentially getting a built-in directional mic.
Surround uses all of the microphones simultaneously, while Auto should in theory intelligently do the job of all four of the other audio options. For any of the front options, you'll see your face on screen being tracked inside a yellow square and green audio lines around the square.
Panasonic Lumix G100 Nokia OZO Audio Tracking Mode
Panasonic Lumix G100 Nokia OZO Audio External Mic
We've had extensive time trying out OZO Audio and have been really impressed with the technical capability. Tracking sound works perfectly well for talking to camera videos. There is a slight improvement using the dedicated mode over leaving it in Auto eg. if you are talking to the camera it is worth using Front audio.
Whether you are talking to the Panasonic Lumix G100 or commentating from behind, the ability to isolate sound is really handy. We also like how there is direct access to these audio options on screen for quick changes.
But what of the actual quality of the sound? Internal mics are notoriously 'tinny' in quality. We tried both a Rode directional mic and a basic wired lav mic with the Lumix G100 its mic port and the sound quality itself was better. That said, the quality of the internal mics is pretty good, plus an external directional mic doesn't have the same intelligence as OZO Audio and is more likely to pick up unwanted sounds.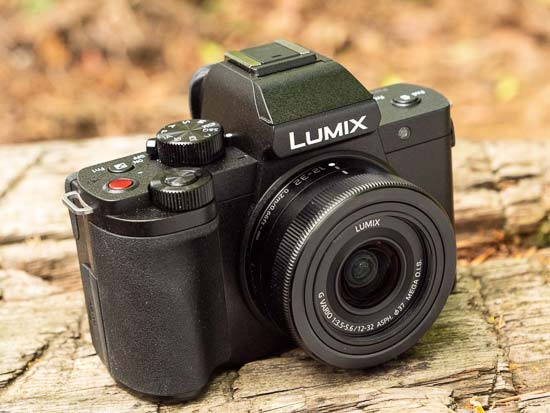 Front of the Panasonic Lumix G100
Overall, in OZO Audio, what you have is microphone intelligence (are we the first to coin that phrase?) that is convenient and in certain situations is a better option than using an external directional mic.
In the video selfie mode, autofocus is automatically set to face and eye detection. For the best part, face and eye detection AF works well, but it's not perfect and we feel there are still better alternatives out there.
For walking and talking shots where you aren't necessarily going to remain in the same position or distance from the camera, AF can regularly wander, be slow to correct itself or wobble. However, if the scene is less chaotic, you do get some smooth AF transitions.
Other video selfie features include two handy visual aids; a three second countdown (lights, camera, action!) and a red border around the display during recording.
A brief change in subject - autofocus for photography is very good, being rapid and reliable. Unfortunately, there's no AF button, so it's much quicker to navigate your focus point using the touchscreen than it is via the control dial (when using the EVF). With the 12-32mm lens, we couldn't find a way to manually focus other than through the slider displayed on the touchscreen. It's fiddly.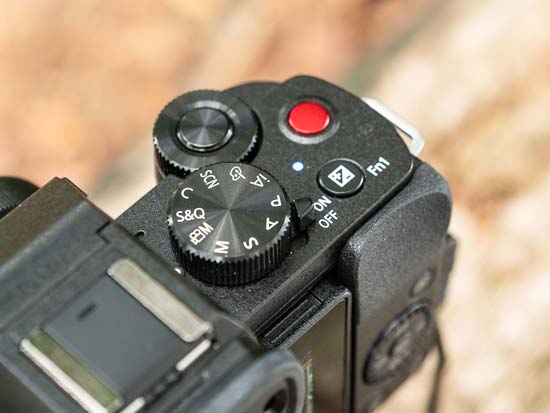 Top of the Panasonic Lumix G100
Let's now switch our attention to the Lumix G100's hybrid image stabilisation. The G100 does not have in-body-image-stabilisation (it is tiny after all), which for vloggers is a big shame. Instead, you have electronic stabilisation for video and a limited number of Panasonic lenses that offer optical stabilisation, the 12-32mm kit lens being one of those.
We've used the Panasonic G100 and the 12-32mm kit lens in every stabilisation setting for both Full HD and 4K videos; optical on/ off, electronic stabilisation set to standard, to high and off. Full HD videos provide an effective hybrid 5-axis stabilisation and you'll get some steady videos, but when shooting 4K it's only 4-axis and it doesn't work as well.
Panasonic Lumix G100 4K Stabilisation Off
Panasonic Lumix G100 4K Stabilisation High
For walking and talking shots, electronic stabilisation 'high' does a good job of reducing vibrations and you'll probably want to use that rather than the standard setting. It's no gimbal, but it's good. However, there are drawbacks, especially for 4K videos.
Electronic stabilisation introduces a crop to the frame in order to correct camera shake and the crop is increased as you switch from Full HD to 4K and then from standard to the high mode.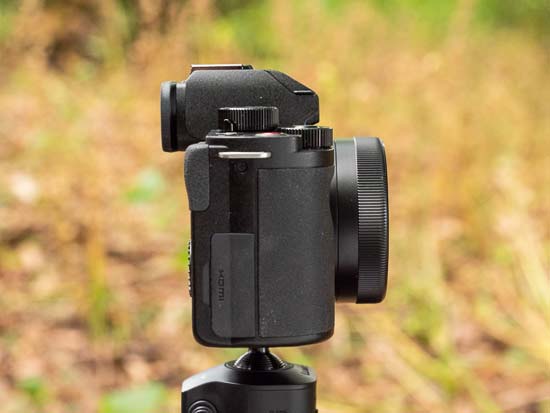 Side of the Panasonic Lumix G100
With the 12-32mm lens at its widest setting (a 24mm equivalent), you'll be able to do Full HD video selfies at arms length no problem when there is no stabilisation employed. Even adding electronic stabilisation at standard (introducing a tiny crop) and high (a more significant crop) and those videos are manageable.
Panasonic Lumix G100 1080p Stabilisation Off
Panasonic Lumix G100 1080p Stabilisation High
Increase to 4K and stabilisation high and the crop is too tight for V-Logging. The crop brings about an equivalent focal length that we estimate is more than 40mm. There is also an impact on image quality, more on this later.

There are various video recording time limits. It's 20 minutes for Full HD videos but a rather meagre 10 minutes for 4K videos. That's a shame. With all these factors in play - including some further comments on image quality, we feel that the overall handling of the Lumix G100 is much better for video when shooting Full HD rather than 4K.
Panasonic Lumix G100 V-Log L Profile
Overall, in use the Panasonic Lumix G100 offers some brilliant tech for both V-Logging and general image making, but by trying to be both simultaneously there are compromises.