Fujifilm FinePix HS50EXR Review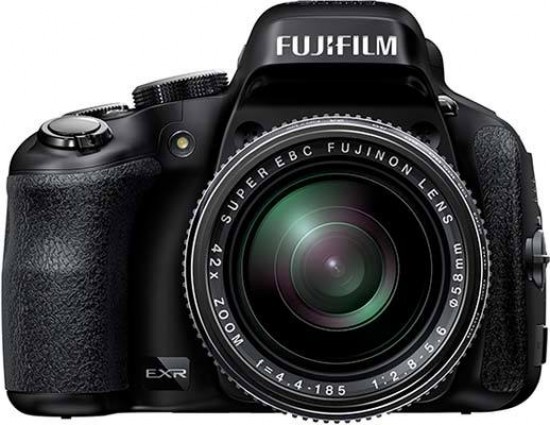 Conclusion
The Fujifilm FinePix HS50EXR improves on its already very capable predecessor in a number of key ways, principally incorporating even faster auto-focusing, continuous shooting and processing times, a more adaptable and higher-resolution vari-angle LCD screen, improved video, external microphone socket and an even longer 42x, 1000mm lens, making it one of the best super-zooms currently available. There's no built-in GPS, wi-fi connectivity or a touchscreen LCD though, and the price has gone up too, so it's also now one the more expensive models in its category.

As Fujifilm make a big play of in their marketing, the HS50EXR really is an all-in-one camera that will cope with virtually everything that you can throw at it, from macro photography to extreme close-ups of sports and nature. It also successfully mimicks the handling of a typical DSLR camera, with the obvious advantage of not having to carry several big, heavy and expensive lenses to achieve anywhere near the focal range that the HS50EXR offers out-of-the-box.

Obviously the relatively tiny 1/2 inch CMOS sensor can't rival an APS-C DSLR, but for many users it will provide more than good enough image quality, helped by RAW format support. The manual zoom and focus rings further reinforce that DSLR feeling, as do the external flash hotshoe, command dials, tilting LCD screen, complete range of manual shooting modes and full 1080p movie recording with stereo sound, making the HS50EXR a viable replacement for your video camera too.

£469 / $549 is undoubtedly a lot of money to pay for a compact camera with such a small image sensor, but if the image quality meets your requirements then the HS50EXR makes a compelling argument to be the only camera that you need. Super-zooms remain one of the few growth areas in the compact camera world, and its easy to see why when cameras as good as the Fujifilm FinePix HS50EXR are being released. Highly recommended!
Ratings (out of 5)
Design
5
Features
4.5
Ease-of-use
4.5
Image quality
4
Value for money
4