Fujifilm FinePix Real 3D W3 Review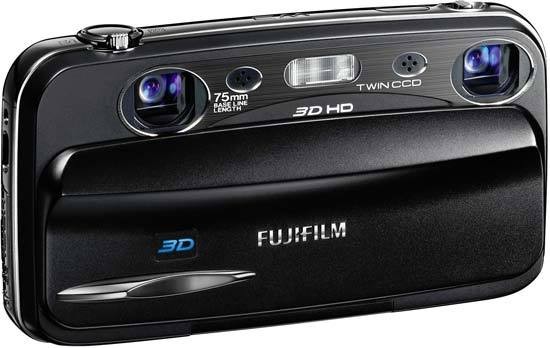 Introduction
As it's name suggests, the Fujifilm FinePix Real 3D W3 camera can shoot high-resolution 3D photos and movies in 3D HD at 720p. You can then view the 3D images on the 3.5 inch LCD screen without the need to wear any special 3D glasses. The Fujifilm Finepix Real 3D W3 uses two lenses and two 10 megapixel sensors to achieve a stereoscopic 3D effect, simultaneously taking and layering together two 2D images into a single 3D composite. The Fujifilm W3 can also be used as a regular 2D camera at any time, with the Dual Capture shooting mode letting you simultaneously take two shots at different settings. The Fujifilm FinePix Real 3D W3 is available now priced at $499.95 / £399.99.
Ease of Use
The current renewed enthusiasm for 3D as a form of visual communication either leaves you cold or has the hairs standing to attention on the back of your neck. If it's the latter you're in luck, because Fujifilm has updated the year old W1, the world's first consumer targeted 3D digital camera, with the smaller and lighter 10 megapixel FinePix 'Real 3D' W3. We don't know what happened to the W2 either, but the '3' in the name is a better fit with its stated output.
The advantage of having your own 3D capture device in the home is that you now not only get to see blue skinned aliens and the like appearing to leap off the screen of your expensive new telly, but your nearest and dearest too, which lends the shots from the W3 an emotional as well as visual impact. Fujifilm claims that it will work with any brand of 3D TV via HDMI connection, FinePix software is provided for making the images at least viewable on your PC (where they're presented in 2D on a 2D monitor) and the camera's impressive back screen - more on which later - fortunately doesn't require Matrix-style glasses to view.
Fujifilm's spokesman informs us there's also a lenticular print service being rolled out in the UK with print sizes up to 9x6-inches (go to www.fujifilmreal3D.com for the latest), while a 8-inch 3D digital photo frame (the V1 Viewer) is available as an optional extra from Fujifilm.
Since the company's initial multi dimensional foray with the W1 however, welcomed on occasion with mealy-mouthed skepticism by critics, alternatives have started to appear. Yet it's fair to say that these are largely fellow manufacturers dipping their own toes in the water rather than rising to mount a direct challenge.
Sony has recently introduced the software-based 3D Sweep Panorama feature on its NEX hybrids and Cyber-shots benefiting those who have bought one of its 3D equipped Bravia TVs, rival Panasonic has brought out its high-end 3D camcorder the HDC-SDT750 with twin lens attachment for around £1500, and, right at the other end of the price scale, for £200 Aiptek has introduced the plastic-y 3D i2 pocket cam. So, in light of recent developments, is the W3, which has what we'd consider a fair suggested retail price of £399 or street price of £350, really that special still?
It certainly has the elusive 'wow' factor, and is a more serious, sophisticated attempt at true 3D than either the Sony or Aiptek devices (we've yet to test Panasonic's), though with its slide open and shoot face plate mechanism it does resemble a Sony Cyber-shot that's piled on the pounds. Despite being a bit of a lump, curved edging and reflective surfaces have attempted to impart a dash of style and avoid your typical boxy look. There's not much in the way of a grip, save the undulations of the faceplate itself and a thin sliver of darkened chrome that juts out like a piece of flint.
Flip open said faceplate to power up the W3, or shut it to power down. It really is that easy, the process of taking a picture being point and shoot simple. The camera readies itself for the first shot in just over two seconds, rear screen bursting into life with three-dimensional ident. Press the shutter release button, encircled by a lever for operating the zoom, down halfway and the camera determines focus and exposure in a second. Press down fully to then take the shot and a full resolution 3D image is committed to memory in two seconds, so similar to the performance we'd expect from a mid range point and shoot, which, if you strip away the 3D capabilities, is what the W3 arguably is.
| | |
| --- | --- |
| | |
| Front | Rear |
As we mentioned, if you're not one of the lucky few to have a 3D ready TV, then, while you won't be using the W3 to its full potential, you can still view the captured images in 3D via the camera's own huge widescreen format monitor in situ. Fujifilm has achieved this feat by incorporating rows of tiny convex lenses within its screen that work together to give the impression of a 3D image - when in use think of a lenticular print that appears to come alive as you walk past it - whilst suppressing any flicker and obvious image overlap ('crosstalk') to enhance the experience. Viewed straight on it works, but tilt/waggle the screen left or right and you'll see the component/overlapping parts of the image separate and reveal themselves.
It's worth pointing out at this juncture that the W3 delivers true 'binocular parallax' 3D rather than software interpolated images, replacing our human eyes by utilising twin lenses with 3x optical zoom capability at the front and two 1/2.3-inch 10-megapixel CCD sensors inside.
Whereas our eyes are generally around 64mm apart, suggests Fujifilm, the lenses on the W3 are 20% further apart with the intention of adding extra depth to the shots. In practical terms, as they're located at the outer edges of the face plate, it's all too easy for fingertips to drift into the edges of your framing when holding the camera level and steady in both hands. Fujifilm has obviously anticipated this problem as a small red warning icon pops up at the bottom right hand corner of the screen if one of its lenses is partially obscured. This is easily overlooked however, so a loud warning 'bleep' would have been more helpful.
As expected the FinePix's twin shutters fire at once, helping avoid any discrepancy between the images when combined. Should the user wish to manually adjust the image alignment/overlay afterwards, Fujifilm has provided a lever resembling a zoom on the top left hand side of the camera (if viewed from the back) with which to do so.
Two lenses and two chips inevitably adds to the FinePix W3's overall bulk, it being the size of a stuffed wallet or purse, so a squeeze for the pocket. And yet, with a mostly metal build it feels solid held in the palm with a body only weight of 230g and like it will last the course.
As well as being more diminutive than its pioneering predecessor, the W3 adds a larger better quality display at 3.5-inches and a resolution of 1.15 million dots to deliver a clarity that's almost too sharp. The screen also claims to be 1.5x brighter and delivers colours 1.8x deeper than those viewed via the W1. Certainly the effect is eye popping - like you've whacked up the brightness and contrast levels on your TV.
On the W3 we also get an auto 3D mode, stereo sound courtesy of twin microphones spaced adjacently to the lenses at the front, the ability to shoot 720p HD quality video in 3D, plus output to that 3D TV via optional mini HDMI connection. Alternatively, if you occasionally want regular 2D photos, you can shoot these also either individually (via a press of the dedicated '2D/3D' button that also swaps formats when reviewing pics) or simultaneously alongside the 3D files as a default, Fujifilm claiming that this facility makes the W3 in effect, two cameras in one. The regular 2D files are JPEGs, the 3D images are 'MPO' files that require the provided FinePix software to view and edit. It took us the customary two goes to get this to load correctly, and then we had to download a subsequent update. At the end of the process, without a 3D monitor we could only admire the left and right images that make up the 3D shot as separate entities, or look at them overlapping, again in 2D, which just made our eyes hurt.
| | |
| --- | --- |
| | |
| Front | Top |
Located via the shooting mode dial set into the top right hand corner of the camera's backplate Fujifilm has provided a further 'advanced 3D' mode. This takes two images in succession with the left lens, giving the user themselves the opportunity to move the camera slightly between the two captures. The resultant images are then automatically merged by the camera once the second shot is taken. Fujifilm claims the 3D effect is further heightened in this way, although the difference between this mode and regular 3D appeared subtle at best to our eyes. More experimentation is obviously required.
Since you're using a widescreen LCD to shoot images with, and most users will be replaying them on a widescreen TV (or monitor), this is the most effective setting, though if you want regular 4:3 aspect ratio or 3:2, these options are also user selectable.
Using the wider screen and shooting with 3D in mind also prompted us to alter the way that we took photographs. The format works bests for landscapes and groupings of objects rather than portraits per se, and also caused us to think more about the elements in each shot and how they would interact. For example we found that the most effective/dramatic results were delivered when there was something happening in the fore, middle and background of a shot: imagine pedestrians crossing a road in the foreground, cars and buses on the same road in the middle distance and then an architecturally impressive building behind. In this way our eyes were led into and through the image, and the various elements seemed to be floating on their own respective layers to give that 3D-like depth. Just shooting a building front on, unless there was a lamp post or other object in front to add depth, just didn't work as well.
Fujifilm has provided a flash, located at a central point between the two lenses and flanked on either side by the camera's microphones, but we found that images shot in 3D with flash looked even more artificial than their 2D equivalent.
To the right of the screen at the back Fujifilm has squeezed in a strip of physical controls that will for the most part be instantly familiar to any digicam user. At the top right we have the aforementioned shooting mode dial. While we wouldn't call it loose, we did find on occasion that we'd managed to shift the settings when retrieving it from a pocket. On the dial we have program, aperture and manual shooting options - within the latter it's possible to adjust shutter speed - along with full point and shoot auto, not one but two scene position/scene mode settings, plus Advanced 3D and Advanced 2D capture options. The latter utilises both lenses and fires both shutters so you end up with two pictures of the same scene, albeit inevitably with slightly different framing and settings. You can then decide which is best and which shot you want to keep.
Beneath the shooting dial we have a dedicated image playback button and alongside it a button for video. Press this once to elect to shoot in 3D, a second time to shoot in 2D. Video recording actually commences and curtails with a press of the shutter release button itself and unfortunately the optical zoom, which makes an audible buzz in operation, is disabled in video mode. The lens merely stays put at the point it was left when recording commenced. Otherwise the lens takes just under three seconds to travel the breadth of its focal range, equivalent to a modest 35-105mm on a 35mm film camera.
| | |
| --- | --- |
| | |
| Memory Card Slot | Battery Compartment |
Beneath these controls we find a thumb operated four-way control pad/selection button. With familiar menu/OK button at its centre, tab left or right to call up macro/close up mode or the camera's flash settings - auto, forced on, red eye reduction or off. Tab up to alter the brightness of the LCCD, or in playback mode delete a chosen image. Tab down to select either two or ten second self timer mode. Pretty much the settings you'd expect to find on a £199 compact then from lower down the FinePix range.
A press of the menu button and we have access to two screens of shooting settings. Again the choices here are similar to elsewhere in the Fujifilm range and include FinePix colour options of standard, chrome or black and white. It's in menu also that you can deactivate the camera's auto parallax control, if so wished.
The set up menu also found when pressing the menu button contains a further five screen's worth of legible and logical options. But nestling alongside the ability to format the card in use or activate a digital zoom is the ability to switch from the default recording of simultaneous JPEG and MPO files to the latter only if so wished.
Beneath the selection button are two further buttons: on the left a display/back button, which variously turns all the on-screen icons off or summons up a nine zone compositional grid, plus the aforementioned 3D/2D button for switching between both capture formats in an instant. Responses to each button press are as rapid as you'd want, soundtracked with the usual crisp 'beep' as each selection is made.
While the left hand flank of the camera - if viewed from the rear - is devoid of any controls at all - on the right we find a unobtrusive flap covering separate HDMI and combined AV out/USB 2.0 ports, above which is a lug for attaching a wrist strap. The base of the camera features a screw thread for attaching the camera to a tripod over to one side, with a centrally located compartment for the rechargeable battery provided and optional SD memory card. The base is also, bizarrely, the location for the camera's built in speaker.