Fujifilm FinePix Real 3D W3 Review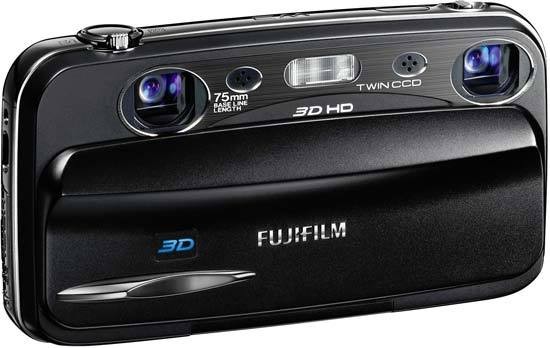 Image Quality
All of the sample images in this Review were taken using the 10 megapixel Fine JPEG setting, which gives an average image size of around 4.5Mb.
This is a difficult one to rate for image quality as what we're dealing with here is a basically snapshot camera, so strip away the 3D and we're left with 2D snapshot-type images with the occasional softness that entails. However, this camera is all about 3D. And it has to be said that viewing any image you've just snapped in 3D, even if just on the back of the camera, has a real and immediate pull. Especially when said screen is as sharp and clear as that on the W3. It isn't just people and shapes that pop out crisply but colours too - reds in particular being eyeball searing.
Though we did get instances of camera shake and resultant blur on occasion in lower lighting conditions, this is again what you'd expect of any snapshot camera. But generally detail is well maintained from edge to edge.
As we noted in the body of the review, getting the best out of the 3D medium takes a little practice, and looking for points of interest in both foreground, middle and background pays dividends when playing back the shots, as these elements appear to float on separate layers, thus lending that all important depth to an image, or at least the illusion of depth.
Though the camera isn't as sophisticated as others in the Fujifilm range when it comes to shooting in lower light - with ISO 1600 being the maximum - the W3 does a decent job of maintaining a noise free image at ISO 800, so it's only really at that top ISO 1600 setting that detail is beginning to visibly degrade and the shot take on a tell tale gritty appearance. Generally speaking we were impressed, and again, the wow of the camera's 3D capabilities really needs to be appreciated first hand to get the gist.
Noise
There are 5 ISO settings available on the Fujifilm FinePix Real 3D W3. Here are some 100% crops which show the noise levels for each ISO setting.
| | |
| --- | --- |
| ISO 100 (100% Crop) | ISO 200 (100% Crop) |
| | |
|   |   |
| ISO 400 (100% Crop) | ISO 800 (100% Crop) |
| | |
|   |   |
| ISO 1600 (100% Crop) |   |
| |   |
Sharpening
Here are two 100% crops which have been Saved as Web - Quality 50 in Photoshop. The right-hand image has had some sharpening applied in Photoshop. The out-of-the camera images are a little soft and ideally benefit from some further sharpening in a program like Adobe Photoshop. You can't change the in-camera sharpening level.
| | |
| --- | --- |
| Original (100% Crop) | Sharpened (100% Crop) |
| | |
|   |   |
| | |
Chromatic Aberrations
The Fujifilm FinePix Real 3D W3 handled chromatic aberrations very well during the review, with limited purple fringing present around the edges of objects in high-contrast situation, as shown in the example below.
Example 1 (100% Crop)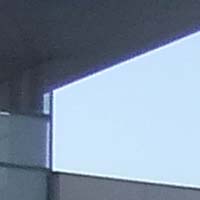 Macro
The Fujifilm FinePix Real 3D W3 offers a Macro setting that allows you to focus on a subject that is 8cms away from the camera when the lens is set to wide-angle. The first image shows how close you can get to the subject (in this case a compact flash card). The second image is a 100% crop.
| | |
| --- | --- |
| Macro Shot | 100% Crop |
| | |
Flash
The flash settings on the Fujifilm FinePix Real 3D W3 are Auto, Forced Flash, Suppressed Flash, Slow Synchro, Red-eye Reduction Auto, Red-eye Reduction & Forced Flash and Red-eye Reduction & Slow Synchro. These shots of a white coloured wall were taken at a distance of 1.5m.
| | |
| --- | --- |
| Suppressed Flash - Wide Angle (35mm) | Forced Flash - Wide Angle (35mm) |
| | |
|   |   |
| Suppressed Flash - Telephoto (105mm) | Forced Flash - Telephoto (105mm) |
| | |
And here are some portrait shots. As you can see, neither the Forced Flash setting or the Red-Eye Correction option caused any red-eye.
| | |
| --- | --- |
| Forced Flash | Forced Flash (100% Crop) |
| | |
|   |   |
| Red-eye Reduction Auto | Red-eye Reduction Auto (100% Crop) |
| | |
Night Shot
The Fujifilm FinePix Real 3D W3's maximum shutter speed is 3 seconds in the Night (Tripod) mode, which is not very good news if you're seriously interested in night photography. The shot below was taken using a shutter speed of 1/20th second at ISO 800. I've included a 100% crop of the image to show what the quality is like.
| | |
| --- | --- |
| Night Shot | Night Shot (100% Crop) |
| | |