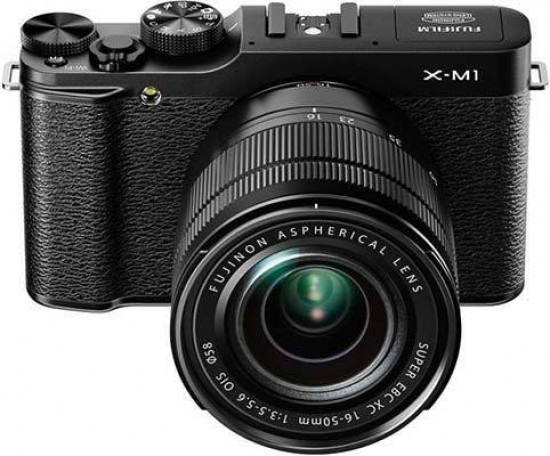 Conclusion
The Fujifilm X-M1 successfully brings the X-system to a wider audience, being smaller, lighter and significantly cheaper than the X-E1 whilst offering a newer processor, built-in wireless connectivity and a tilting LCD screen. The main sacrifice is the lack of any kind of viewfinder, not even via an optional accessory, making the user reliant on the tilting rear screen and arms-length composition. Although this is something that compact camera owners looking to upgrade will be more than familiar with, it does prevent us from recommending the X-M1 even more highly to more advanced photographers.
The X-M1 delivers the same excellent image quality as its big and more expensive brothers. Noise is noticeable only by its almost complete absence throughout the ISO range of 100-25,600, while the Dynamic Range function helps to boost contrast and detail. The new 16-50mm lens is also worthy of mention, as although it has a cheaper build quality, it still offers sharp results throughout the focal range. The X-M1 is certainly right up there with the best APS-C sensor cameras on the market, and some full-frame models too, so if image quality at an affordable price is paramount, the X-M1 certainly fits the bill.
It's also a very well-made camera despite the lower cost and more reliance on plastic, as well as successfully continuing the stylish retro look of the X-series family. The overall handling experience isn't quite as good though. As well as missing the rear screen, we found the two control dials to be tricky to use in unison in the Manual shooting mode - you really need a more forward dial for this - while the second plastic dial feels cheap and out-of-place on what is still a premium camera. The tilting LCD screen is a great addition, but the wi-fi options are limited to transferring images from the camera to a smartphone and back again, and syncing to a PC - there's no remote control options or direct connection to a wi-fi network, as on some rival models.
Ultimately, while we actually preferred the X-E1 to its big brother, the X-Pro1, the same can't be said about the X-M1, despite it being significantly cheaper and shipping with a good kit lens. The lack of a viewfinder is the main problem - for us, it just feels wrong to pick-up an X-series camera and not be able to hold it up to your eye. The X-M1 does offer the same fantastic image quality as the other two X models, though, so if you prefer to compose your images at arms length, then the Fujifilm X-M1 will more than meet your needs.
Ratings (out of 5)
Design
4.5
Features
4
Ease-of-use
4
Image quality
5
Value for money
4.5