Leica M10 Monochrom Review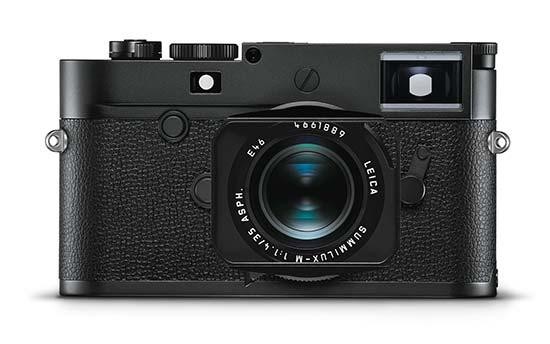 First Impressions
Photography Blog attended the UK launch of the new Leica M10 Monochrom camera in central London - find out what we thought of Leica's latest black and white camera by reading our detailed first impressions...
Leica M10 Monochrom designed to provoke an emotional response
"There's something very special about this camera; we believe photographers will have an emotional connection to it," Leica UK MD Jason Heward told us at the London launch of the new Leica M10 Monochrom – a 40MP sensor incorporating digital camera that deliberately only shoots in black and white and eschews the ability to capture video entirely.
This comes on the back of Leica's unveiling of its SL2 camera last November, for which it told us orders had been brisk, helping to contribute to what it called: "probably our best year ever for Leica. In this challenging industry it's great that we are still managing to grow, and particularly in the UK."
As regards the newest Leica M10 Monochrom, "it's an incredible camera that we're super proud of," MD Jason continued, suggesting that using it "bestows a status" on the owner. Photographers will naturally need a certain status to own one – as the UK asking price is a cool £7,250.
The new Leica M10 Monochrom brings the current M10 family to four in number. It joins the existing M10, M10-P and M10-D – the latter famously not featuring a screen at the back.Like that camera, the M10 Monochrom will appeal to a niche market and select type of user.
"It's the sort of camera that probably says more about Leica than anything else we have," MD Jason told us. "It's something that no one else in the industry would make, really, and one that elicits that emotional connection when we talk to our customers and users. It 'talks' to people's creativity a lot. It's the ultimate camera for those who are trying to approach their creativity in a different and perhaps a more purist way."
Holding the latest camera in the palm, it certainly feels well made and indeed tank-like in its solidity and heft. This is thanks to the M10 Monochrom boasting a brass and magnesium alloy body with a black chrome finish, while body only weight with battery inserted is 660g.
Users have the choice of eye level viewfinder or fixed (i.e non tilting) LCD screen at the back via which to compose images, with a 'LV' (Live View) button provided adjacent to said screen. The 3-inch LCD is also a touch display – enabling photographers to pinch and flick an image to enlarge a portion of it and check focus. Manual focusing is aided by the portions of the image in focus being illuminated in red.
Leica describes the new unit as a 'pure monochrome camera' that has a new, specifically developed 40.892-megapixel sensor. This has enabled both a much higher resolution and an increased low light performance, which has always been one of the highlights of a monochrome camera.
Sensitivity runs from a new 'base' ISO160 (whereas predecessors started out at ISO 320) up to the equivalent of ISO100,000; adjustable in 1/3 ISO increments. The camera is "almost medium format like" when it comes to the "almost 15 stops of dynamic range provided," according to Leica Akademie tutor Robin Sinha, also present at the launch. "No light information is lost," he continued, believing that "results can be compared with a 60MP or 80MP sensor" and that "detail is incredibly sharp because the light doesn't have to pass through RGB colour filters.
The pixels have their true luminance value, so the image is almost 100% sharper than the colour equivalent. Combine that with the resolution of the Leica lenses and you've got something very special. Plus, thanks to the 40MP sensor, there are increased possibilities for cropping, whilst still retaining a very high resolution for print. It's certainly closer to medium format performance than what we're used to seeing from a full frame camera."
We were allowed a few minutes with the camera and 35mm lens on a rather gloomy morning in London to take a few sample shots. We hope to bring a more detailed assessment and report in due course, when we are able to get the camera in and have a play for longer. Safe to say that, when using the camera for street portraiture, the lack of the familiar red Leica logo on the front of the M10 Monochrom does offer a more discrete approach, enabling you to literally hang back in the shadows.
That said, anyone spending the £7K+ on this camera may actively be seeking said logo as a badge of pride and an indicator of a certain 'status', as Leica UK's MD referred to it earlier.
It's further worth noting that, when it comes to street photography, the Leica M10 Monochrom is being pitched as the quietest camera in the range, with what's claimed to be, along with the M10-P, the most silent shutter the manufacturer has ever provided on an 'M' camera. On a noisy London street, it's fair to say we didn't notice any shutter noise at all.
The design and construction of the M10 Monochrom body has also been honed and 'milled down' to make the camera more discrete – with the dimensions of the body design more comparable to a film camera of old. Overall, it's very similar, Leica suggested, to that of the M10-D.
Here, everything on the camera body is either black or grey – mirroring, to an extent, the images this model delivers. The 'A' for auto exposure mode, and red flash symbol have been 'greyed out', while the 'Monochrom' engraving on the top is also tiny, so you have to look closely to see what the camera actually is.
Handling wise, it has to be said that this is a camera for more considered image creation, rather than blasting away with shots; that said, buffer memory is reportedly good for up to 10 DNG (Leica's Raw format equivalent) files at a time.
An Adobe profile for the camera was not available for the start of sales today, but we're told one is "coming this month" – so will conceivably be ready for when most photographers actually receive the camera.
In summary, key features of the Leica M10 Monochrom are:
its newly developed sensor; even more discrete camera design and analogue film camera body-like dimensions;
a new base ISO160 setting; even finer image quality, without the need perhaps to have to stack ND filters in front of the lens;
even longer possible exposure times of up to 16 minutes;
the ability to colour tone JPEGs with sepia toning;
top plate dials that allow users to have everything set on the camera even before turning it on;
touch screen control like the M10-D;
plus inevitable compatibility with the Leica Fotos app, pitched as being like a 'gallery in your pocket'.