Leica SL (Typ 601) Review
February 1, 2016
|
Mark Goldstein
|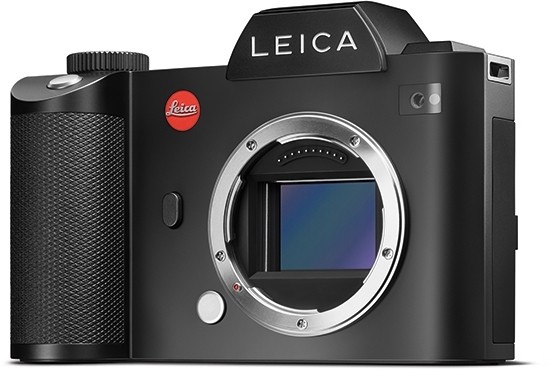 Leica SL (Typ 601) Specifications
Lenses
Lens Mount
Leica L-Mount
Applicable lenses
Leica Vario-Elmarit-SL 24–90 mm f/2.8–4 ASPH.
Leica APO-Vario-Elmarit-SL 90–280 mm f/2.8–4
Leica Summilux-SL 50 mm f/1.4 ASPH.
Lenses from the Leica T Camera System, Leica M-Lenses with Leica M-Adapter T, Leica S-Lenses with Leica S-Adapter L, Leica R-Lenses with Leica R-Adapter L and Leica Cine lenses with Leica PL-Adapter L.
Sensor
Type
24-MP-CMOS-Sensor (24 × 36 mm)
Resolution
Full Frame (24 MP): 6000 × 4000 Pixel, APS-C (10 MP): 3936 × 2624 Pixel
Filter
IR-Filter, no Lowpass Filter
ISO
ISO 50–ISO 50000
Sensor Cleaning
Provided
Processor
Type
Leica Maestro II series
Internal RAM
2 GB: 33 DNGs or 30 JPEGs and DNGs
Image
Image Data Format
JPEG, DNG
Colordepth
14 bit (DNG), 8 bit (JPEG)
JPEG Color Space
Adobe RGB, ECI RGB, sRGB
Motion
File Format
MP4, MOV
Resolution
4K (4096 × 2160) @ 24 fps; 4K (3840 × 2160) @ 25 and 30 fps; 1080 @ 24, 25, 30, 50, 60, 100 and 120 fps; 720 @ 24, 25, 30, 50, 60, 100 and 120 fps
Bitrate
8 bit (recording); 10 bit (HDMI not recording)
Color sampling
4:2:2/10 bit (HDMI only); 4:2:0/8 bit (recording on SD card)
Video
L-Log selectable
Audio
Manual/Auto; Stereo microphone, 48 kHz, 16 bit; Wind elimination
Audio external via Audio-Adapter
Audio-In (3.5 mm phone jack), Audio-Out (3.5 mm phone jack)
Movie Length
Max. duration: 29 min, Max. size: 4 GB
EVF
Resolution
SXAG, 4.4 MP
Size
0.66"
Eye Point
20 mm
Field of View
37°
Magnification
× 0.80 (with 50 mm lens at infinity, −1 dpt)
Frame coverage
100 %
Diopter correction
− 4 to +2
Eye Sensor
Yes
| | |
| --- | --- |
| Live View | Operating Modes: Video- and Photo-Live-View separated; Frame rate: up to 60 fps; Exposure simulation available, Optional information: Focus Peaking, Histogram, Clipping/Zebra, Level, Grid Overlay (3 × 3, 6 × 4), Aspect Ratio (1.33:1; 1.66:1; 1.78:1; 1.85:1; 2.35:1; 2.4:1), Safe Area (80 %; 90 %; 92.5 %; 95 %) |
Storage
SD 1 slot (UHS II) with maximum writing speed 100 MB/s, SD 2 slot (UHS I) with maximum writing speed 30 MB/s

SD memory cards compatibility:

UHS-1:
All UHS-1 SD cards

UHS-2:
TOSHIBA EXCERIA PRO [16GB]
TOSHIBA EXCERIA PRO [32GB]
TOSHIBA EXCERIA PRO [64GB]
TOSHIBA EXCERIA PRO [128GB]
Focussing
Type
Contrast AF
Focus Modes
AF-S (focus priority), AF-C (shutter priority), MF, Touch-AF
AF Modes
Static, Dynamic (tracking), Auto (face detection)
AF Size
Point, Field, Zone (9 Fields)
AF Steps
37 or 49 Fields
AF Assist Lamp
Built in
Exposure
Exposure Modes
Program Mode (P), Shutter speed priority mode (T) , Aperture priority mode (A) and manual mode (M)
Exposure Metering Modes
Center weighted, Multi zone, Spot
Exposure Compensation
±3 EV in 1/3 or 1/2 EV-steps
Exposure Bracketing
3/5/7 images in 1/2/3 aperture steps; additional direct JPEG-HDR
| | |
| --- | --- |
| White Balance | Preset Auto, Daylight 5200 K, Cloudy 6000 K, Shade 7000 K, Tungsten 3200 K, HMI 5600 K, Fluorescent warm 4000 K, Fluorescent cool 4500 K, Flash 5400 K, Greycard, Manual color temperature 2000 K to 11500 K |
| | |
| --- | --- |
| Type | Focal plain shutter |
| Drive Modes | Single, Continuous slow S (4 fps), Continuous medium M (7 fps), Continuous fast F (11 fps), Self timer 2 s, Self timer 12 s, Interval, Exposure Bracketing, Time exposures up to 30 min |
| Shutter speed | 1/8000 s to 60 s, time exposures up to 30 min, Max. frame rate 11 fps, |
| Warranty | 2 years or 200,000 releases |
Flash
Interface
Standard X-jack, Hot shoe with Sync. and TTL-Mode contacts
X-Synchronization
1/250 s
| | |
| --- | --- |
| Top Display | 1.28" highly reflective monochrome LCD; 128 × 128 dots; View angle 120°; Anti-fingerprint coating |
Housing
Material
Milled Aluminium
Dust/Spray water sealing
Provided
Interfaces
USB 3.0 Micro Type B; HDMI Type A; Multi connector adapter for Audio-Out 3.5 mm/Audio-In 3.5 mm; Multi connector cable release; ISO accessory shoe with center and control contacts for flash units; Standard X-jack; Multifunctional interface in baseplate for optional handgrip
Tripod threat
A 1/4 DIN 4503 (1/4") with anti-twist locking pin
Dimensions/Weight
147 × 104 × 39 mm (W × H × D)/approx. 771/847 g (without/with battery)
Working conditions
Approx. 0°– 40 °C, max. 85 % humidity
| | |
| --- | --- |
| Scope of delivery | Camera body, Camera strap, Lens mount cap, Battery, Battery Charger with international adapter, USB 3.0-cable, Manual, Warranty Card, Leica Lens cleaning tissue |
| | |
| --- | --- |
| Software | Remote Control (USB): Leica Image Shuttle SL; Remote Control (Wi-Fi): Leica SL app (Android/iOS) |