Nikon AF-S DX Micro-Nikkor 85mm f/3.5G ED VR Review

Introduction
Nikon's AF-S DX Micro-Nikkor 85mm f/3.5G ED VR is a relatively affordable tele-macro lens for DX-format digial SLR cameras, offering features like Vibration Reduction, internal focusing and a 1:1 reproduction ratio. Boasting a Silent Wave Motor for quiet auto-focus operation and full-time manual override, the lens provides full compatibility with every DX-format Nikon digital single-lens reflex camera ever made, including entry-level models with no in-body focus motor (Nikon D40 through D5100). The compact and lightweight Nikon AF-S DX Micro Nikkor 85mm f/3.5G VR is available at £419 / $529 in the UK and the US, respectively.
Ease of Use

Weighing in at 354 grams, the Nikon AF-S DX Micro-Nikkor 85mm f/3.5G ED VR is one of the lightest macro lenses manufactured by Nikon (only the manual-focus Micro-Nikkor AI-S 55mm f/2.8 normal macro is lighter still).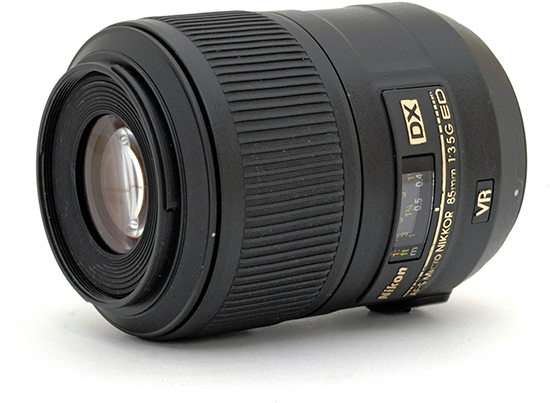 As seen in the photo above, the lens has a fairly small front element, a 52mm filter thread and a wide, ridged focus ring, which is mechanically coupled to the moving lens elements. Thanks to the internal focusing mechanism emplyed, the length of the lens does not change on focus.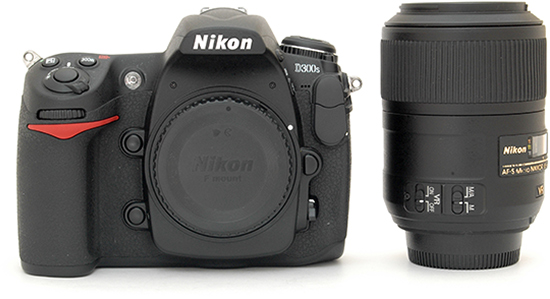 Alongside the Nikon D300s
The lens features a distance scale combined with a magnification scale, with both being sheltered behind a window. However, there are no DOF marks, and there is no infrared focus index, either.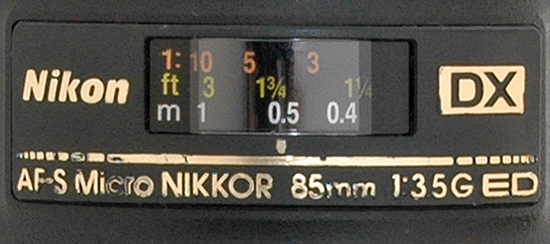 Magnification & distance scale
The Nikon AF-S DX Micro-Nikkor 85mm f/3.5G ED VR is a rather well-featured lens. It has Nikon's VR II image stabilisation on board for those situations when you cannot use a tripod and a built-in Silent Wave Motor (SWM) for AF capability on every DX format digital SLR camera, including those that have no in-body focus motor. The SWM design also allows for instant manual override, even when the focus mode switch is in the M/A position. There is no focus limiter though.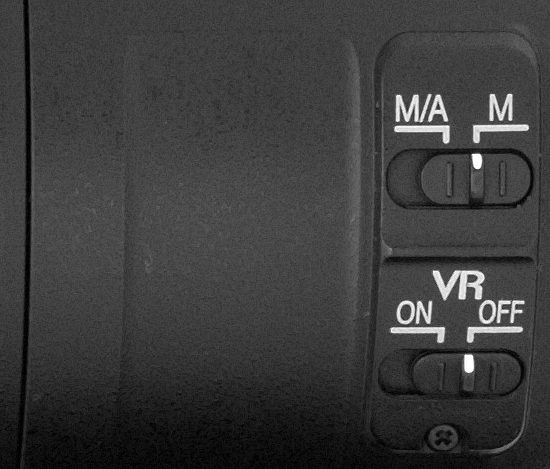 The AF-S Micro-Nikkor 85mm f3.5G VR features a rubber gasket around the lens mount, so it's a great companion for weather-sealed bodies even when they are used in dusty locales or less-than-ideal weather conditions.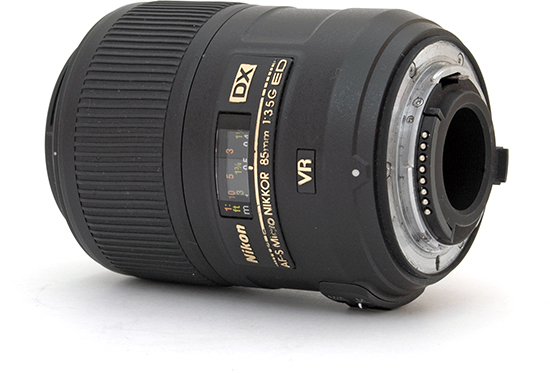 Rear of lens, isometric view. Note the rubber seal around the lens mount.
The lens ships with the HB-37 hood but it was not provided to us for this review.
Focus
As noted above, the Nikon AF-S DX Micro-Nikkor 85mm f/3.5G ED VR lens has a Silent Wave Motor for quiet auto-focus and full-time manual override support. In use we have found the AF to be very-very quiet indeed, and fairly fast too, at least for a macro lens. Manual focus is by way of a wide, ribbed focus ring that is mechanically coupled to the moving lens elements. Focusing is smooth and precise. The length of the lens always stays the same, and the front element does not rotate on focus.
Distortion
Focused at its closest focus point, the lens is very well corrected for geometric distortion.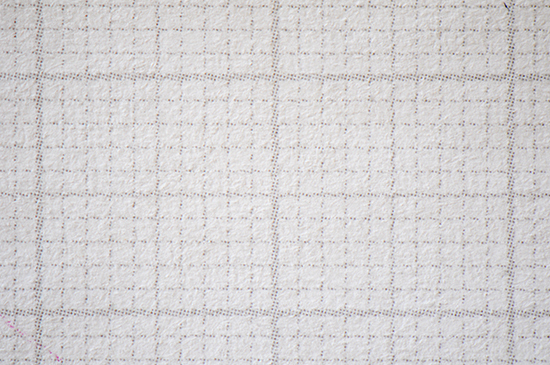 Chromatic Aberrations
Chromatic aberrations, typically seen as blue or purple fringes along contrasty edges, can sometimes be a problem with this lens.
Light Fall-off
This is a DX lens so it will naturally produce heavy vignetting when mounted to FX and film cameras, but it is of course not meant to be used with them. On a DX body with the lens wide open, you can still see some light fall-off in the corners, but it disappears quickly upon stopping down.
Macro
Being a macro lens, the  AF-S DX Micro Nikkor 85mm f/3.5G ED VR can achieve a very high reproduction ratio (up to 1:1). The close-focus point is at 28.6cm, measured from the sensor plane. Taking the lens' length and flange-back distance into account, this translates into a working distance of approximately 14cm, which is quite good. The example below demonstrates how close you can get to the subject – in this case, a weather-beaten Compact Flash card.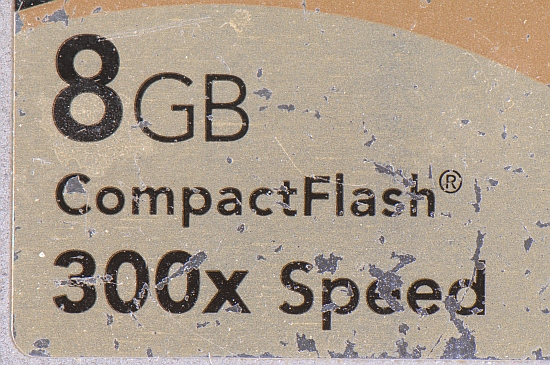 Close-up performance
Use for Slide Digitisation
The combination of a macro lens and a digital SLR camera lends itself well to the digitisation of transparencies, at least in theory. Unfortunately, the Nikon ES-1 slide copying attachment is not listed among the compatible accessories for this lens, even though it is made for lenses with a 52mm attachment size. This is probably because the ES-1 tube does not provide enough extension for  the lens to capture the full frame. Another solution is to use a light table, a tripod with a reversible centre column, and a hot-shoe mounted camera spirit level. This is exactly what we did to find out how the lens and a Nikon D300s digital SLR camera performed against a dedicated film scanner. Here is our test slide, shot on Fujichrome Velvia using a sharp prime lens: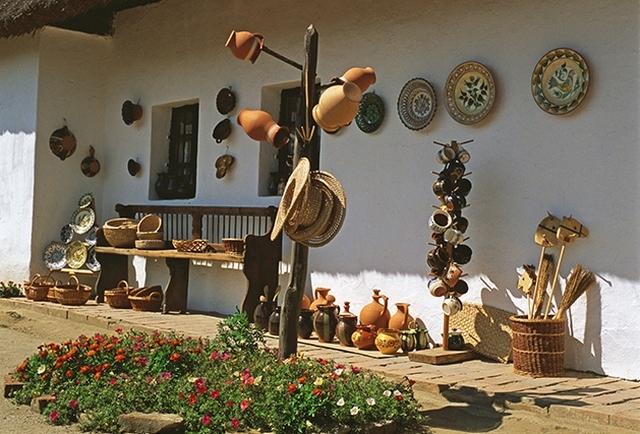 In order to take in the full frame, you need to use a reproduction ratio of 1:1.5 (because of the DX crop factor), which you can set on the magnification scale above the distance scale. If you want to eke out the maximum resolution from your slide, you can go all the way to 1:1 magnification, but in this case, you can only capture a part of the original frame in a single take: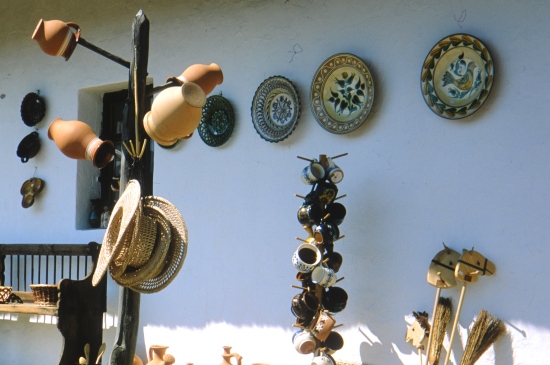 This is a good solution when you don't need to digitise the whole frame but want to maximise resolution. Alternatively, you can take four overlapping pictures and stitch them on the computer for a very high-resolution "scan" of the original. But how high is this resolution compared to what you can achieve using a film scanner? Taking the D300s' resolution and sensor size into account, a slide crop digitised at a reproduction ratio of 1:1 should have a theoretical resolution of over 4600ppi. Can it rival a good 4000ppi scanner in real life though?
| | |
| --- | --- |
| | |
At left is a 100% crop from the D300s, while the second crop is from a 4000ppi scan made with a Nikon Coolscan 8000ED scanner. We have made an effort to match the exposure but not the colour. The first crop is indeed bigger, as expected, but the one from the scanner has more detail. While it's possible that we could have achieved a better result had we used a higher-resolution camera like the new Nikon D7000, it seems like the lens is the limiting factor here. In other words, if you want to get the most resolution out of a finely-grained film, you will still need to use a dedicated film scanner.
Bokeh
Bokeh is a word used for the out-of-focus areas of a photograph, and is usually described in qualitative terms, such as smooth / creamy / harsh etc. In the AF-S DX Micro-Nikkor 85mm lens, Nikon employed an iris diaphragm with 9 rounded blades for a pleasing bokeh, and we believe they have largely succeeded. Below you'll find some examples, but you are also encouraged to check out our sample images.
Sharpness
In order to show you how sharp this lens is, we are providing 100% crops on the following page.