Nikon AF-S Nikkor 16-35mm f/4G ED VR Review
Main
Rivals
Review
Roundup

Introduction
When the Nikon AF-S Nikkor 16-35mm f/4G ED VR lens was announced earlier this year, we hailed it as an important milestone for Nikon, for at least two reasons.

Firstly because it's the company's first professional AF zoom with a constant f/4 maximum aperture, putting aside the £4500+ AF-S 200-400mm f/4G IF-ED VR.

Secondly, it's Nikon's first pro-grade FX wide zoom featuring Vibration Reduction and generally, the world's first full-frame ultrawide lens with any form of in-lens stabilisation.

At $1259.95 / £1049.99 / €1249.00, the new 16-35mm f/4G ED VR is certainly not cheap, but it's still about 30% less expensive than the existing 17-35mm f/2.8D. Naturally we were eager to get our hands on this lens as soon as it became widely available.
Ease of Use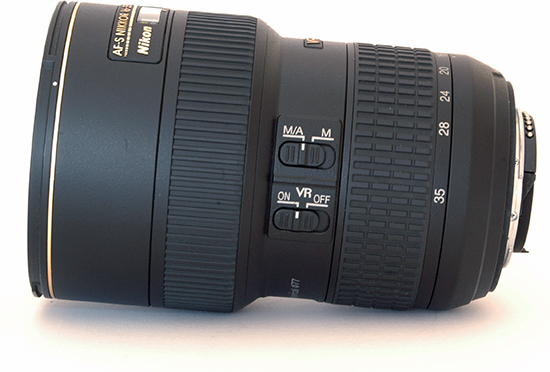 The Nikon 16-35mm f/4 VR is fairly big for a medium-speed wide zoom - in fact, the lens is so long that you could be forgiven for mistaking it for a telephoto lens at first glance. Measuring 125mm (nearly 5 inches) in length, the new Nikkor is physically longer than the older and faster AF-S 17-35mm f/2.8D and a couple of 16-35mm f/2.8 offerings from the competition; not to mention the venerable Canon EF 17-40mm f/4L USM, which is almost an inch shorter. In terms of weight, the Nikon 16-35mm f/4 VR is comfortably lighter than the 17-35mm f/2.8D and especially the 14-24mm f/2.8G, but again heavier than Canon's 17-40mm f/4L or indeed 16-35mm f/2.8L II offerings. The one thing that does position this lens above all these competitors and stablemates - and probably contributes to its surprisingly large size too - is the integrated Vibration Reduction system which, as noted in the Introduction, is an industry first in an ultrawide-to-wide zoom like this.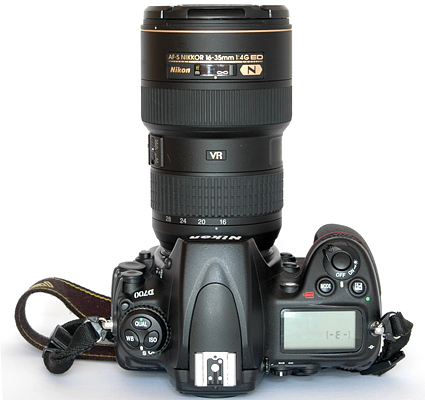 The Nikon 16-35mm f4 VR lens attached to a Nikon D700 digital SLR camera
The overall build quality is superb, despite the fact that the outer shell is plastic. The lens barrel can be divided into two parts, a narrower rear section featuring the zoom ring and focus/VR switches, and a larger-diameter front section with a focus ring (and a distance scale of rather limited use). As this is a G series lens, it has no aperture ring. Both focusing and zooming are fully internal, meaning the lens' optics adjust within the constraints of its outer barrel, so the length of the lens remains the same irrespective of zoom and focus settings. In contrast to the wider, faster and more expensive AF-S 14-24mm f/2.8G ED, the 16-35mm lens accepts filters via a standard 77mm thread around the - non-rotating - front lens element, which is great news for those who like to use polarisers or ND grads, for example.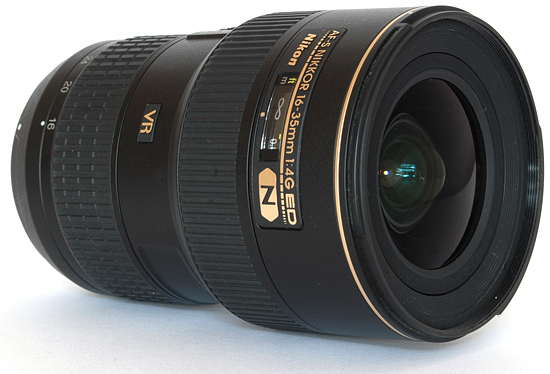 Front of lens, isometric view
Both the zoom and the focus rings are smooth in action without being loose. Thanks to the lens' construction, manual-focus override is always possible, even when the focus switch is in the M/A position; although with this particular lens I did not really feel a huge need for this feature. Below the focus mode selector is a similar sliding switch for the Vibration Reduction system. Given that the lens is hand-holdable down to pretty slow shutter speeds with VR off, it really only needs to be turned on when shooting at marginal speeds (or using Live View, as holding the camera at arm's length provides less stability than holding it up to your eye and pressing it against your forehead). Nikon claims an advantage of "up to four stops" for the Vibration Reduction II system employed in the 16-35mm lens - and while such good results are probably the exception rather than the rule, I had no problems taking sharp hand-held shots with the lens mounted to a Nikon D700 body at shutter speeds at least 1.5 stops slower than the focal length would allow.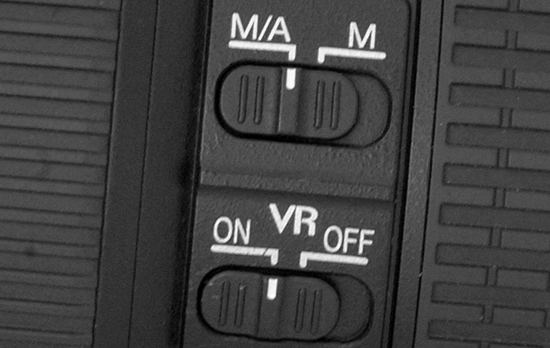 The Nikon AF-S Nikkor 16-35mm f/4G ED VR is sealed against dust and moisture, so it's a great companion for similarly sealed bodies even when they are used in dusty locales or less-than-ideal weather conditions.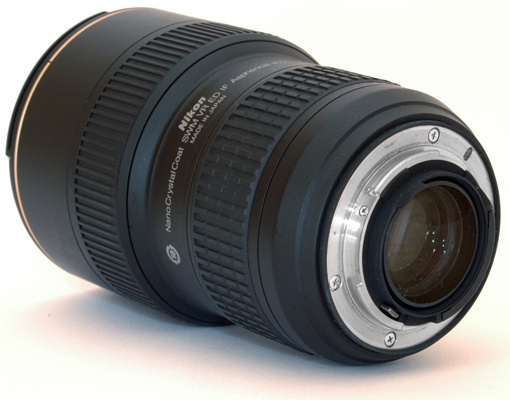 Rear of lens, isometric view. Note rubber seal around lens mount
The lens ships with the petal shaped HB-23 lens hood, but it was not provided to us for this test.
Focal Range
At the 16mm end of the zoom range, the Nikon AF-S 16-35mm f/4G ED VR lens has an angle of view of 107° when mounted to an FX or film body. At this setting, the lens suffers from obvious barrel distortion, which is easily noticed even in real-world shots featuring geometric patterns.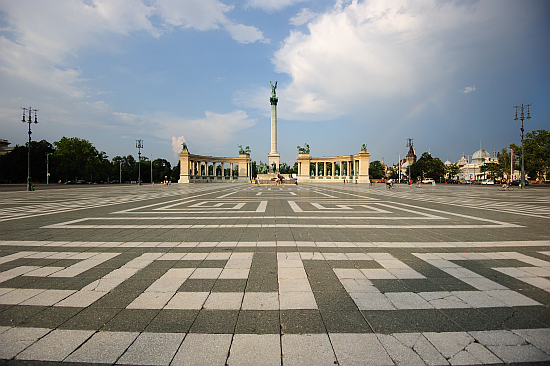 Field of view at 16mm. Notice the amount of barrel distortion, especially along the bottom of the image
At the 35mm end, the lens has a diagonal angle of view of 63°. There is some pincushion distortion, noticeable with a subject like this, but not nearly as objectionable as the barrelling seen at 16mm.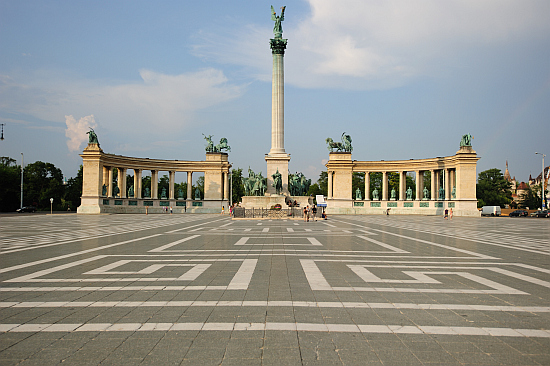 Field of view at 35mm
Auto-focus
The Nikon 16-35mm f4 VR features a Silent Wave Motor (SWM) that allows near-silent auto-focusing on all Nikon DSLRs. Importantly, this solution allows instant manual override even when the focus mode switch is in the M/A position.
In use, we found the focusing to be indeed very-very quiet, and generally fast - if not quite instantaneous -, with the lens mounted to a Nikon D700 body.
Chromatic Aberrations
Chromatic aberrations, typically seen as purple or blue fringes along contrasty edges, are practically a non-issue for this lens. Even if you shoot raw, you have to look very-very closely to see any evidence of this defect, and if you shoot JPEG on a modern Nikon digital SLR body, you will not see it at all, as these cameras can correct for lateral chromatic aberrations automatically. Below you'll see two examples of what you can see in the worst case if shooting raw. A truly impressive performance for an ultrawide lens.
Light Fall-off
With the lens wide open at the 16mm end of the zoom range, you can see some light fall-off in the extreme corners, as demonstrated by the example below. The problem goes away quickly upon zooming in or stopping down, and at most focal lengths and f-stops, corner shading simply isn't a problem worth worrying about. Better-than-expected performance from an FX lens.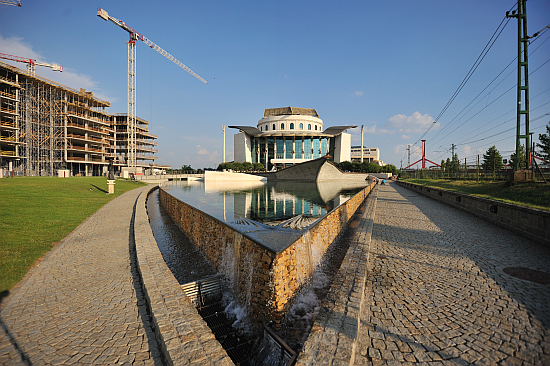 Macro
The Nikon 16-35mm f4 VR is not a macro lens. The close-focus point is at 29cm from the film/sensor plane - which means just a few centimetres from the front lens element - and Nikon quotes a maximum magnification of 0.25x for the lens. This would mean that with the 16-35mm f4 VR mounted to an FX body, you could fill the frame with a subject that measures 144x96mm. In our measurements the actual magnification was fractionally greater, allowing you to fill the frame with a subject that measures approximately 142x94mm. The following example illustrates how close you can get to the subject, in this case a CompactFlash card.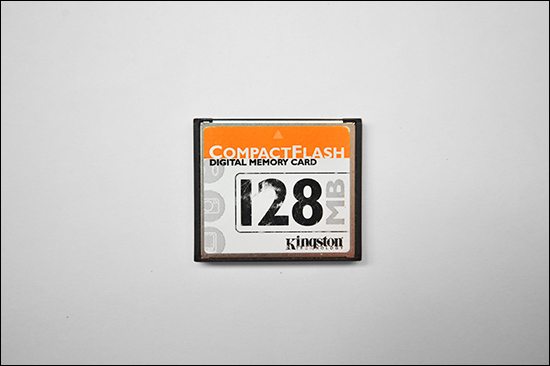 Close-up performance
Bokeh Examples
Bokeh is a word used for the out-of-focus areas of a photograph, and is usually described in qualitative terms, such as smooth / creamy / harsh etc. With an ultrawide-to-wide zoom, having anything substantially out of focus is bound to be a rare occurrence, requiring you to make a conscious effort to zoom in, focus close and use a wide aperture. That said, Nikon paid attention to this aspect of lens use too, employing a 9-segment diaphragm with rounded blades for pleasing bokeh. Below you'll find some examples shot at f/4 at 23mm and 35mm. Since bokeh evaluation is subjective, these illustrations are provided with no comments, leaving it to you to draw your own conclusions from them.
Sharpness
In order to show you how sharp this lens is, we are providing 100% crops on the following pages.
Main
Rivals
Review
Roundup