Nikon AF-S DX Nikkor 18-300mm f/3.5-6.3G ED VR Review

Introduction
The AF-S DX Nikkor 18-300mm f/3.5-6.3G ED VR is Nikon's second 18-300mm lens for DX-format cameras. More than 30% lighter than the existing AF-S DX Nikkor 18-300mm f/3.5-5.6G ED VR, the new lens has a brand new optical formula comprising 16 elements in 12 groups (including 3 ED and 3 aspherical lens elements), a 7-bladed iris and a smaller 67mm filter thread. The Nikon AF-S DX Nikkor 18-300mm f/3.5-6.3G ED VR is currently available for £629.00 / $896.95 in the UK and the US, respectively.
Ease of Use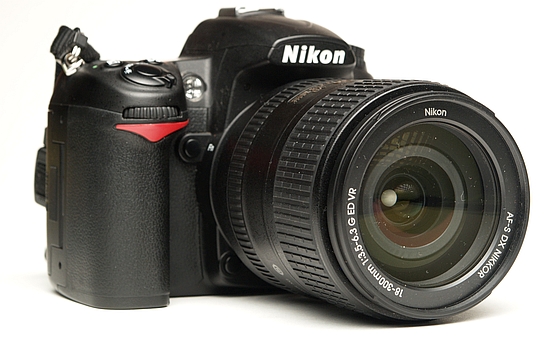 The new Nikon 18-300mm VR lens mounted to a Nikon D7000 body
Tipping the scales at 550 grams, the new AF-S DX Nikkor 18-300mm f/3.5-6.3G ED VR is 34% lighter than the older 18-300mm Nikon lens, although it's still about 100 grams heavier than the Tamron AF 18-270mm F/3.5-6.3 Di II VC PZD.
In addition to being lighter, the new lens is also considerably shorter than the old one – zoomed out, the 18-300mm f/3.5-6.3G ED VR is only 99mm long, whereas its older brother is 120mm.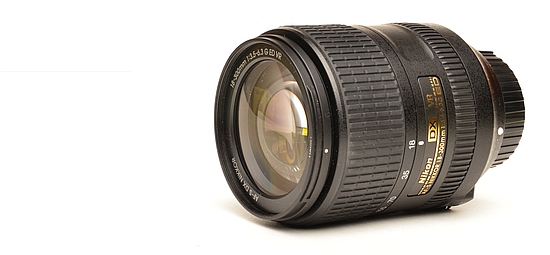 Zoomed out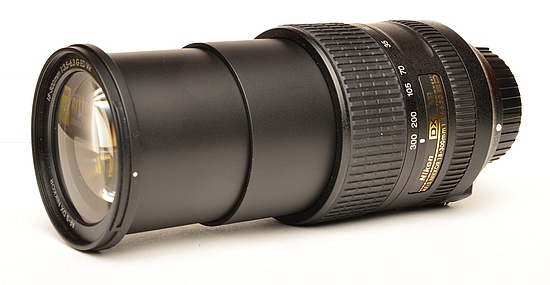 Zoomed in

Zooming is not internal – as you can see, the front extends considerably upon zooming to 300mm. The ribbed zoom ring is sufficiently wide – and somewhat stiff too, but not annoyingly so. Zoom creep is not an issue.
In terms of features, the new Nikon 18-300mm VR has less to offer than the older one. The VR (Vibration Reduction) system is less sophisticated – notably, there are no separate 'Active' and 'Normal' modes to choose from. The distance scale has also gone missing. On the other hand, the new lens does retain the IF (Internal Focus) mechanism and SWM (Silent Wave Motor) features, as well as the zoom locking switch that allows you to lock the zoom ring at the focal length of 18mm for carrying. Given that the lens isn't prone to zoom creep, there is little actual use for this switch, but Nikon recommends that you use it when carrying the camera anyway.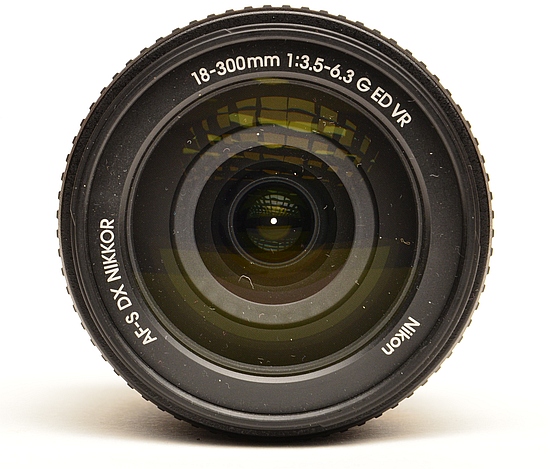 Front of the lens
The lens takes 67mm screw-on filters, which are considerably cheaper than the 77mm ones needed for the 18-300mm f/3.5-5.6G ED VR. The filter thread does not rotate on focus.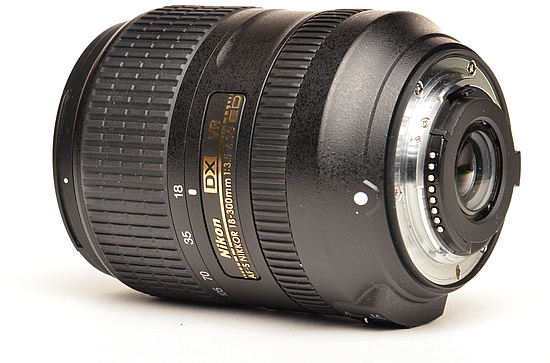 Rear of the lens, isometric view
The lens is not claimed to be weatherproof, but there is a rubber seal around the lens mount that should provide basic dust protection.
Focal Range
At the 18mm end of the zoom range, the angle of view is 76°.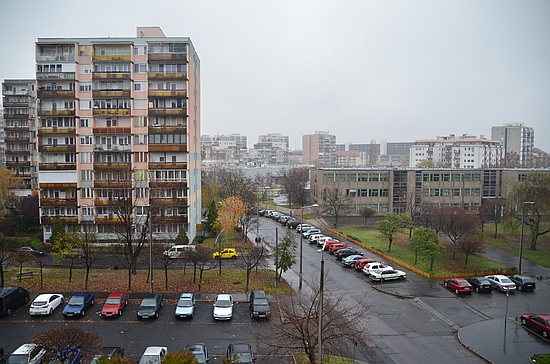 Field of view at 18mm
At the 300mm end, the angle of view narrows to 5° 20', which is equivalent to that of a 450mm lens on a 35mm camera body (at least when focused at infinity).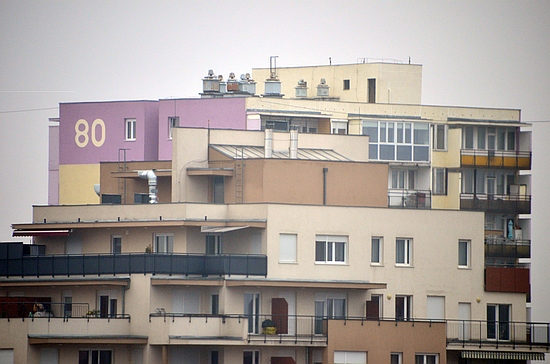 Field of view at 300mm
Focusing
With the lens attached to a D7000, auto-focus is somewhat slower and more "hesitant" than on the  AF-S Nikkor 18-300mm f/3.5-5.6G ED VR. It's still noticeably faster than the AF-S 55-300mm f/4.5-5.6 DX telezoom, though. Thankfully the filter thread does not rotate on focus, making it that much easier to use graduated neutral density filters and polarisers. Manual focus enthusiasts should take note that the focus ring is rather narrow and located close to the lens mount.
Distortion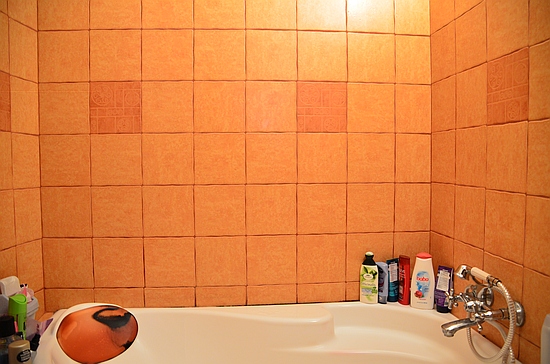 Distortion at 18mm
At the 18mm setting, there is noticeable barrel distortion, as demonstrated in the photo above. This turns into pincushion distortion fairly soon (somewhere between 28mm and 35mm). This type of distortion is especially visible at 50mm.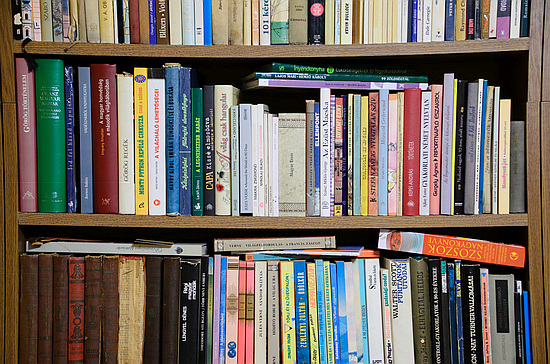 Distortion at 50mm
Chromatic Aberrations
Chromatic aberrations, typically seen as purple or blue fringes in the peripheral areas of the image, are surprisingly well controlled on this lens. The examples below show what you should expect in the worst case. JPEG shooters won't even notice this much, as all modern Nikon dSLRs can eliminate chromatic aberrations very effectively.
Light Fall-off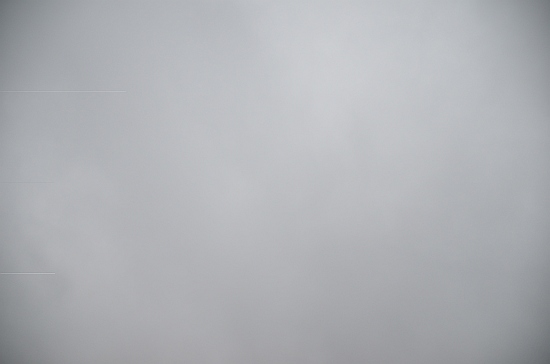 With the lens set to its maximum aperture, you can see pretty heavy light fall off in the corners at the wide end of the zoom range. Stopping down helps a lot here.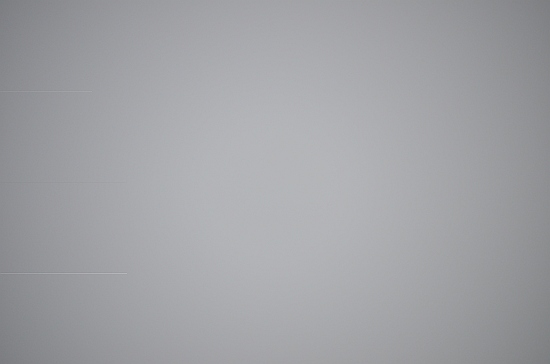 At the 300mm end, the phenomenon is even more pronounced.
Given that this is a DX lens, mounting it to a full-frame camera used in FX mode will result in extremely heavy vignetting, as you would expect.
Macro
The maximum reproduction ratio of the new Nikon 18-300mm VR lens is 1:3.125, with the minimum focus distance being 48cm – measured from the sensor plane rather than the front lens element – at all focal lengths. The following image illustrates how close you can get to the subject; in this case, a weather-beaten CompactFlash memory card.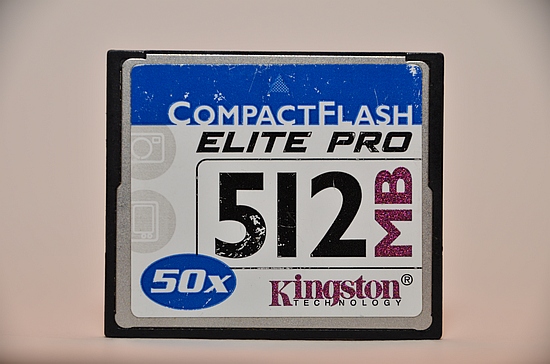 Close-up performance
Bokeh
Bokeh is a word used for the out-of-focus areas of a photograph, and is usually described in qualitative terms, such as smooth / creamy / harsh etc. In the AF-S Nikkor 18-300mm f/3.5-6.3G ED VR, Nikon employed an iris diaphragm with 7 rounded blades, which has resulted in a surprisingly decent bokeh for a zoom lens, at least in our opinion. However, recognising that bokeh evaluation is subjective, we have provided a few examples for your perusal.
Sharpness
In order to show you how sharp this lens is, we are providing 100% crops on the following pages.