Nikon AF-S Nikkor 200-500mm f/5.6E ED VR Review

Introduction
The Nikon AF-S Nikkor 200-500mm f/5.6E ED VR is a full-frame 2.5x telephoto zoom lens for Nikon F-mount cameras. Featuring an optical formula comprising 19 elements in 12 groups (including 3 ED elements) and a 9-bladed iris diaphragm with electromagnetic aperture control for maintaining consistent exposures during high-speed continuous shooting, the AF-S Nikkor 200-500mm f/5.6E ED VR has a close-focus point of 2.2m (measured from the sensor plane), and a maximum reproduction ratio of 1:4.5. The Vibration Reduction (VR) feature offers up to 4.5 stops of image stabilisation, and features the latest Sport VR mode for shooting subjects that move quickly and unpredictably. The Nikon AF-S Nikkor 200-500mm f/5.6E ED VR is available for £1,179.00/$1,399.95 in the UK and the US, respectively.
Ease of Use
Ease of Use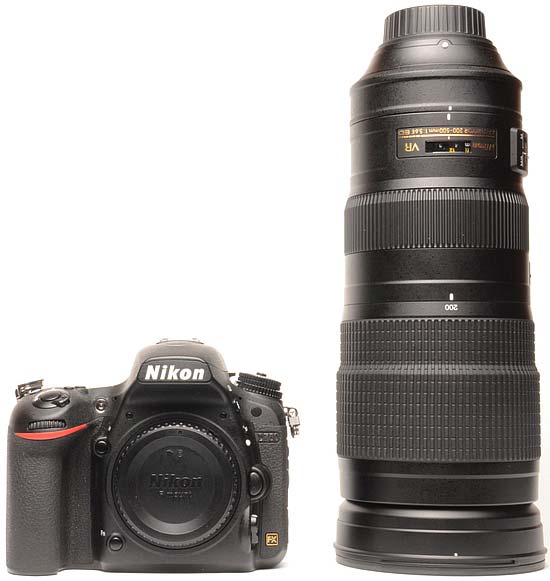 The Nikon AF-S 200-500mm f/5.6E ED VR lens attached to a Nikon Df camera body
Weighing in at 2,300 grams with the supplied tripod collar (and 2090 grams without), the AF-S Nikkor 200-500mm f/5.6E ED VR from Nikon is a rather heavy lens, although it is still over half a kilogram lighter than the Sigma 150-600mm f/5-6.3 DG OS HSM Sports (which of course spans a considerably wider focal range). This is not a lens that you can hand-hold for too long, being much more at home mounted on a sturdy tripod or monopod. As seen in the photo above, it dwarves even a 35mm full-frame DSLR camera like the Nikon D750.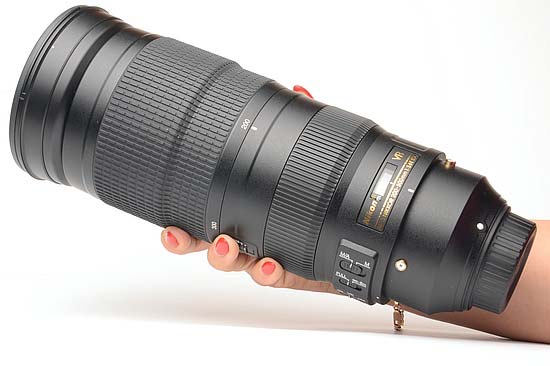 Build quality is very good, if not quite on a par with Nikon's top-of-the-line professional telephoto lenses, which cost several times the price of the AF-S Nikkor 200-500mm f/5.6E ED VR. The outer barrel is made of metal with a high-grade plastic shell, while the inner barrel is made of plastic.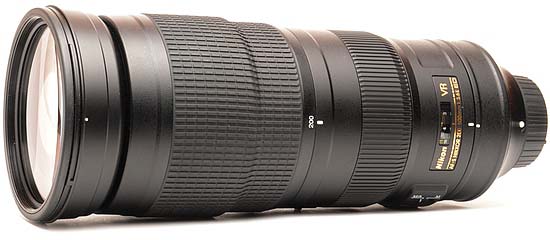 Zoomed out

Zooming is not internal – the front extends considerably upon zooming to 500mm. The ribbed zoom ring has a very generous width and a quality feel to it.


Zoomed in
The lens has a zoom lock switch that allows you to secure the lens barrel at its minimum length for transport. This is only available at the 200mm setting, and will not prevent zoom creep at other focal lengths.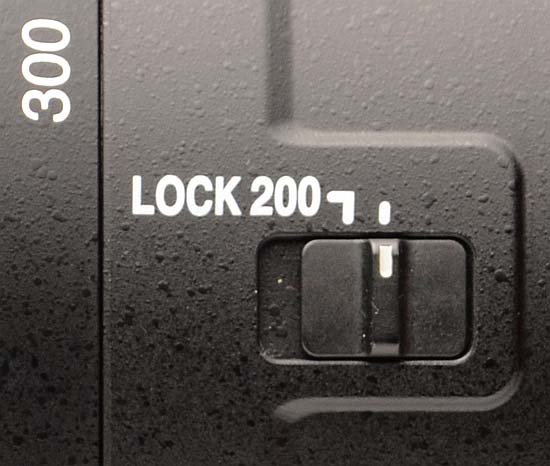 The lens features a distance scale sheltered behind a window.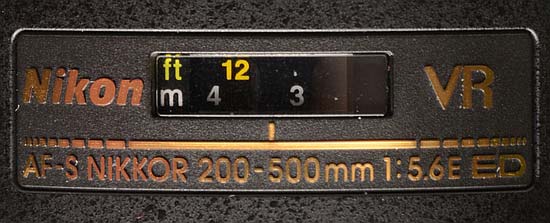 Distance scale
When it comes to features, the Nikon AF-S 200-500mm lens has a lot to offer. For starters, it comes with a built-in Silent Wave Motor (SWM), which allows for quiet auto focus operation with full-time manual override when the focus mode switch is set to the M/A position. Additionally, the lens has a focus limiter, which enables quick focusing on faraway subjects by restricting focus to distances greater than 6m. The 'VR' abbreviation in the lens' name refers, of course, to Vibration Reduction, which has both a 'Normal' and a 'Sport' mode, which is better suited to unpredictably moving subjects. We've found that VR consistently enabled us to shoot hand-held at an exposure time of 1/100s at the 500mm setting, with shutter speeds as slow as 1/25s also yielding decent results. Last but not least the "E" designation in the product name refers to an electromagnetic diaphragm mechanism, which helps maintain consistent exposure during high-speed burst shooting of fast action.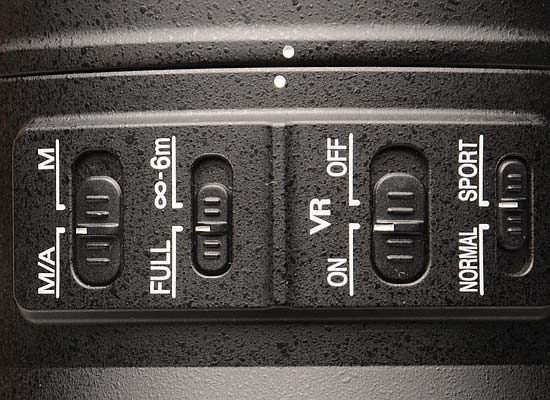 Lens controls
The Nikon AF-S Nikkor 200-500mm f/5.6E ED VR comes with a removable tripod collar. When attached, it allows camera rotation, eliminating the need to tilt the tripod head for switching from landscape to portrait orientation or vice versa. There are markings on the lens barrel to show 90° rotation points.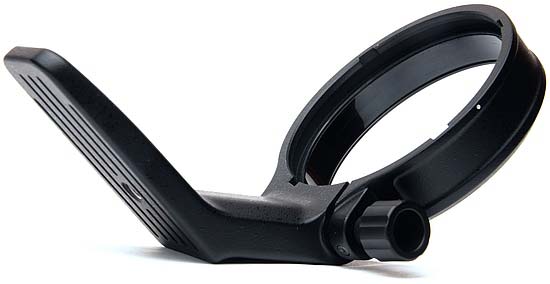 The supplied, detachable tripod collar
Compared to the 80-400mm Nikkor lens, the 200-500mm's tripod ring has a much better designed, longer and sturdier foot.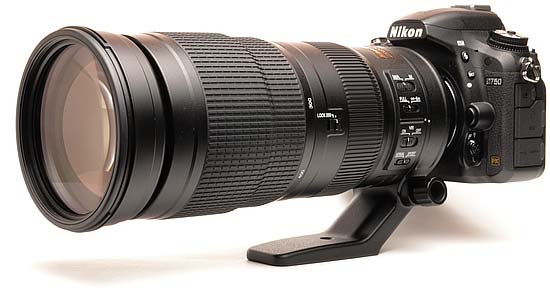 Tripod collar fitted
The AF-S Nikkor 200-500mm f/5.6E ED VR has a 95mm filter thread that does not rotate on focus.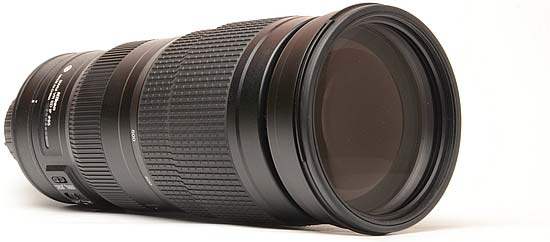 Front of the lens
Unsurprisingly for a lens that weighs this much, the Nikon AF-S Nikkor 200-500mm f/5.6E ED VR comes with a solid metal mount. The lens is not claimed to be weatherproof, but there is a rubber seal around the lens mount that should provide basic protection against dust and moisture.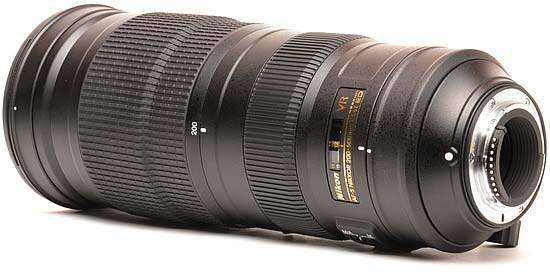 Rear of the lens, isometric view
The Nikon AF-S Nikkor 200-500mm f/5.6E ED VR ships with an HB-71 type lens hood.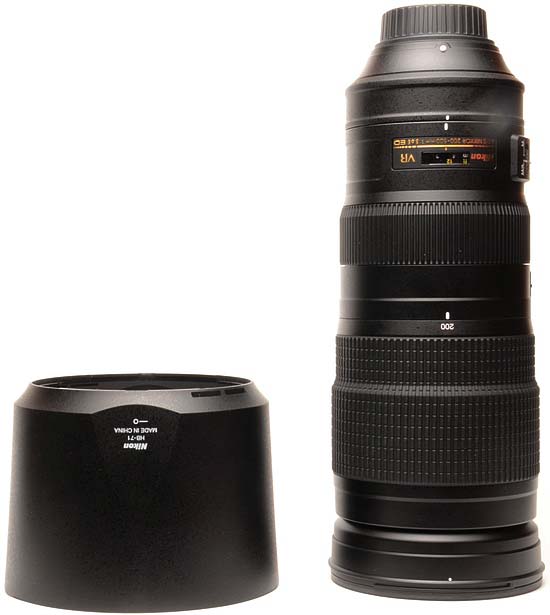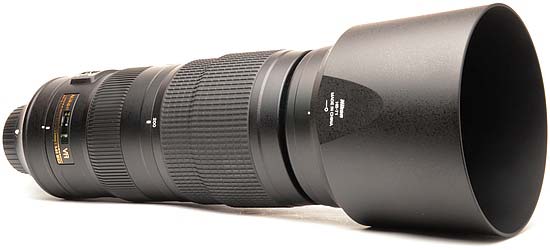 Nikon HB-71 lens hood fitted
Focal Range
At the 200mm end of the zoom range, the angle of view is 12° 20'.
Field of view at 200mm
At the 500mm end, the angle of view narrows to 5°.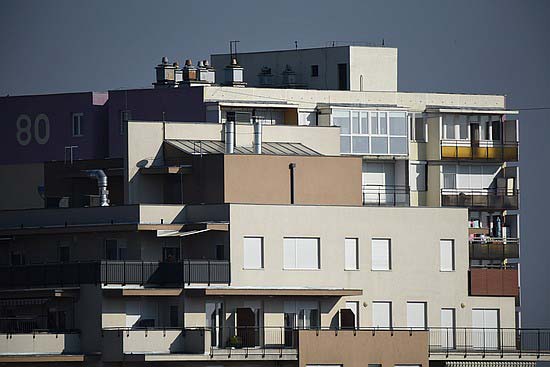 Field of view at 500mm
Focusing
With the lens attached to a Nikon D750, auto-focus is quiet, very accurate and pretty fast  – at least in good light. Unlike zooming, focusing is fully internal, and the front lens element does not rotate on focus, making the use of polarisers that much easier.
As far as manual focusing is concerned, the focus ring is pleasantly wide and has much more "travel" between its close-focus point and infinity than the one on Nikon's 80-400mm lens, making it easier to accurately focus on a subject. The design of the lens allows for full-time manual focus override when the focus mode switch is set to the M/A position.
Chromatic Aberrations
Chromatic aberrations, typically seen as purple or blue fringes in the peripheral areas of the image, are extremely well controlled with this lens. The 100% crops below give you an idea of what you should expect in the worst case – i.e. essentially zero CA. (The crops are both taken from raw images developed with automatic chromatic aberration removal turned off.) Needless to say we were deeply impressed.
Light Fall-off Light fall-off at 200mm f/5.6
At 200mm f/5.6, there is fairly little light fall-off in the image corners, as seen in the image above. At the long end of the zoom range, this phenomenon is more pronounced. Light fall-off at 500mm f/5.6
Macro
This is not a macro lens. The maximum reproduction ratio of the new Nikon 200-500mm VR is 1:4.5 (1:4.3 according to our own measurements), and the minimum focus distance is 220cm. The example below shows how close you can get to the subject, in this case, a Compact Flash memory card.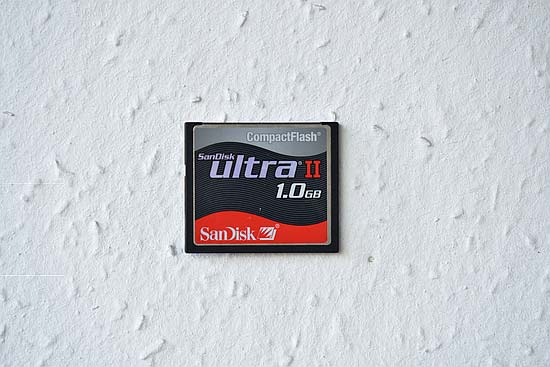 Close-up performance
Bokeh
Bokeh is a word used for the out-of-focus areas of a photograph, and is usually described in qualitative terms, such as smooth / creamy / harsh etc. In the AF-S Nikkor 200-500mm f/5.6E ED VR, Nikon employed an iris diaphragm with 9 rounded aperture blades for a pleasing rendition of the out-of-focus areas. In our view, their efforts have been fairly successful – see the examples below.
Sharpness
In order to show you how sharp this lens is, we are providing 100% crops on the following pages.