Nikon AF-S Nikkor 300mm f/4E PF ED VR Review

Introduction
The Nikon AF-S Nikkor 300mm f/4E PF ED VR is an unusually small and lightweight full-frame telephoto lens for Nikon cameras. More than 30% shorter and 46% lighter than its predecessor, the new 300mm f/4E PF boasts Phase Fresnel optical technology to help correct chromatic aberration and reduce the overall size and weight of the lens. The Nikon AF-S Nikkor 300mm f/4E PF ED VR features electromagnetic aperture control — hence the E designation in the product name — a VR Sport mode, VR tripod detection as well as a Silent Wave Motor for quiet AF operation, ED glass for further controlling chromatic aberrations and Nano Crystal Coat for superior image quality. The optical formula comprises 16 elements in 10 groups and a 9-bladed iris diaphragm. The lens takes 77mm filters and offers a minimum focus distance of 1.4m. The Nikon AF-S Nikkor 300mm f/4E PF ED VR is available for £1,639.99/$1,996.95.
Ease of Use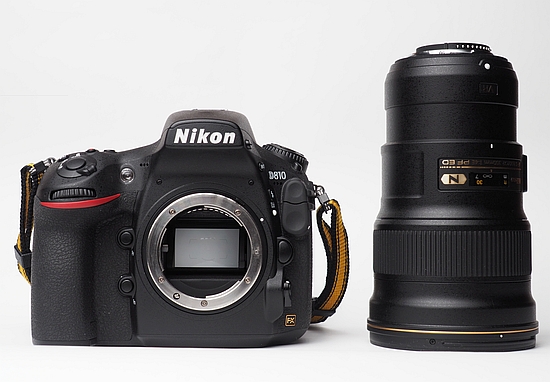 Weighing in at 755g, the Nikon AF-S Nikkor 300mm f/4E PF ED VR is currently the World's lightest 300mm full-frame fixed-focal-length AF lens. It's also the first Nikkor to combine a Phase Fresnel element with conventional refractive lens elements to deliver superior chromatic aberration compensation.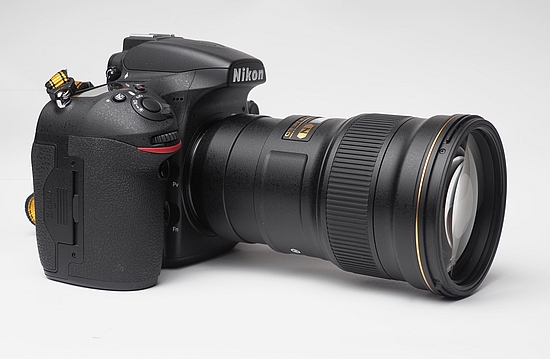 The Nikon 300mm f4E PF ED VR lens attached to a Nikon D810 digital SLR camera
The lens is surprisingly compact for a 300mm FX prime – a full 75mm shorter than its 15-year-old brother, the AF-S Nikkor 300mm f/4D ED-IF. In fact it is not much longer than the company's 24-70mm f/2.8 standard zoom, and balances well on the Nikon D810 full-frame SLR camera. The overall build quality is very good – the lens feels solid yet lightweight in the hand.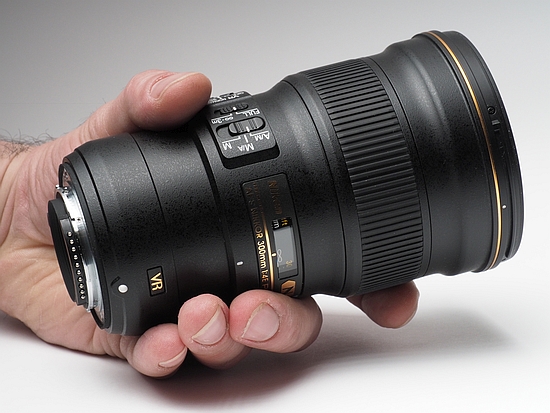 In your hand, the lens feels surprisingly lightweight
In terms of features, the lens has quite a lot to offer. For starters, it comes with Nikon's Vibration Reduction (VR) technology on board, and also offers a focus limiter as well as a three-position auto-manual focus switch.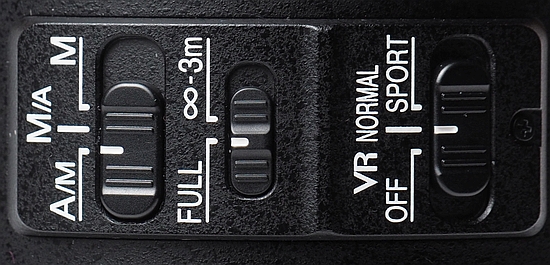 There is a distance scale sheltered behind a window, but there are no depth-of-field marks or infrared focus index on offer. The aperture ring has also gone missing, although you won't actually miss it unless you want to use this lens on a really old film SLR body. The Nikkor 300mm F4E has an electromagnetic aperture mechanism; hence the "E" designation in the product name.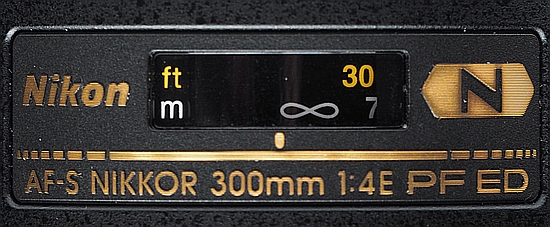 The ridged, 22mm wide focus ring is located near the front of the lens, and rotates smoothly with a throw of 135 degrees. Focusing is fully internal, meaning the physical length of the lens does not change, and the filter thread does not rotate on focus. The Nikon 300mm f4E takes standard 77mm filters.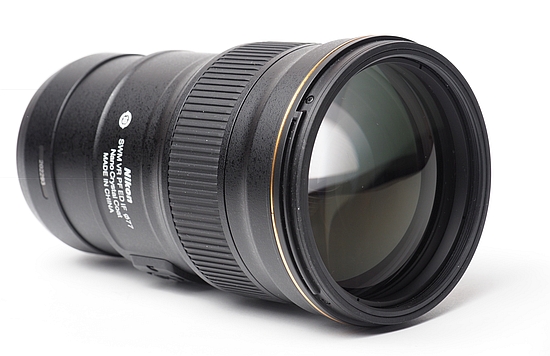 Front of the lens, isometric view
The lens mount is of course made of metal, and features a rubber gasket that provides a degree of protection against dust and moisture.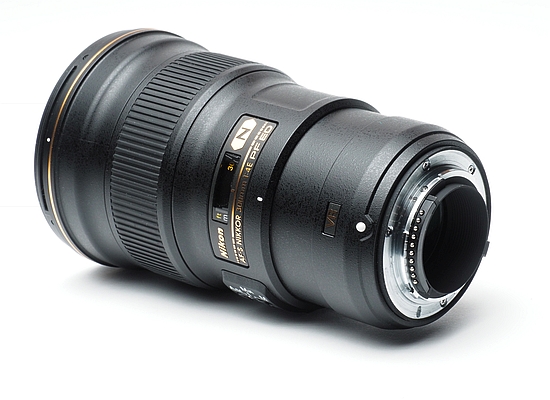 Rear of the lens, isometric view
The Nikon AF-S Nikkor 300mm f4E PF ED VR comes with an HB-73 bayonet-mount lens hood as standard.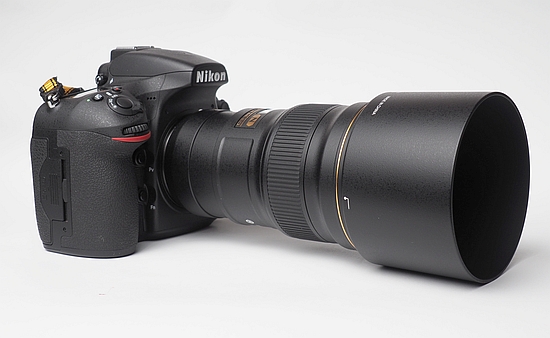 Focal Range
Mounted to an FX camera body, the lens has a diagonal angle of view of 8°10'.
Field of view on an FX camera
Switch to DX mode, and the angle of view narrows to 5°10'.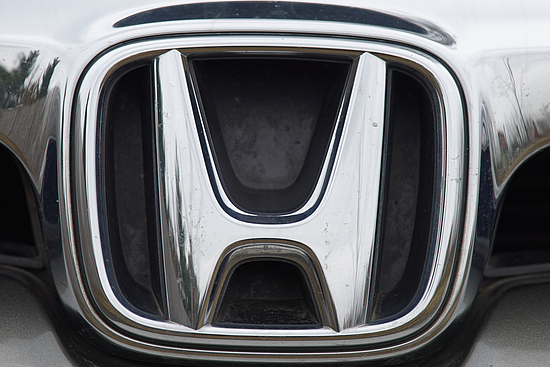 Field of view in DX mode
Focusing
The Nikon 300mm f4E PF ED VR lens has a Silent Wave Motor (SWM) that promises fast and quiet auto focus operation. In use, we have found it to be a reasonably quick performer. That being said, if your subject is further than 3m away it's well worth turning on the focus limiter to avoid unnecessary hunting and speed up focus acquisition. The AF motor is indeed very, very quiet.
Manual focusing is a largely pleasant experience thanks to the wide and tactile focus ring that has a generous amount of travel between the close-focus point and the infinity setting. The front lens element does not rotate on focus, making the use of polarisers and graduated neutral density filters that much easier.
Chromatic Aberrations
Chromatic aberrations, typically seen as purple or blue fringes along contrasty edges, are very well controlled on this lens, thanks to the Phase Fresnel element and other special lens elements employed. The examples below show what you can expect in the worst case.
Light Fall-off
When used wide open at f/4, the Nikon AF-S Nikkor 300mm f/4E PF ED VR suffers from a fairly heavy dose of corner shading. This improves upon stopping down – by f/8, the vignetting is largely gone.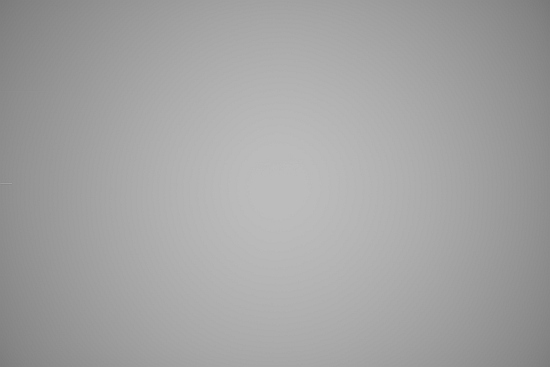 Macro
The Nikon AF-S Nikkor 300mm f4E is not a macro lens. The minimum focus distance is 1.4m, and the reproduction ratio is 1:4.2 (at least according to the official specifications – we measured a slightly better ratio of 1:3.9). This does enable users to capture decent close-up shots, but for true macro photography you will need a dedicated macro lens. The following image demonstrates how close you can get to your subject – in this case, a CompactFlash card.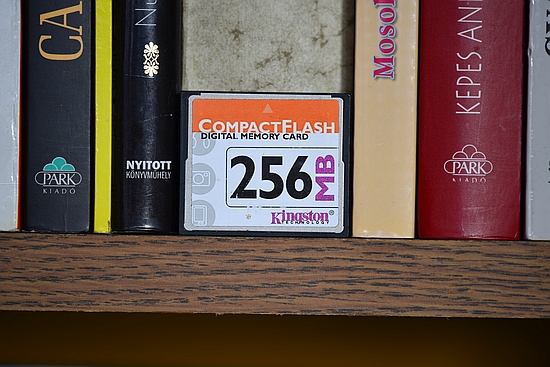 Close-up performance
Bokeh
Bokeh is a word used for the out-of-focus areas of a photograph, and is usually described in qualitative terms, such as smooth / creamy / harsh etc. In the AF-S Nikkor 300mm f/4E PF ED VR, Nikon employed a diaphragm with 9 rounded blades, which resulted in a nice bokeh in our view.
Sharpness
In order to show you how sharp this lens is, we are providing 100% crops on the following page.