Nikon Coolpix W100 Review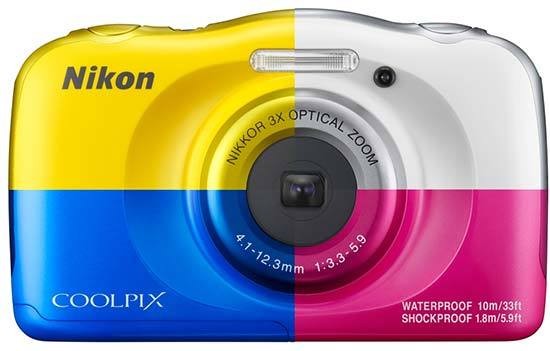 Introduction
The Nikon Coolpix W100 is a new tough waterproof camera which is designed towards "family use". It is simple to operate, and doesn't have too many controls to change. It is dustproof, waterproof down to 10 metres, shockproof from heights of 1.8m and freeze proof down to -10 Celsius. It has a 13.2 megapixel sensor and a 3x optical zoom, as well as a digital "fine" zoom. Like a lot of current Nikon cameras, it is compatible with the Snapbridge app. This means that the camera maintains a low power Bluetooth link with your phone, automatically uploading any photos that you take to your phone ready to be shared on social networking sites. The camera also has Wi-Fi and NFC. There are five different colour ways you can get the Nikon Coolpix W100 in, including the blue version which was sent to us for review. The Nikon Coolpix W100 retails for £119.99.
Ease of Use
The Nikon Coolpix W100, like other cameras in this line from Nikon before it, has a very blocky and child-like design. That's not a negative criticism, as it's designed to appeal to the whole family, and be a camera that you can take on holidays, trips and so on, which everybody can use.
To that end, it has been designed to be as simple to use as possible, with large, easy to press buttons. Having large and well-defined buttons also makes the camera easier to use when underwater, or, when using gloves or anything which might make smaller buttons more fiddly to access.
On the top of the Nikon Coolpix W100 is an on/off button, which you need to hold down for a couple of seconds to switch on. Then you'll see that there are two large buttons, one of which records video, and the other is the shutter release for still images. These buttons are on opposite ends of the top of the camera and can be easily reached when holding the camera with both hands. If you're using the camera with just one hand, the stills button is easier to reach, which makes sense.
When you switch the Nikon Coolpix W100 on you'll be greeted with "waterproofing precautions". This guides you through how to make sure that water doesn't get into the camera when you're using it underwater or in bad weather. The battery compartment requires a two-step unlocking process to help make sure you don't accidentally open it underwater, or when foreign matter may get inside the battery compartment.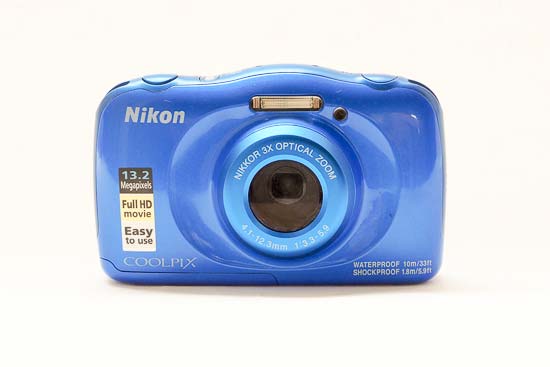 Front of the Nikon Coolpix W100
There aren't lots of different shooting modes to use with this camera, again because it has been designed to be as simple to use as possible. There are four buttons along the left hand side of the camera which you can use to make all of your changes.
The buttons correspond with icons on the screen, which change depending on which area of the camera you're working in. So, when you're coming from the main shooting screen, the bottom button will access settings, the second from bottom button will allow you to change scene mode, the second from top button will switch on the flash or the timer, while the top button takes you back to 'standard' shooting mode, if, for example you've switched to a different scene mode.
If you press the scene mode button, you'll now see that all of the buttons have different controls. For example, the bottom button gives you the opportunity to 'change colours' (which means adjust brightness, saturation or create a selective colour effect). The second to bottom button is 'decorate', which means you can add a frame, while the the second from top button gives you different scene options.
Again, there's not a huge amount of scenes to work with, but one you might find you use reasonably regularly is 'shoot close-ups', which is essentially switching on macro focusing, and you may also use the 'shoot underwater' scene mode if you plan on taking the camera underwater too. Often the top button acts as 'back' button allowing you to get back to the main screen.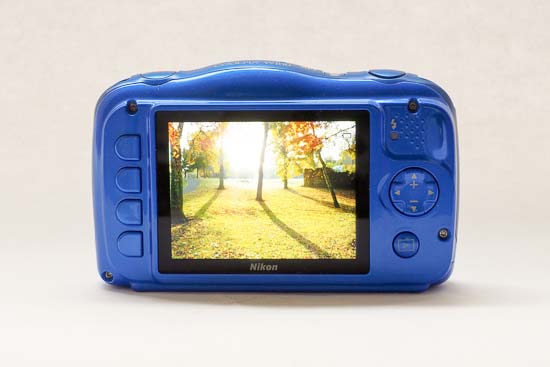 Rear of the Nikon Coolpix W100
In the settings menu, you won't find anything too extensive - for example it's not possible to change advanced settings such as shutter speed, aperture, ISO and so on. Instead, you can do some fun things such as change the camera's sounds (you could, for example, choose a bird sound rather than a conventional 'click' for the shutter release). You can also choose different looks for how the menu appears, making it appeal more perhaps to younger users.
Under camera settings you'll find 'network settings', which is where you can set up the camera to work with Snapbridge. It's very simple to set up the initial connection with your phone once you have the Snapbridge app. You can have it set up so that the camera automatically resizes and sends images across just after you take them so that it's ready to go, rather than having to go through the hassle of connecting the camera via Wi-Fi every time you want to transfer an image across. It's a very useful tool that is great for those family and holiday shots that you want to share quickly and without hassle.
To the right hand side of the screen is a four way navigational pad. The up and down keys act to activate the zoom when in shooting mode. It's not the quickest zoom mechanism on the market, but considering it's only a 3x optical zoom, that's not too much of a problem. If you push the up arrow further when it reaches the full optical limit (which you'll see when the bar on screen turns blue) then you can also use the digital zoom. The right and left arrows only have a use when you're in playback mode and you want to flick between the pictures that you have taken. The playback button is found on the rear of the camera towards the bottom.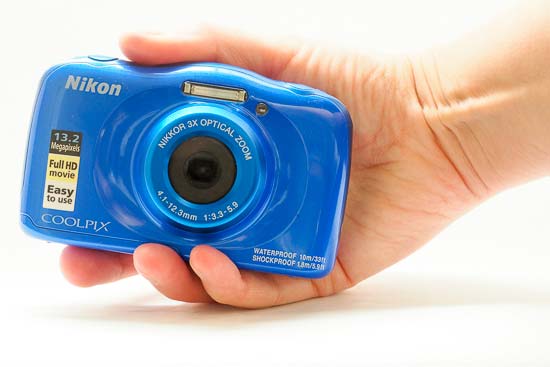 The Nikon Coolpix W100 In-hand
When you're in playback, you have a few options. You can add effects, frames, and create photo albums from your images. You can even record sounds to go along with an image. You can rate images by giving it a crown or a rosette.
The screen is just 2.7 inches, which is pretty small by most modern camera's standards. It also has just a 230k-dot resolution, which is also quite low and doesn't reveal the best detail possible. It can sometimes be quite difficult to see the scene in front of you if you position the screen in an awkward position, which is a particular shame when it's underwater.
The Nikon Coolpix W100 can be reasonably slow to use, taking some time to process images before allowing you to shoot another one, or view them in playback. In good light, focusing is reasonably quick and accurate, but if your subject is quite close the camera might struggle. Switching on the close-up mode makes things a bit easier, but there can still be times when a false positive is displayed.