Olympus mju Tough 8000 Review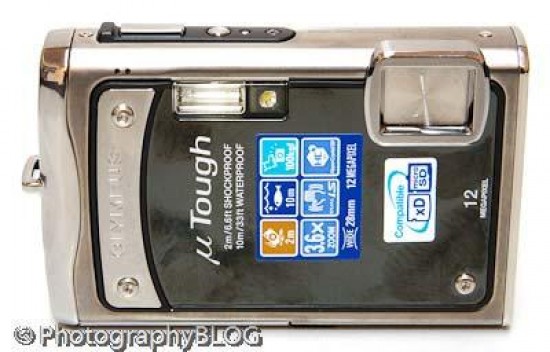 Introduction
The Olympus mju Tough 8000 (also known as the Stylus Tough 8000) is the newest member of Olympus' extensive range of shockproof and waterproof digital cameras. Successor to the Olympus mju 1030 SW model, the mju Tough 8000 increases the megapixel count to 12, incorporates sensor-shift image stabilisation, features an innovative "tap control" system, and adds a new Beauty mode to automatically touch up portraits. Waterproof to a depth of 10m, shockproof against falls to 2m, freeze-proof down to -10 degrees Celsius and crushproof up to 100kg, the metal-bodied mju 1030 SW should survive pretty much anything that you subject it to. With a substantial price tag of £340 / $399, the Olympus mju Tough 8000 costs the same as many budget DSLR cameras. Zoltan Arva-Toth finds out if it's worth investing in....
Ease of Use
Olympus used to denote their shock- and waterproof compacts with the SW abbreviation, but have recently took to calling them simply 'Tough'. The official explanation was that some of these cameras were not only shock- and waterproof, but freeze- and crushproof as well, and they wanted to find a name that reflects this. Our humble opinion is that most consumers probably didn't have the faintest idea of what the two letters stood for, and Olympus realised they needed a more self-explanatory name to raise awareness of their line of ruggedised cameras.
One of the first two models having the word 'Tough' in their name is the Olympus mju Tough 8000, called the Stylus Tough 8000 in North America. This camera shares a lot with its forebear, the mju 1030SW, which we reviewed almost exactly one year ago. Both have a 28-102mm equivalent internally stacked zoom lens, can withstand being trodden upon by individuals weighing up to 100kg, are shockproof if dropped from a height of up to 2m, waterproof to a maximum depth of 10m and freeze-proof down to -10 degrees Celsius. The two models also share a 2.7", 230k dot LCD and features like shadow adjustment and face detection. Neither camera gives you direct access to aperture and shutter speed.
What's new, then? Just a couple of things, really. The mju Tough 8000 has "real" image stabilisation (of the sensor-shift variety), two million extra pixels on its sensor, an innovative "tap control" system for those wearing gloves, and a new Beauty mode to automatically touch up portraits.
From the outside the Tough 8000, which comes in a choice of platinum, black and blue colours, looks a lot like its predecessor. It is about the size of a pack of cigarettes, but weighs substantially more due to being made of (mostly) metal. The front plate is shiny and features a microphone, a flash, a LED and of course the lens, the latter of which is hidden behind a metal cover when the camera is not in use. On the top plate you find the shutter release and a rather small power button.
| | |
| --- | --- |
| | |
| Front | Rear |
Most of the camera's back is taken up by the 2.7", 230,000-dot monitor which, in the absence of an optical viewfinder, serves as the only means of framing your shots. In the top right corner, when viewed from the back, we find the – rather small – zoom  rockers. Directly beneath them is a mode dial with positions for iAuto, Program, scene, Beauty, movie and playback modes (more on these in a minute).
In the bottom right corner, there is a button clutter that will be familiar to almost anyone who has ever handled a digital compact camera. This comprises a standard four-way controller with direct access to exposure compensation, flash modes, self timer and macro modes, plus a centered OK / FUNC button. Around this navigation pad are the usual Menu, Playback, Display and Delete buttons.
The right-hand side of the camera has a speaker, a wrist strap eyelet plus a multi-connector hidden behind a sealed door. The battery / card compartment – the mju Tough 8000 uses xD-picture cards but comes with a microSD adapter – opens to the bottom, with a tripod socket being positioned right beside it. The latter seems to be made of plastic, which is surprising on a camera that is mostly metal.
As noted earlier, the mju Tough 8000 is a point-and-shoot model with no user control over aperture and shutter speed. You do get a legion of scene modes (I counted nineteen), plus an iAuto mode that analyses the scene in front of the lens and automatically picks one of the five most often used scene modes based on this analysis. There is a P mode as well, denoted with a camera icon, which gives you control over things like white balance, ISO etc., though confusingly, some settings impose rather illogical limitations on others even in this mode. For instance, if you enable shadow adjustment – Olympus' version of D-lighting or DRO, which lifts the shadows without affecting the highlights in a high-contrast scene – the AF mode inexplicably defaults to Face Detection, depriving you of the option to use Spot AF.
A number of settings are accessible via the centered OK / FUNC button that brings up a function menu, while others have dedicated buttons. One of the latter is exposure compensation (EC), which is available by pressing the Up button of the four-way pad. You do not simply set the amount of EC here, but you can also preview the effect in real time, in a multi-frame window. While this is cool, it is perceivably slower to load than the simple scales employed by other cameras.
| | |
| --- | --- |
| | |
| Front | Rear |
Another feature having its own button is the macro mode. You can choose from a choice of normal macro, supermacro and supermacro with LED. The optical zoom and the flash are only usable in the first one – the lens is fixed at the wide end in the supermacro modes, and the flash is turned off. Since proper illumination of your subject might be a challenge when you are photographing it from a very close distance, an option is provided to use the LED sitting between the flash and the lens. This is one of the nice touches about the mju Tough 8000.
Of particular interest is the Display button, which let you cycle through various sets of overlaid information, including compositional grid-lines and a live histogram – though sadly, not both at the same time. The former is a useful tool to help you with composition, but can be used to line up your verticals and keep your horizon straight too. The latter is a great help in getting the exposure right.
Now, all these buttons are tiny, just like they were on the mju 1030 SW. Given that this is a camera that can be used at temperatures as low as -10 degrees Centigrade, when people tend to wear gloves, this can be a problem. Olympus have realised this, and introduced a second way of affecting changes to settings – the so called "tap control system". If enabled, this ingenious solution allows you to change the flash and macro modes, confirm settings and toggle between record and playback modes, as well as flip through already captured images by lightly tapping the camera on the sides, top and back plates. My only gripe is that sometimes a screen will come up, saying, "Tap the camera body to operate the camera", even when you have done just that. Specifically, I always bumped into this screen whenever going from record to playback – a minor but recurring annoyance, made worse by the fact that the screen would remain on for 3-4 seconds. I have found no way to get rid of this screen, except by turning off the tap control system altogether. A firmware fix would be most welcome.
The camera's performance was OK for its class. Start-up took just over a second, not much longer than with the manufacturer's DSLRs. Committing 12-megapixel Fine JPEGs to a Type M xD card required nearly four seconds. While you did not have to wait this long to take the next picture – shot-to-shot times averaged 2 seconds in single-shot mode –, you could not enter playback until the camera finished writing the just-captured image to the card. In addition, the mju Tough 8000 has two different sequential shooting modes. The "regular" burst mode is around 1 frame per second, but there is a high-speed version that allowed me to capture 13 photos in less than 3 seconds. The downside is that this latter mode limits the resolution of just 3 megapixels. As regards the auto-focus, its speed was acceptable for a camera in this class, but I wasn't always happy with the way it worked.
| | |
| --- | --- |
| | |
| Memory Card Slot | Battery Compartment |
There are three types of AF available in Program mode, Face Detection, iESP and Spot. Face Detection worked as long as the faces were well lit and not positioned at too sharp an angle, but struggled otherwise. When no face could be detected, the camera would default to iESP, an AF mode where "i" stands for "intelligent". In this mode, the camera picks an AF point on its own – but alas, not too intelligently. It has happened to me that the camera was in supermacro mode, and iESP still picked a point in the – rather distant – background. Spot AF was, at least, reliable, but as noted earlier, it is not selectable when you have the shadow adjustment feature turned on – which I found strange and annoying at the same time. Also, there is no way to manually select an off-centre focus point.
Like all digital compacts – and now an increasing number of DSLRs –, the mju Tough 8000 can capture movies besides stills. The movie mode is a fairly standard 640x480 or 320x240 pixels at either 15 or 30fps – not bad, but nothing to write home about either. Also, if you are using Standard or Type M xD-picture cards, then the maximum clip length is a measly 10 seconds when a combination of 640x480 pixels and 30fps is chosen. This limitation does not apply when using a Type H or M+ card. By default, sound is recorded with your videos, but you cannot use the optical zoom. With underwater movies, this is reversed: no sound is recorded, but you get to use the zoom. There is a special function in movie mode, called DIS. It continuously steadies the image while recording a video clip. This is different to the IS mechanism used for stills, but works well nonetheless.
The mju Tough 8000 has one feature that is quite unique, especially for its class: pixel mapping. Unfortunately, the manual does a poor job of explaining what this is, even though it's quite simple. Digital camera sensors contain millions of pixels and usually there are a few that do not work. These are referred to as "stuck" or "dead" pixels, and their numbers might increase somewhat during the camera's lifespan. These can be seen as tiny bright white spots in an image. These pixels can be mapped out, but most manufacturers require you to send your camera in to a service centre for this, and perhaps also to pay a fee. Users of the Olympus mju Tough 8000 can do this themselves simply by activating the Pixel Mapping function from the menu. The whole thing takes less than half a minute.
In use, the mju Tough 8000 worked well in all circumstances, including extensive use in a pool. Underwater images came out a little less contrasty, sharp and detailed than "normal" shots, and the camera did not fully compensate for the predominant blue cast either, but it was still thrilling to be able to use it in situations when other cameras would have had to be left at home. If you would like to know how the images turned out under "normal" conditions, just read on...