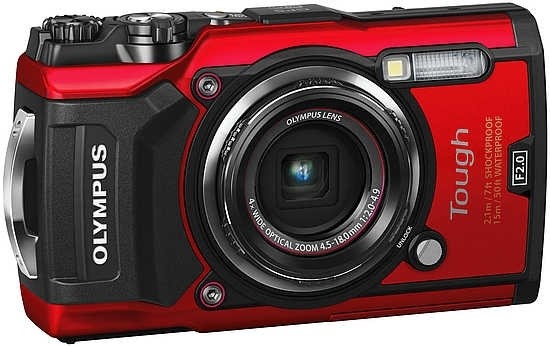 Image Quality
All of the sample images in this review were taken using the 16 megapixel Fine JPEG setting, which gives an average image size of around 6Mb.
Whilst by virtue of the small-ish 1/2.3-inch sensor at its heart, the Olympus TG-5 is a snapshot camera, when there's plenty of sunlight around the pictures delivered impress none-the-less, with the regular natural colour menu option able to be boosted should you so wish via the camera's built-in menu toolbar. Even on default settings, on brighter days, primary colours – particularly blues and greens – really zing, while, under ideal conditions, images are contrast rich for the most part. There's little more, if anything, that you need to do save point and shoot with this one.
Inevitably perhaps there's some slight softening at the the edges of the frame when shooting at default maximum 25mm equivalent wideangle setting, but only noticeable if examining closely. At telephoto end of the zoom images are reasonably clear too. An issue with having an internally stacked zoom is that occasionally fingertips can stray into shot when you're gripping the camera with both hands, although the central positioning of the lens ensures this is only an occasional, rather than regular, visual blight. Under such conditions instances of purple pixel fringing are kept reasonably in check. Indeed, they're only really noticeable if you're deliberately searching for them.
In terms of low light shooting, as with pretty much any compact camera with a 1/2.3-inch sensor, you wouldn't normally want to stray above ISO800 or ISO1600 at a push, though this one pushes the ISO range beyond that, backed up by the brighter than average lens for its class. That aside, inevitably shots towards the maximum selectable setting become distinctly soft, until the point of an equivalent ISO12800, whereupon shots resemble fourth generation colour photo copies, or a shaky smartphone snap. Whilst we didn't expect miracles from the TG-5, it's perfectly usable.
Noise
There are 8 ISO settings available on the Olympus TG-5. Here are some 100% crops which show the noise levels for each ISO setting for both JPEG and RAW.
| | |
| --- | --- |
| JPEG | RAW |
| ISO 100 (100% Crop) | ISO 100 (100% Crop) |
| | |
|   |   |
| ISO 200 (100% Crop) | ISO 200 (100% Crop) |
| | |
|   |   |
| ISO 400 (100% Crop) | ISO 400 (100% Crop) |
| | |
|   |   |
| ISO 800 (100% Crop) | ISO 800 (100% Crop) |
| | |
|   |   |
| ISO 1600 (100% Crop) | ISO 1600 (100% Crop) |
| | |
|   |   |
| ISO 3200 (100% Crop) | ISO 3200 (100% Crop) |
| | |
|   |   |
| ISO 6400 (100% Crop) | ISO 6400 (100% Crop) |
| | |
|   |   |
| ISO 12800 (100% Crop) | ISO 12800 (100% Crop) |
| | |
Focal Range
The Olympus TG-5 has a 4x optical zoom which starts at 25mm and zooms out to a modest 100mm.
25mm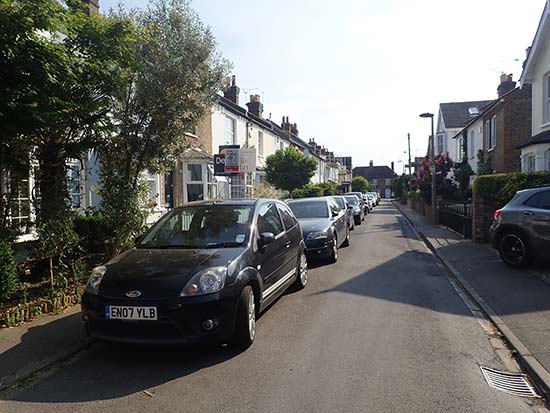 100mm
Chromatic Aberrations
The Olympus TG-5 exhibited some purple fringing effects in high-contrast situations, as shown below.
Chromatic Aberrations 1 (100% Crop)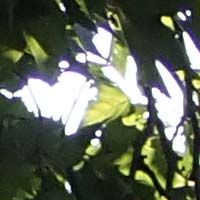 Macro
The Olympus TG-5 has a Supermacro mode on its command dial which you need to switch to in order to focus down to 1cm. We found that the main issue with this mode is getting enough light between the lens and the subject. If you don't use the Supermacro mode, the closest that the TG-5 will focus to is 10cm, which isn't a useful close focusing result. However, it has to be noted that the camera can focus to 10cm even at full zoom, which is very useful for sending backgrounds out of focus.
Macro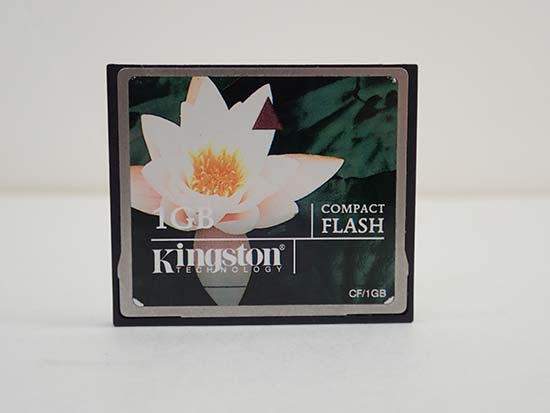 Flash
With the flash turned off, the Olympus TG-5 doesn't show any obvious signs of vignetting at wide-angle or full zoom. However, it does occur when the flash is on. Certainly at wide-angle, at least. It's less so at full zoom, but on a plain white wall, it's still noticeable.
Flash On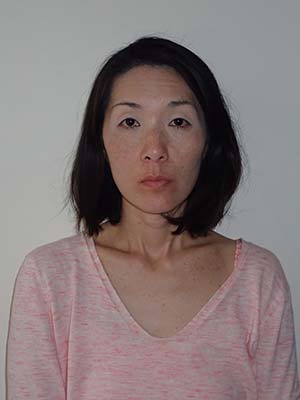 Flash Red-eye Reduction
Night
The Olympus TG-5 has a dedicated Night scene mode in the Scenes setting on the command dial. The advantage of using this mode is that the camera is allowed to select a longer shutter speed than when in Program mode. The latter meaning you have to select a higher ISO in order to get a balanced exposure. The camera will also assume you're supporting the camera, so will choose a low ISO.
Night