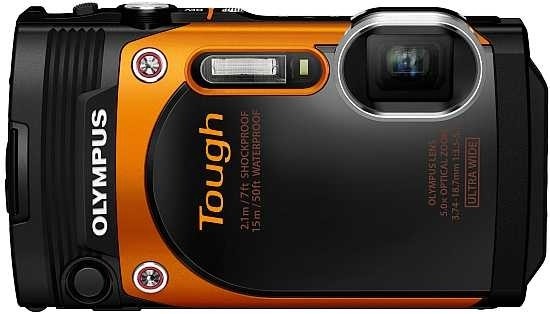 Image Quality
All of the sample images in this review were taken using the 16 megapixel JPEG setting, which gives an average image size of around 6Mb.
The Olympus TG-860's widest-angle setting of 21mm equivalent is certainly useful for squeezing a lot of your subject matter into frame, even if, when taking portraits up close, it can result in a very slight fish eye effect and an elongation or widening of features.
Colours are, for the most part, however, realistically rendered, with an additional vivid colour option available to draw on should you be faced with otherwise drab, sludgy skies and environs that could do with a saturation boost to maintain visual interest. In addition we have Olympus' Art Filter digital effects to dip into, which are best used sparingly. We found the high contrast, gritty looking monochrome option could work well with otherwise dreary grey skies.
In terms of performance, when shooting in the dim as well as the dank, this Olympus's light sensitivity range stretches from ISO 125 to ISO 6400. Again, fairly basic range when compared to more premium (non destruction-proofed) models, but in fairness just what we'd expect of a point and shoot camera with this size of sensor at its heart. Above ISO800 detail begins to take on an obviously smeared appearance, congruent with a camera with a small sensor size. However we found that the Night Scene mode with the aid of a steady surface produced some quite pleasing low light results that were a definite improvement on the camera simply being left to its auto everything devices.
Noise
There are 7 ISO settings available on the Olympus TG-860. Here are some 100% crops which show the noise levels for each ISO setting.
| | |
| --- | --- |
| ISO 125 (100% Crop) | ISO 200 (100% Crop) |
| | |
|   |   |
| ISO 400 (100% Crop) | ISO 800 (100% Crop) |
| | |
|   |   |
| ISO 1600 (100% Crop) | ISO 3200 (100% Crop) |
| | |
|   |   |
| ISO 6400 (100% Crop) |   |
| |   |
Focal Range
The Olympus Tough TG-860 has a 5x optical zoom which starts at 21mm and zooms out to a modest 105mm. There's an amount of barrel distortion at wide-angle but not as much as we expected to see.
| | |
| --- | --- |
| 21mm | 105mm |
| | |
Sharpening
Although we only used a standard sharpening amount in order to test the JPEG files, we found that, while very sharp on there own, the TG-860 does benefit from a little boost in an editing suite. However, if there's a lot of noise in the picture, this can have a tendency to exacerbate and reduce the overall quality of viewing.
| | |
| --- | --- |
| Original (100% Crop) | Sharpened (100% Crop) |
| | |
|   |   |
| | |
Chromatic Aberrations
We managed to identify some chromatic aberration at the far edges of the frame. However, because of the wide-angle view of the lens, this tends to be quite distorted and blurred, so not very easy to see. You may therefore decide that it's not harsh enough to consider a problem.
| | |
| --- | --- |
| Chromatic Aberrations 1 (100% Crop) | Chromatic Aberrations 2 (100% Crop) |
| | |
Macro
The Olympus Tough TG-860 has a Supermacro mode on its command dial which you need to switch to in order to focus down to 1cm. We found that the main issue with this mode is getting enough light between the lens and the subject. If you don't use the Supermacro mode, the closest that the TG-860 will focus to is 10cm, which isn't a useful close focusing result. However, it has to be noted that the camera can focus to 10cm even at full zoom, which is very useful for sending backgrounds out of focus.
| | |
| --- | --- |
| Macro | Macro (100% Crop) |
| | |
Flash
With the flash turned off, the camera doesn't show any obvious signs of vignetting at wide-angle or full zoom. However, it does occur when the flash is on. Certainly at wide-angle, at least. It's less so at full zoom, but on a plain white wall, it's still noticeable.
| | |
| --- | --- |
| Off - Wide Angle (21mm) | Fill-in - Wide Angle (21mm) |
| | |
|   |   |
| Off - Telephoto (105mm) | Fill-in - Telephoto (105mm) |
| | |
We're pleased to see that the red-eye reduction system works well. A portrait with flash does produce red-eye and when red-eye reduction is switched on there is a definite reduction in the pupil.
| | |
| --- | --- |
| Fill-in | Fill-in (100% Crop) |
| | |
|   |   |
| Red-eye Reduction | Red-eye Reduction (100% Crop) |
| | |
Night
The TG-860 has a dedicated Night scene mode in the Scenes setting on the command dial. The advantage of using this mode is that the camera is allowed to select a longer shutter speed than when in Program mode. The latter meaning you have to select a higher ISO in order to get a balanced exposure. The camera will also assume you're resting the camera, so will choose a low ISO. Our test used a 2.5sec exposure, so hand holding the camera isn't an option.
| | |
| --- | --- |
| Night | Night (100% Crop) |
| | |