Panasonic Lumix DMC-GX7 Review
September 3, 2013
|
Mark Goldstein
|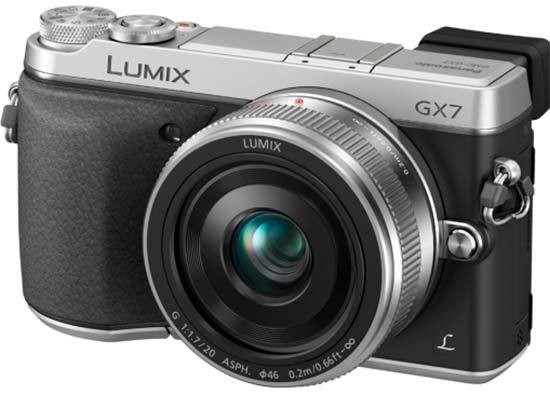 Conclusion
The Panasonic Lumix DMC-GX7 is the best Panasonic compact system camera to date, and one of the best interchangeable lens cameras that we've ever reviewed. Offering a winning combination of outstanding image quality, excellent performance, deep feature-set and great design, the new GX7 deserves to be a run-away success.
Panasonic's engineers have somehow fitted a tilting viewfinder, pop-up flash flash hotshoe and a tilting LCD screen into a still compact body that can be fitted inside a coat pocket with the right lens attached. The electronic viewfinder in particular is a revelation, rivalling a true optical viewfinder for clarity whilst offering the ability to display a plethora of information onscreen, not to mention that it can be tilted through 90 degrees to aid with composition. Together with the tilting LCD screen, it makes the GX7 a joy to shoot with whatever the lighting conditions are like.
Other standout features that make the GX7 one of the most well-appointed cameras on the market include both wi-fi and NFC connectivity, a fast shutter speed of 1/8000th, a truly silent shooting mode that will appeal to street photographers, incredible low-light focusing down to -4 EV, and in-camera image stabilisation. This last feature has surprisingly received little press, given that the GX7 is the first Panasonic CSC to feature it. Suddenly you can attach any Olympus Micro Four Thirds lens, for example, and benefit from stabilisation, something that no other Panasonic camera can offer.
The GX7 also provides the best image quality of any Panasonic CSC, including the flagship GH3, in particular moving things on in the ISO stakes. Images shot at ISO 125-1600 are clean, with a little noise appearing at 3200 and more at the still very usable setting of 6400. ISO 12800 is best reserved for resizing and smaller prints, while the top speed of 25600 is only for emergency use, but overall the GX7 offers the best still image quality of any G-series camera to date. Videographers are very well catered for too, making the GX7 a versatile camera whichever format you choose to shoot in.
If you haven't guessed already, we rather like the new Panasonic Lumix DMC-GX7! Dislikes are minimal. There's a very slight lag when switching from the LCD screen to the electronic viewfinder, it's easy to accidentally set the AF point via the touchscreen, there aren't enough sharing features in the wi-fi implementation, there's no external mic connection and battery life is merely acceptable rather than great. And sure, it's priced much higher than its predecessor at £819 / $999 body-only, but it offers so many improvements that we feel its new prosumer price-point is more than justified. In short the Panasonic Lumix DMC-GX7 is one of our favourite cameras of 2013, judging it against both its compact system and DSLR competition.
Ratings (out of 5)
Design
5
Features
5
Ease-of-use
4.5
Image quality
5
Value for money
4.5