Panasonic Lumix TZ200 Review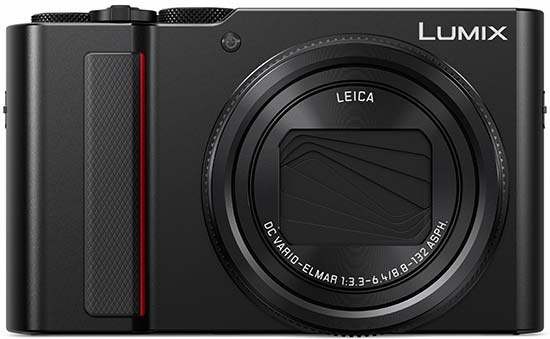 Introduction
Panasonic updates its premium superzoom compact camera (aka travel-zoom), the Lumix DMC-TZ100, with the launch of the Panasonic Lumix DC-TZ200 (also known as the Lumix ZS200). However, the TZ100 will not be phased out and the two cameras will be available simultaneously, with the newer TZ200 the slightly more expensive option.

The Lumix TZ200 is billed as the one camera you need for your travels. In fact, Panasonic puts the TZ100 and TZ200 in a class of their own, being the only superzoom compact cameras with a large 1-inch sensor. 

Alternatives include the Panasonic Lumix DC-LX15 and Sony Cyber-Shot RX100 series of cameras. These cameras share similarities with the TZ200, but feature wider apertures lenses with a more limited zoom range. 

We rather like the TZ100 which is an already solid camera. So just how much does the Panasonic TZ200 build on the TZ100? This review highlights any improvements, changes and new features of the TZ200.

We've had time shooting time with a pre-production version ahead of its launch in Mallorca and included plenty of sample pictures. Now we have used a full production version in the UK too. Let's take a look to see how we got on.

The Panasonic Lumix TZ200 retails at £729 and shipping is scheduled for 12th March 2018, available in black or silver. Those that pre-order the camera in the UK will get a free leather case with it. In the US the Panasonic DC-ZS200 costs $799 and will be available in stores on 20th March 2018.
Ease of Use
At a Glance
NEW 24 - 360 mm 15 x optical zoom lens with control ring
5-axis hybrid OIS
20.1MP 1in sensor
Burst shooting up to 10fps (single AF) and 6fps (continuous AF)
NEW 2.33-million-dot LVF with 0.53x magnification
1.24-million-dot 3in LCD touchscreen
4K video up to 30fps (with 1.5x focal length magnification)
Up to 120fps FHD video
4K Photo mode at 30fps with NEW Auto Marking feature
USB battery charging
NEW Wi-Fi and Bluetooth connectivity
NEW L Monochrome mode
NEW 3cm macro
Low Light/ Starlight AF370-shot-battery life
As you might expect from a compact camera that costs more than £700, the Panasonic Lumix TZ200 is a solid bit of kit. It has a premium feel about it, with a hard-wearing aluminum frontage.
The design is sleek too. It's similar to the TZ100, but put them side by side and the tweaks become evident. There is a good thumb grip plus a new textured strip on the front of the TZ200 body, which provides a little extra grip. It's a welcome addition because the smooth metal front of the TZ100 is quite slippery.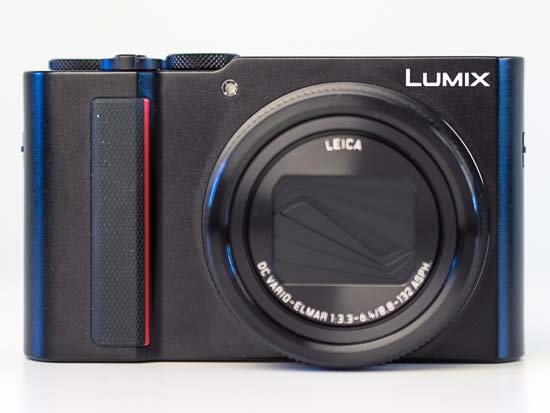 Front of the Panasonic Lumix TZ200
As a compact camera, the Lumix TZ200 will easily slip into a pocket. It's essentially the same size as the TZ100, though slightly larger in all dimensions when compared to the Lumix LX10 and Sony's RX100s.
On the camera's rear you won't find a control wheel, but there are several buttons each controlling regularly used settings such as AF mode, drive mode, plus the 4K photo mode. The buttons are small and you could say fiddly, but the same is true of any camera this size that offers so much manual control.
A large control wheel on the top handles nicely, while the lens zoom lever is positioned around the shutter button.
Really, the big point of interest here is the new lens. It's a 15x optical zoom lens made up of 13 elements in 11 groups, with a 24-360mm equivalent focal length range. That's up from the 10x zoom range of the TZ100, which features a 25-250mm lens. No other compact camera with 1in sensor comes close to the Panasonic TZ200.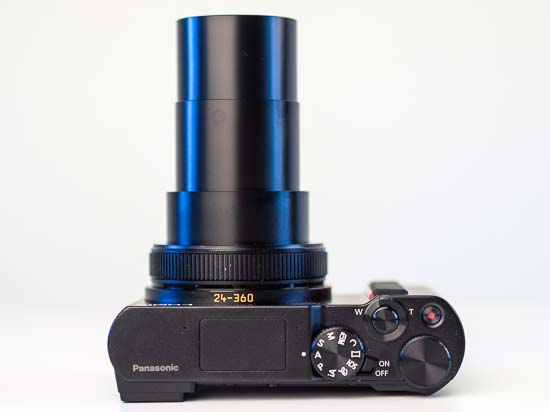 Top of the Panasonic Lumix TZ200
That wider zoom range does come at a cost - the maximum aperture is a little slower in the TZ200, being f/3.3-6.4 compared to f/2.8-5.9. The minimum aperture is f/8 at any focal length.
Truly, it's quite the feat to cram in such a long reaching zoom lens into a compact camera with 1in imaging sensor. What's more, the macro focusing has also been improved, down from a minimum of 5cm to 3cm. Again, for a camera with 1in sensor, that's impressive.
Of course the lens retracts into the body when not in use and the protrusion is not too bad. There is a control ring on the lens, through which changes to camera settings such as focus and aperture can be made. 
In order to shoot sharp images and smooth videos, a lot rides on the unchanged 5-axis hybrid Image Stabilisation (IS), especially when shooting at those extended telephoto settings. Offering a 360mm focal length is all very well, but keeping the camera steady to get sharp shots is paramount.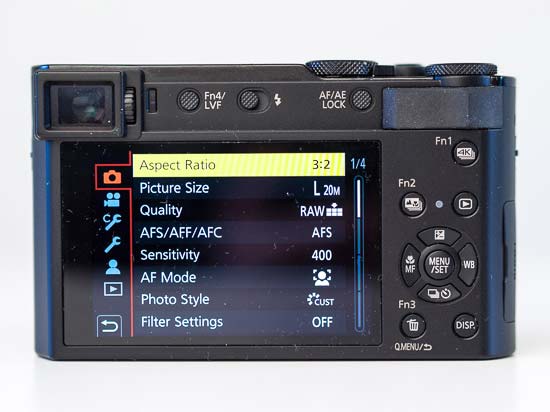 Rear of the Panasonic Lumix TZ200
From our experience, the image stabilisation is pretty darn good. It is possible to get sharp handheld shots at 360mm with a shutter speed as slow as 1/60sec. Certainly we papped away and have found it quite easy to get sharp shots from a distance.
The same goes for video. As well as ensuring the sharpest possible shots from the lens, stabilisation helps in the composition of images and video. Without stabilisation, the view is very shaky and moves about. With stabilisation activated, the correction for hand-shake makes composition and viewing significantly easier. 
We'll comment more about image quality at these telephoto lens settings later. 
Panasonic says autofocusing has been improved in the TZ200. It's a similar system to the one used in the Lumix GX9, meaning you get the same AF modes to choose from. These include Face Detection, Tracking, 49-Area (where all the 49 contrast detection AF points are in play), Custom Multi (up to 13-AF points in play), 1-Area and Pinpoint.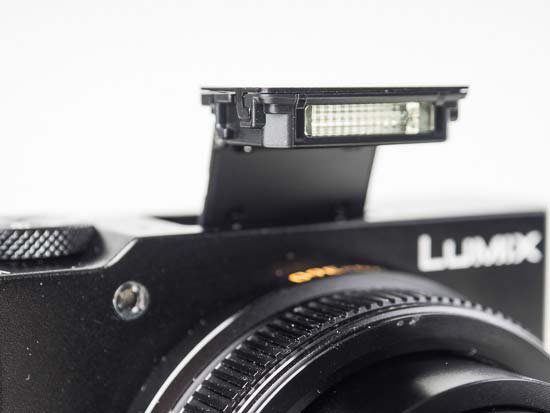 Pop-up Flash
For general shooting in high contrast light, auto focus is fast and precise. In low contrast light things get a little slower, but on the whole we found the number of total AF misses respectably low. The wide coverage of AF points means off-centre AF is not only possible but easy. 
Manual focusing handles nicely via the control ring around the lens. Focus magnification up to 20x means you can be more confident that your manual focusing is accurate. 
Images can be viewed on the 3in 1.24-million-dot touchscreen. That's a slightly higher resolution than before. Touch AF (especially Pinpoint and 1-Area) plus touch shutter work a treat. For us, Panasonic is one of the industry leaders for touchscreens - they are a pleasure to use and offer plenty of functionality, here including a menu with an additional four user-assigned FN controls. 
There is also the 2.33-million-dot LVF, which has a 0.53x magnification. That is respectable for such a small camera. Now we say 'also' because in use the natural inclination is to use that lovely touchscreen, not the viewfinder. You see, although the viewfinder is quite the step up from the TZ100, it is still very hard to see the scene through it, especially when in bright light.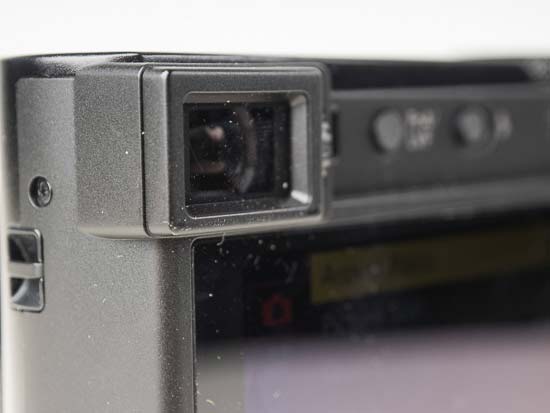 Viewfinder
We are informed that the TZ200 is the only compact camera in Panasonic's range that features Wi-Fi and Bluetooth wireless connection. You can now remotely control and share images using a smart device via the Panasonic Image App through an always-on Bluetooth connection.
We find initial connection via Bluetooth a bit hit-and-miss. If you can get past step one and get connected, then the Panasonic Imaging App runs like a dream and offers some useful features. 
Battery life has been improved, up from the 300-shots of the TZ100, to 370-shots when using the LCD screen or 350-shots using the viewfinder. That's class leading by a good margin.
The Panasonic Lumix TZ200 can be charged via USB as well. While testing the camera we have connected it to a portable 20,000mAh Power Bank, which would provide multiple full-charges of the TZ200's 1025mAh battery. We think USB charging is an undervalued feature in cameras with low capacity batteries. With a Power Bank in play, you could get weeks of use out of the camera without needing to plug it in at home.