Panasonic LUMIX G FISHEYE 8mm F3.5 Review

Introduction
The Panasonic LUMIX G FISHEYE 8mm F3.5 is a fisheye lens for the Micro Four Thirds system. Offering a diagonal angle of view of 180 degrees, the LUMIX G FISHEYE 8mm is comprised of ten lenses in nine groups, an inner focus system with a closest focusing distance of 10cm, and a stepping motor which makes the focusing action smooth and silent for use in both photo and movie recording. Seven blades give the aperture a rounded shape that produces an attractively smooth effect in out-of-focus areas when shooting at larger aperture settings, and a sheet filter such as a gelatin filter can be inserted in the rear of the lens. The Panasonic LUMIX G FISHEYE 8mm F3.5 lens is available for £729 / $799.99 in the UK and the US, respectively.
Ease of Use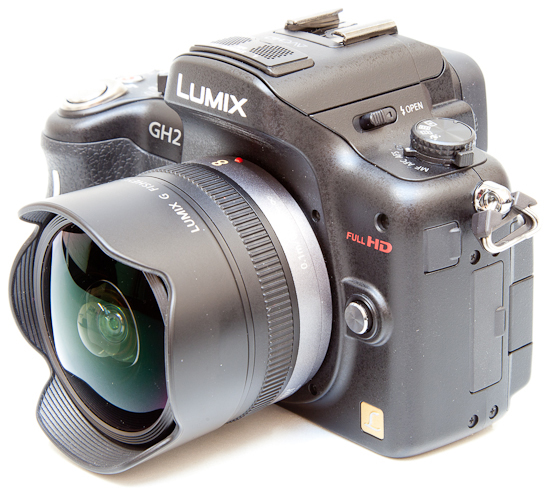 The LUMIX G FISHEYE 8mm F3.5 lens attached to a Panasonic Lumix DMC-GH2
The LUMIX G FISHEYE 8mm F3.5 is a tiny lens that easily fits in the palm of your hand, measuring just over 5cms long, and it offers a 35mm equivalent focal range of 16mm.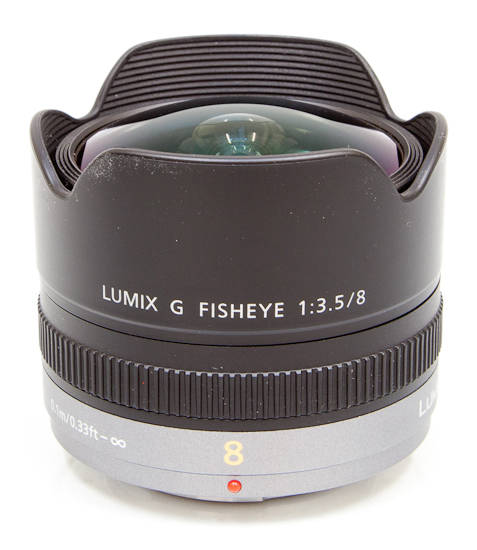 Front of the lens

It's also remarkably light at only 165 grams, and therefore well-suited for use on any Micro Four Thirds body.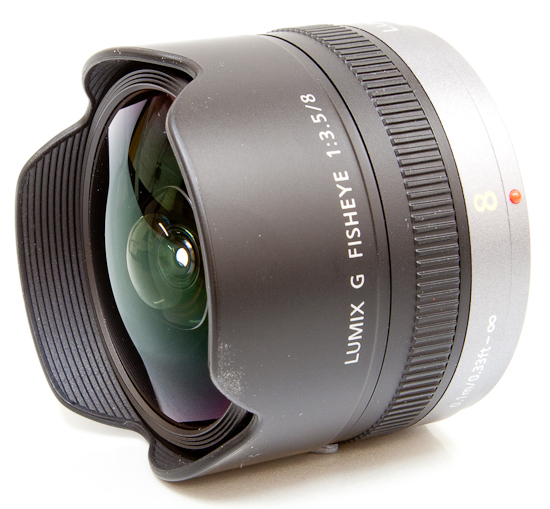 Front of lens, isometric view
In terms of features, the lens has little to offer (aside from its unique view, of course). There is no distance scale, no focus limiter and no image stabilisation, either. This is no big deal really as camera-shake is much less common at such a wide focal length.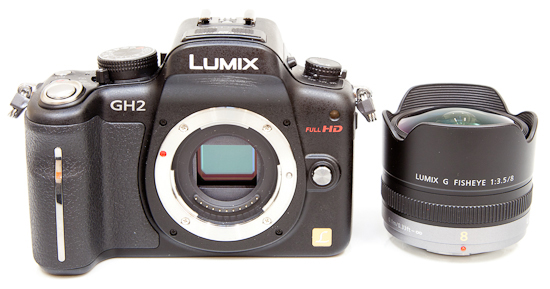 Alongside the DMC-GH2
The LUMIX G FISHEYE 8mm F3.5 lens may have a lot of plastic parts, but the lens mount is, thankfully, made of metal. Panasonic does not claim any sort of weather resistance for this lens, and indeed you cannot see a rubber seal around the mount (note that no current Micro Four Thirds camera is weather sealed anyway).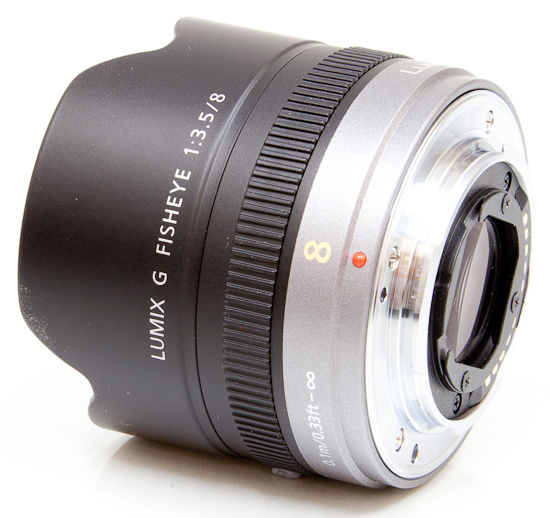 Rear of lens, isometric view
The lens comes with an integrated hood which can't be removed. You can still fit filters to this lens via the rear sheet filter holder, which accepts 22mm filters.
Focal Range
At 8mm the lens has a diagonal angle of view of 180°, equivalent to that of a 16mm lens in a 35mm system.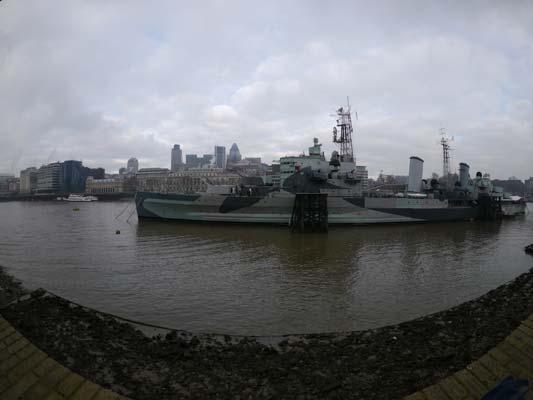 Field of view at 8mm
Focusing
The LUMIX G FISHEYE 8mm F3.5 lens offers virtually silent focusing which is internal, so the lens never changes length. In use, we have also found the system surprisingly quick on the DMC-GH2, though not quite as zippy as the GH2 and 14-140mm lens combo.
Manual focusing is possible in a focus-by-wire fashion. This should not put you off using it as it feels pretty natural in use, and actually enables the camera to display a magnified view of the subject automatically, i.e. without your having to press a dedicated button or enter the menu. The focus ring is slim but adequate for the job.
Chromatic Aberrations
Chromatic aberrations, typically seen as purple or blue fringes along contrasty edges, are not too much of a problem with this lens, as shown by the 100% crops below.
Light Fall-off
With the lens set to its maximum aperture, you can see a little light fall-off in the corners, but nothing very excessive. You will likely only notice this when photographing a subject with large homogeneous surfaces.
Macro
Although Panasonic does not call this a macro lens, it actually puts up a pretty good close-up performance, as demonstrated by the example below. The LUMIX G FISHEYE 8mm F3.5 has a closest focusing distance of 10cm / 0.33ft at all focal lengths and a maximum 0.40x magnification rating.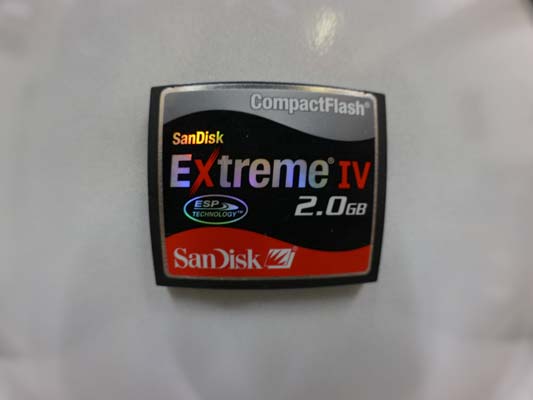 Close-up performance
Sharpness
In order to show you how sharp this lens is, we are providing 100% crops on the following page.