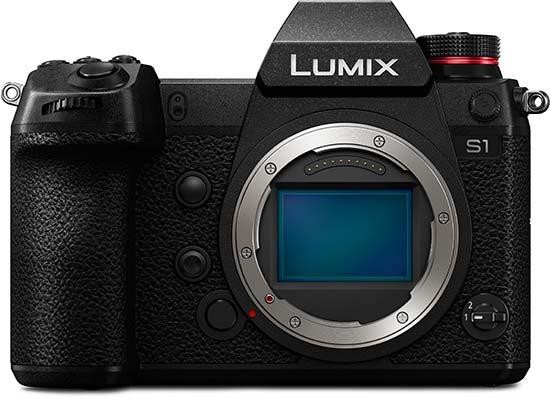 Introduction
The Panasonic S1 is a new full-frame mirrorless camera that features a 24.2 megapixel sensor, an expanded ISO range of 80-204,800, the latest Venus image processing engine, and a 5.76-million-dot OLED electronic viewfinder with magnification that can be adjusted from 0.78x to 0.74x or 0.7x.

The Lumix S1 offers 4K video recording at up to 60/50p in 4:2:0 8-bit quality directly to SD- or XQD-card or 4:2:2 8-bit through HDMI for up to 30 minutes, while 4K/30p and Full HD can be recorded without a time limit. A future firmware update will unlock the option to record 4K 60/50p 4:2:2 10-bit via HDMI-output and 30p/25p/24p in 4:2:2and add V Log.

A standout feature is the High Resolution mode, which allows the Panasonic S1 to capture 96-megapixel equivalent photos by rapidly taking 8 separate images and combining them into one. Other key features include a 6-stop Dual Image Stabilizer (when used with compatible lenses), 6fps continuous shooting with full-time auto-focusing (9fps without), auto-focusing speed of 0.08 sec down to -6EV low-light, and Eye AF mode and animal recognition driven by Artificial Intelligence Technology.

The weatherproof Panasonic S1 has a large status LCD on top of the camera for quickly checking the camera's key settings, a thumb-controlled AF joystick on the rear, a triaxial tilt 3.2-inch touchscreen LCD with 2.1-million-dot resolution, dual SD/XQD memory card slots, Bluetooth and wi-fi connectivity, and USB charging.

The Panasonic S1 is priced at £2,199.99 / $2,499.99 body only, or £2,999.99 / $3,399.99 with the Lumix S 24-105mm MACRO F4 O.I.S. kit lens.
Ease of Use
Key Specifications
24.2 megapixels, no low pass filter
96 megapixel high resolution mode
5-axis 5.5-stop in-body image stabilisation
6-stop Dual Image Stabilisation system
5.76-million-dot OLED electronic viewfinder
3.2-inch touchscreen LCD with 2.1-million-dot resolution
ISO 51200
0.08 sec autofocusing down to -6EV
Eye AF and animal recognition
6fps burst shooting with continuous AF/AE
4K 60/50p 4:2:0 in 8 Bit internally, 4:2:2 externally
(4K 60/50p 4:2:2 10 Bit via HDMI-output and 30p/25p/24p in 4:2:2 will be available later in 2019, along with V Log)
Full pixel readout at 30p
Variety of gamma curves, including Cinelike D/V, Like709 and Hybrid Log Gamma
65:24 Film Panorama and 2:1 wide panoramic aspect ratios
6K photo mode at 30fps and 4K photo mode at 60fps
400,000 frames shutter life
Bluetooth and wi-fi connectivity
1/320th second flash sync speed
Dual SD/XQD memory card slots
Weatherproof body
Size: 148.9 x 110.0 x 96.7 mm
Weight: 899g
Front of the Panasonic S1
Comprehensively featured and of tank-like build quality – including weather proof exterior - the mirrorless Panasonic S1 will be the answer to a lot of photographers' prayers, who either take their hobby or their living seriously.
But at the same time it has its work cut out in making an impact on the increasing crowded full frame compact system camera market. Especially now that Canon and Nikon have, respectively and slightly late in the day, got serious with their EOS R and 'Z' series of similarly specified and targeted full frame mirrorless models.
Until relatively recently, 'mirrorless' was shorthand for small, compact and lightweight interchangeable lens cameras. And of course, since 2009 Panasonic has largely pioneered that perception and intent.
Increasingly though, the latest generation are anything but diminutive (partly because of their adoption of full frame sensors, of course), which may win over some converts from DSLR looking for an image capture device that handles in a similar fashion, but is just slightly smaller. Several of us long term observers of the mirrorless market, will, however, be scratching our heads somewhat about where all this is going. Is increasingly bigger always increasingly better?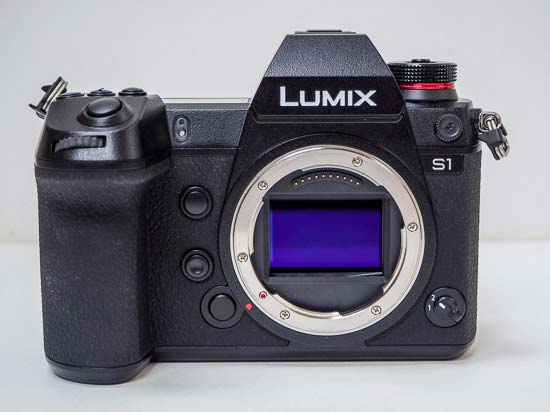 Front of the Panasonic S1
And so Panasonic enters the current full frame war with not one but two new mirrorless models, lest its foray into full frame – up until now it has been Four Thirds format chips all the way – should seem like an afterthought, or bandwagon jumping.
The S1 we're looking at here is outwardly identical to its S1R sibling in terms of design, layout and dimensions, the difference being that the S1 offers 24.2 effective megapixels from its 25.28MP full frame sensor, and is aimed at next generation photo and video creators, says its manufacturer.
The S1R meanwhile, as hinted at by its suffix, ups the resolution to a whopping 47 megapixels, intending to win over photographers looking for the ultimate in picture quality and subject definition. Arguably, that sort of resolution is only ever needed by the commercial photographer, making the more affordable 24MP S1 the option most worth considering by all the rest of us.
Sensors and resolution apart, the other main talking point here is the Panasonic 'S' series' adoption of Leica's L lens mount – something that saw it enter a collaborative partnership, known as the 'L-Mount Alliance', with both Leica and Sigma at German trade show Photokina last year.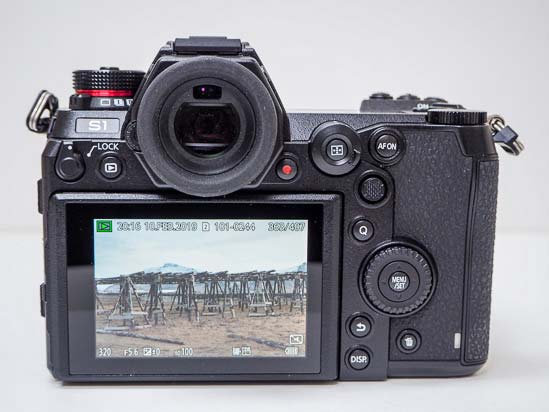 Rear of the Panasonic S1
When it comes to more tried and tested features, the Panasonic S1 is no slouch either. These include a new Venus Engine processor, 4K video at up to an impressive 60P to keep the more serious videographers happy, double card slot for both SD and XQD media to be able to cope with the demand for somewhere to store all that data, plus three axis tilting LCD – also useful as an aid to shooting video as well as more unusual compositions when you can always get an eye flush to the viewfinder.
Speaking of which, ranged directly above the LCD with a large, prominent and comfortable eye piece is a high 5.76 million dot resolution EVF, offering a quality claimed as very close to human vision. In short, it's easy to forget we're not actually using an optical viewfinder.
Added to this is the belt and braces of a dual image stabilisation system (in-body IS and lens IS) when shooting handled and in lower lighting conditions, plus dust and splash-proof body, with all seams tightly sealed against moisture ingress. Phew!
While the above specification indicates something approaching a professional tool, we only have to grip the Panasonic S1 in our palm to be further further reassured. It helps too to justify the price – around £3,000 in the UK when bundled with the 24-105mm standard zoom lens we were supplied with - that this is a veritable doorstop of a camera, whilst not being so prohibitively heavy with the lens affixed that we ended up with back or shoulder ache.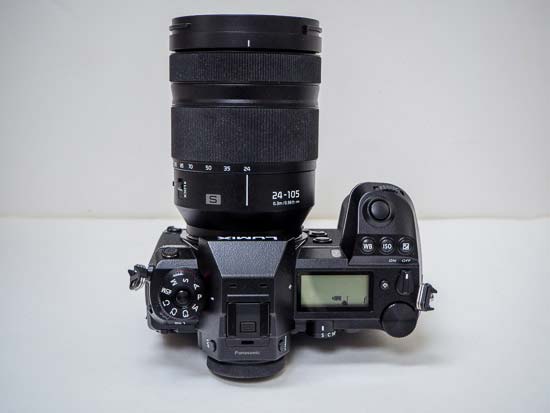 Top of the Panasonic S1
That said, if you're out shooting with the S1 and zoom over the course of, say, a day, you'll certainly feel its combined presence afterwards nonetheless. Showing its mettle, Panasonic has previously promised that a total of 10 new lenses will be available for its S system by the close of 2020, alongside whatever Leica and Sigma offer up.
Examining the camera in more detail, front-on the S1 (and its S1R doppelganger) looks quite angular and brutalist in its design, festooned with the buttons and dials you'd expect to find at this price point and for this intended skill set.
Not surprisingly, that wide L lens mount dominates proceedings at the front of the camera, along with a hand grip that, while narrower than that typically found on a semi pro DSLR, nevertheless feels just right for the S1's own shape and build, enabling the camera to be operated with just one hand, even if additionally curling the fingers of your left hand around the lens barrel feels much more comfortable and natural. This is quite a weighty and bulky camera with lens attached after all.
With the lower three fingers of your right hand curled around the S1's grip, your forefinger is free to alternate between rotating the control dial that sits slightly proud of the grip at its topper-most edge, and the slightly raised and angled shutter release button just atop it, which is responsively spring-y.
Sitting just behind these controls are three small raised buttons. From left to right, these are for manually adjusting white balance, light sensitivity and exposure settings. They sit in front of a top plate LCD window on which photographers can view their alteration of such settings in real time. The Panasonic S1's layout feels ergonomic and its operation – particularly of such key and regularly used features – well thought through.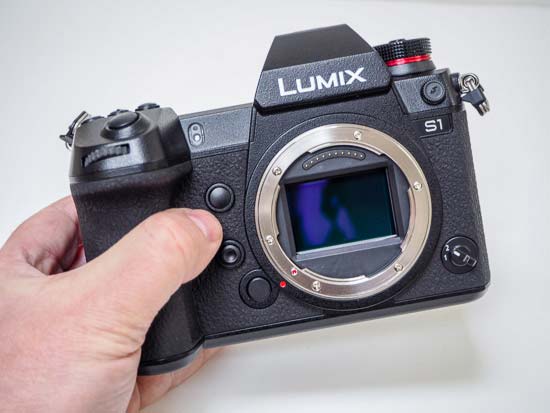 The Panasonic S1 In-hand
Indeed, with the Panasonic S1 you quickly find yourself making adjustments on the fly, with barely the need to pause and consider what you're doing. It's intuitive, in other words. The LCD also, usefully, has a very small so easily overlooked illumination button next to it, for when you're trying to adjust key settings in the dim, as we were when attempting to capture the Northern Lights recently against almost a pitch-black night.
It's easy to overlook this setting not just because of size, but because the much more important on/of switch – here more of an actual lever, sits next to it. This is quite stiff in operation – you almost have to force it – which, to give it a positive spin, means this is a camera that is almost impossible to accidentally activate or deactivate. Flick this lever to on and the camera is ready to take the first shot just as quickly as your finger can move from it to the shutter release button just in front. There's no waiting around with the S1 – it's ready when you are.
The control dial at the front of the handgrip is, incidentally, mirrored by one the size of a five pence piece that sits recessed into the top plate at the back. Here it readily (and again, ergonomically) falls under the thumb of the right hand; thereby continuing to give the impression that the layout has been well thought through, making the Panasonic S1 quickly feel familiar in a new pair of hands.
While holding down, say, the likes of the ISO button, you can once again use this alternative dial to scroll through settings that alter in real time on the LCD window in front of you. You're not left grappling around trying to find a way to adjust the essentials – the methods to do so are, literally, at your fingertips.
With a chunky, roughly ridged and raised shooting mode dial over at the left hand edge of the camera, stereo microphones and a vacant hotshoe for accessory flash slotted in between – there's no built-in pop up flash on the Panasonic S1 – via said dial it's also easy to adjust settings from intelligent Auto focus to program, shutter priority, aperture priority or manual pretty quickly.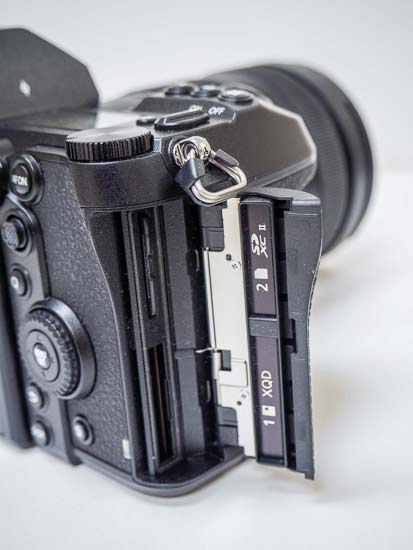 Dual Memory Card Slots
A dial-unlocking button needs to be depressed in tandem with a turn of said dial to be able to arrive at your preferred setting. On the same dial we also get a manual video mode setting and no fewer than three custom modes. Sitting just beneath we get a second dial, for selecting drive modes, which is also where you'll find the interval shooting and self timer options.
With lugs for attaching the shoulder strap provided out of the box to be found left and right of the camera, one flank provides a port protected by a sliding switch that allows for the insertion of SD and XQD card – or both – while the other provides a means of connecting a cable release, accessory microphone and headphones, plus the inevitable full-sized USB and HDMI leads. The rubberized flaps protecting these feel a little flimsier than the rest of the camera, and time will tell whether these become worn and stop adhering so flush-ly over time.
Moving to the back of the Panasonic S1, again this is button festooned without being over-bearing-ly so. The camera's LCD screen is also a touch screen, meaning that you can, if wished, drag the focus area around the screen with your finger or thumb. Alternatively, if you prefer physical controls, you can use the small thumb-operated joystick to the right of the LCD to do the same. Again… it's just so intuitive. The back of the camera is also, as expected, where we find the playback button for reviewing stills and video, as well as switching auto focus settings from single to continuous to manual focus.
This being a Panasonic camera, as on its compacts we're provided with the very useful Quick menu short cut button – located via the button marked with an enigmatic 'Q' situated top right of the LCD. Menu / set, delete, display and 'back' buttons are also to be found at the rear of the S1, along with a familiar multi-directional control pad, encircled by a scroll wheel for maximum fluidity of operation.
Menu screens are, as expected, comprehensively featured but pleasingly legible and intuitively navigated. That said it was also nice to have the Quick menu feature in order to circumnavigate them when we knew what we wanted and wanted to get to the relevant setting swiftly.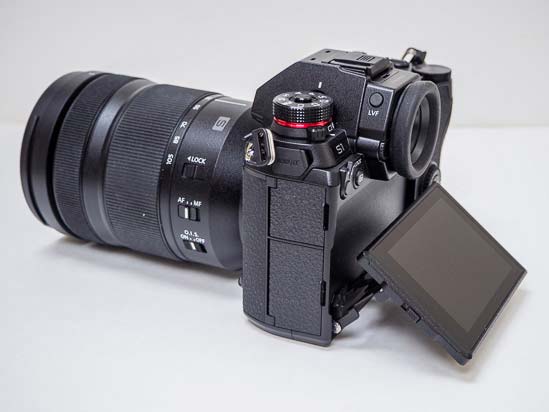 Tilting LCD Screen
Operationally, while for most part our use of the Panasonic S1 was plain sailing, there were a few niggles, including that chunkiness of build and attendant heft, for us an occasional irritant was the AF, at least in single shot mode, hunting around in busier scenes and lower lighting conditions, leading us to switch to manual focusing in order for us to achieve the accuracy of focus we wanted.
At the base of the camera we find a single screw thread, located directly in line with the central point of the lens mount, for attaching the S1 to a tripod. Also found here, nestled within the base of the S1's handgrip is the rechargeable DMW-BLJ31 lithium ion battery provided. A 'proper' charger with its own mains plug is also provided out of the box – or at least was with our fully working review sample.
Battery life is good for at least a claimed 380 to 400 shots, depending on whether you're mainly using the EVF or the rear monitor, which should last you a day's sightseeing at least (and did us), as long as you're not 'machine gunning' every subject.
So, while the Panasonic S1 seems a competent camera in most respects, are the pictures that it produces also worthy of respect? Read on to find out...