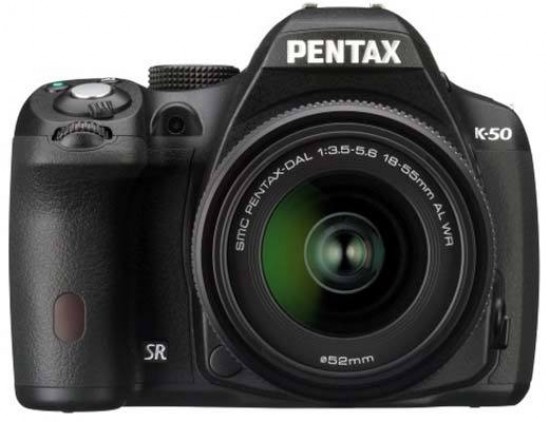 Conclusion
The Pentax K-50 is a very minor refresh of 2012's K-30 DSLR camera, additionally offering support for Eye-Fi wireless cards, an extra ISO 51200 setting, more sober styling than the "aggressive" K-30, and the option to uniquely customise the colour to one of 120 combinations. In all other respects the new K-50 is identical to the old K-30, making that camera a bargain if you can track one down. Perhaps the biggest attraction of the K-50 is its more affordable price-tag on launch, especially in the US.
So by not deviating from the K-30 in any great way, Pentax have delivered another excellent DSLR camera that delivers a lot of features and performance without breaking the bank. We've always had a soft spot for Pentax DSLRs and the new K-50 is no different. This is an appealingly well-specified, intuitive, weatherproof and customisable DSLR with few real drawbacks. The combination of near 100% viewfinder coverage and the large, high-res LCD screen make the K-50 a joy to use in terms of image composition, and the fast 6fps continuous shooting rate and responsive AF system make it quick to use.
The only real negative points in terms of handling are the rather slow contrast AF system which detracts from using the Live View mode, while shooting video is still a rather cumbersome affair that suffers from the lack of a one-touch record button, a socket for an external mic, an HDMI port for easy connection to your HDTV, and continuous AF during recording. Compared to a cutting-edge DSLR like the Canon EOS 70D or the new breed of compact system cameras, Pentax's Live View and movie recording systems are beginning to feel a little antiquated.
The K-50's still image quality remains excellent though, producing noise-free images all the way from from ISO 100-1600. Noise starts to become apparent at ISO 3200, with a little more noise and smearing of fine detail at the higher settings of 6400 and 12800, while 25600 is only really suitable for smaller prints and the new fastest setting of 51200 is best ignored altogether. Exposures were generally 1/3rd EV stop under-exposed, perfect for retaining detail in the highlight areas without sacrificing the shadow areas too much, and colours were accurate using the default Bright setting.
While it won't win any awards for originality, the Pentax K-50 remains an excellent stills camera that offers decent weatherproofing and handling at a price that won't break the bank, making it a great introduction to the world of DSLR cameras.
Ratings (out of 5)
Design
4
Features
4
Ease-of-use
4.5
Image quality
4.5
Value for money
4.5