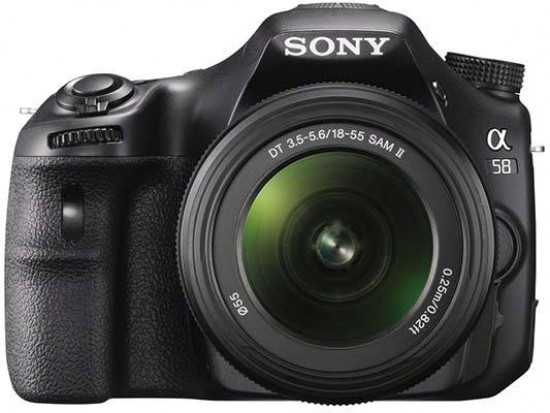 Conclusion
Effectively replacing both the cheaper A37 and the previous A57 models, the new Sony 58 brings mid-range performance and features to the entry-level market. Costing around the same price as the admittedly very capable RX100 compact camera, it's perhaps understandable that the A58 has a few downgrades compared to its more expensive predecessor, most notably a smaller, lower-resolution LCD screen, slower and more limited burst shooting, and a plastic rather than metal lens mount. Still, the new OLED viewfinder and 20 megapixel resolution and handy Lock-on Autofocus mode are improvements, which makes the much cheaper Sony A58 a real bargain.

Just like the rest of the SLT family, the Sony A58 turns conventional design on its head to provide what is in many ways a better user experience than traditional DSLRs can achieve, at a very competitive price point that Canon and Nikon must surely be worried about. The A58's excellent OLED electronic viewfinder offers enough enough resolution and real-time feedback to take on a more conventional optical viewfinder, while the translucent mirror and EVF combination provides fast auto-focus for both stills and video and 100% scene coverage, although the burst shooting mode is disappointingly slower and more limited in buffer size and file format than previous SLT cameras.

Despite the jump from 16 to 20 megapixels, image quality remains excellent. Noise doesn't rear its ugly head until ISO 3200 for JPEGs, although the A58 does apply some pretty aggressive noise reduction to keep the files clean, resulting in some loss of finer detail. The myriad range of creative effect on offer such as HDR, Dynamic Range Optimisation, creative styles, the innovative sweep panorama mode and in-camera Picture Effects help to get the most out of the A58, especially if you like to experiment away from a computer.

The new Sony A58 offers most of its predecessor's design, features and performance at an aggressive price-point, which can only be good news for us consumers. Look under the hood and you do find a few corners have been cut to keep the cost down, but all things considered, this is simply a very good interchangeable lens camera at a very attractive price. 
Ratings (out of 5)
Design
4
Features
4.5
Ease-of-use
4
Image quality
4.5
Value for money
5