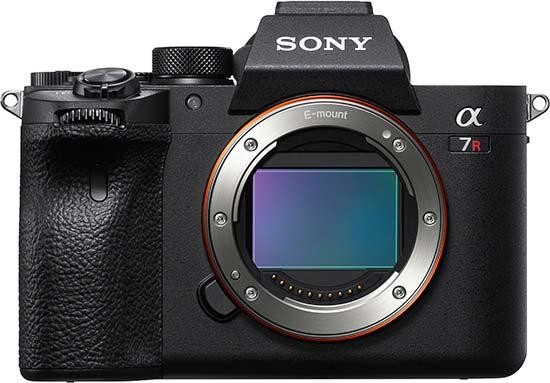 Introduction
The Sony A7R IV is a professional 35mm full-frame mirrorless camera with a brand new 61 megapixel back-illuminated CMOS image sensor.

In addition to the significant boost in resolution, the new A7R IV also features 26.2 megapixel images in APS-C crop mode, the latest-generation BIONZ X image processor, 15 stops of dynamic range at low sensitivities, ISO range of 50-102,400, 5-axis optical in-body image stabilisation system offering 5.5 stops of compensation, continuous shooting at up to 10fps with full AF/AE tracking (the same rate as the previous A7R III model), 567 focal-plane phase-detection AF points covering 74% of the image area and 425 contrast AF points, plus Real-time Eye AF for movie and stills recording.

The upgraded Pixel Shift Multi Shooting mode can combine up to 16 full-resolution images to capture 16 separate pixel-shifted images containing a total of 963.2 million pixels worth of data, which are then composited into a 240.8 million pixel image (19008 x 12672 pixels) using the Imaging Edge desktop application.

There's also a new 5.76 million dot OLED Tru-Finder electronic viewfinder, 4K movie recording including full pixel readout with no pixel binning in the Super 35mm mode, S-Log 2, S-Log 3 and HLG (Hybrid Log-Gamma) video modes, high-speed Wi-Fi support, wireless PC remote connectivity, FTP wireless transfer, data transfer and battery recharging via USB 3.2, dual UHS-II memory card slots, upgraded dust and moisture resistance, 670-shot battery life, and an improved hand-grip and buttons.

The Sony A7R IV is available now priced at around £3600 / €4000 / $3500 body-only in the UK, Europe and US respectively.
Ease of Use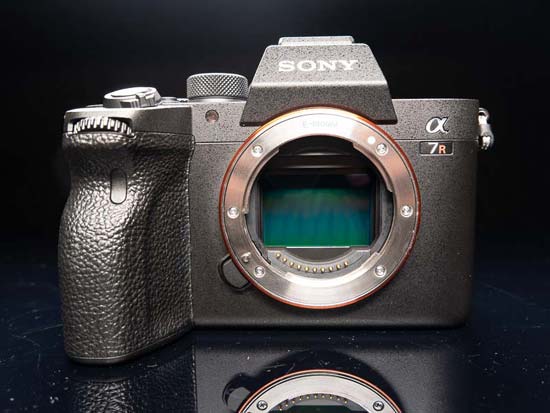 Front of the Sony A7R IV
It's probably fair to say that the A7R IV is not the new Sony Alpha camera that most fans wanted when it was announced just a couple of months ago.
Instead of the much-anticipated Sony A7S III, with its focus on video, Sony instead chose to unveil the fourth generation of their high-resolution A7R camera, ushering in a number of evolutionary changes, over 50 in total, in particular to the auto-focusing system, that make this an even more well-rounded camera than its three predecessors.
Sony have once again resisted the temptation to make too many changes to the latest generation of the A7R camera, which at first glance looks very similar to the 18-month-old A7R III.
From the front, the new A7R IV has a larger, more pronounced hand-grip than the Mark III, with marginally more space between the grip and the lens, which addresses a common complaint of Sony shooters. If you've got large hands or are wearing gloves, though, there's still not really enough space between the grip and the lens.
Despite using exactly the same battery as the previous generation camera and despite utilising a more power-hungry processor, the A7R IV ekes out the battery life by another 20 frames to an impressive 670-shots, measured according to stringent CIPA standards, with real-life usage proving to be more than good enough for a full day's shooting.
The other main physical changes have been made on the rear of the camera, where Sony have further refined the thumb-operated joystick that's used to set the AF point, making it bigger and usefully textured with small dots to make it quicker to find with your right thumb.
Accompanying this is another change in the form of an even bigger, more pronounced AF-On button, which makes it even easier than before to back-button focus using your thumb, rather than half-pressing the shutter button, a method that many photographers swear by.
On top of the A7R IV, the exposure compensation dial has usefully gained a lock button at its centre, just like the shooting mode dial, which makes it almost impossible to accidentally change when stored in a camera bag.
Strangely, Sony have designed the two lock buttons differently. The one for the shooting mode dial has to held down in order to turn the dial, whereas the new one for the exposure compensation dial is pressed down to lock it, then clicked again to release the dial.
Another change has been made to the rear command dial, which has now been relocated to the top of the camera, rather than being embedded in the rear, making it easier to locate and more tactile to use.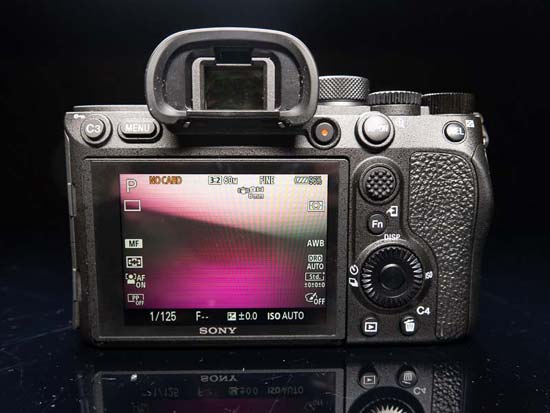 Rear of the Sony A7R IV
Weather-resistance is also said to be much improved over the previous generation, with extra seals provided at all the body seams, the battery compartment cover and media slots, although Sony still stop short of guaranteeing it to be 100% dust and moisture proof.
Look under the memory card flap and you'll find not one, but two, SD card slots, and even better, both of them now support the fastest UHS-II standard, something that was sorely missing on the previous model.
Sony have also addressed another common complaint and reversed the order of the slots, so that Slot 1 is now much more intuitively at the top and Slot 2 at the bottom. A minor change, perhaps, but one that shows that Sony really are listening to their existing customer base.
The A7R IV has a plethora of different ports and connectivity options, including a PC Sync port for studio lights, both USB-2 and USB Type-C 3.2 ports, the latter meaning that you can power and tether the camera at the same time, wireless as well as wired tethering, and faster 5Ghz wi-fi.
We'd still have liked to have seen the A9's continuous shooting/bracketing dial, which is located to the left of the viewfinder on the A9, replicated on the A7R IV, especially given its burst shooting rate.
Which brings us on to one of the major attractions of the A7R IV, its continuous shooting speed. The A7R IV offers 10fps burst shooting with full-time AF/AE tracking for up to 68 full-frame Extra Fine JPEG or Compressed RAW images and a whopping 200 frames in APS-C mode.
If you want to shoot uncompressed RAW files, the rate does fall to 6fps and the buffer to 30 frames. Although the camera's buffer is slightly smaller than on the A7R Mark III, we still feel that it's very impressive given the increased number of megapixels on offer.
If you need even more speed, the 24-megapixel Sony A9 can shoot at a blistering 20fps with full-time AF/AE tracking, but you'll have to sacrifice a whopping 37 megapixels to achieve that blazing speed.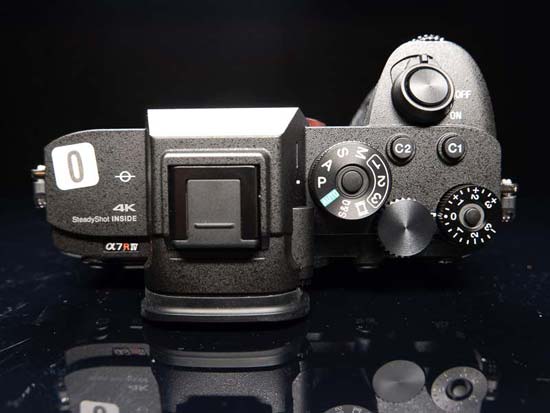 Top of the Sony A7R IV
As with its predecessor, the A7R Mark IV starts-up almost instantly and is ready for shooting in less than a second, and its general operating performance feels pleasingly snappy too.
The camera's auto-focusing system has been significantly upgraded. There are now a whopping 567 AF phase detection points, with 74% frame coverage, up from 399-points on the previous model, and in APS-C mode there are effectively 325 AF points phase detection providing 99% coverage, which should please wildlife photographers in particular.
You can turn on the APS-C mode via one press of a custom button, automatically zooming in by 1.5x, which is perfect for nature and wildlife photographers who quickly need the extra reach.
Other changes to the focusing system include the addition of real time eye AF, real time AF tracking, and animal eye AF, which have all recently made their debut on other Alpha cameras via firmware updates.
In practice these improvements practically make the AF joystick almost redundant for a lot of shooting situations, as the camera uncannily locks onto and follows the main subject around the frame, only very rarely losing track of them.
The A7R IV rarely, if ever, missed the moment because of an issue with the auto-focusing. It proved adept at both locking onto and tracking a moving subject, and excelled at portraits thanks to the dedicated Eye AF mode, which instantly recognises, locks onto and tracks a human eye in both the AF-S and AF-C focusing modes, and also for the first time, video recording too.
Note that Eye-AF is instigated by half-pressing the shutter button, rather than via a custom button as on previous A7R models. Instead simply half-pressing the shutter button whilst in the Tracking AF mode activates Eye AF automatically if it detects a face/eye, and it seamlessly switches back to non-specific subject tracking if the eye or face can't be detected, then back again when it can.
Conversely, you can use the system for easier composition of still subjects too. Simply focus on your subject, hold down the shutter button, and the camera will accurately lock onto your chosen subject while you recompose the frame, even if it's in one of the furthest corners.
The Sony A7R IV once again features 5-axis in-body image stabilization, offering the same 5.5-stops of compensation as its predecessor.
The in-body system ensures that the A7R IV can stabilize all kinds of lenses, not just those with the Sony FE designation, although third party lenses without any electronic contacts only benefit from three axes of compensation, and you need to manually input which focal length you're using.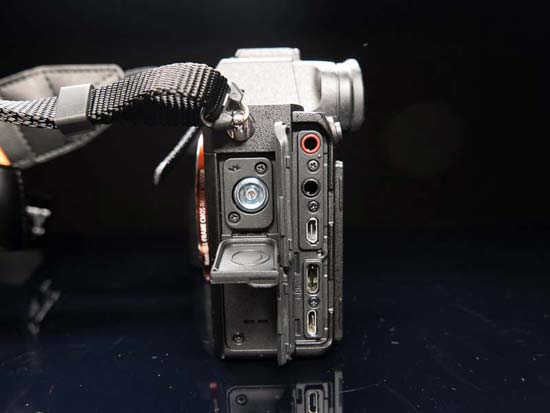 Connections
The Pixel Shift Multi Shooting mode that made its debut on the A7R IIs has been further enhanced with the addition of a new 16-shot mode.
In the 4-shot mode, it still captures four consecutive frames which are shifted up, down, left and right by one pixel each, which can then be combined into a single image using Sony's new Imaging Edge 2.0 software, resulting in a more detailed image with better tonal gradation.
In the new 16-shot mode, it captures 16 consecutive frames which are shifted up, down, left and right by 1/4 pixel each, which can then be combined into a single image using Sony's Imaging Edge 2.0 software to create a whopping 240 megapixel image, which is almost 1GB in file size!
Note that it neither mode works with moving subjects, though, and the camera needs to be perfectly still too, limiting its usefulness somewhat.
We also found the latest version of the Imaging Edge software to be pretty slow at combining the Pixel Shift images and generally rather intuitive, although version 2.0 represents a marked improvement on the original program.
The A7R IV features an even better electronic viewfinder than the A7R III did, now using a a class-leading 5.76m dot OLED viewfinder, matching the one found on the Panasonic Lumix S1 and S1R full-frame cameras. It really is a pleasure to look through and largely silences the "optical viewfinders are better" argument that some DSLR owners still make.
A subtle but very welcome change to the EVF interface is the way in which AF points are displayed. On all other Alpha cameras, they're coloured grey until changing to green when focus is achieved, which made it difficult to predict exactly where the camera was going to focus. On the A7R IV, you now have the choice of red or white points, which are much easier to see.
The LCD screen on the rear has been retained from the A7R III. It's the same 3-inch size and tilts in the same way as on the A7R III, and is again also touch sensitive, which can be used for some elements of operation, including operating the auto-focus whilst looking through the EVF.
Unfortunately Sony have once again stopped short of offering a full touchscreen experience - somewhat inexplicably, you can't use the menu system in this way, press the on-screen icons, or even scroll through images during playback, as on virtually all recent smartphones and many recent cameras. This is really an operational area that we'd like to see Sony quickly address on all future Alpha cameras.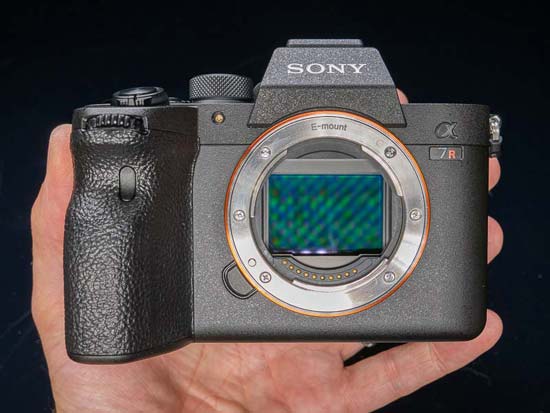 The Sony A7R IV In-hand
The Sony A7R IV can shoot and record 4K video in multiple formats, including full-frame and the Super 35mm formats across the entire width of the image sensor, although it still notably lacks 10-bit recording and 4K/60p, something that is presumably reserved for the much-anticipated A7S III camera.
It can output uncompressed UHD 4K, 3840x2160 pixel video (30p/24p/25p) at a 4:2:2 color depth without down-sampling to either the inserted memory cards or over HDMI to compatible third party recorders.
The HLG (Hybrid Log-Gamma) video mode supports an Instant HDR workflow, while both S-Log2 and S-Log3 for 14-stops of dynamic range are available for increased colour grading flexibility.
Unlike the A7R III, this new model oversamples from 6K to Super 35mm format by using a quite aggressive 1.6x crop for 24p footage and an even more aggressive 1.8x crop for 30p footage, which in practice means that you'll need to use even wider-angle lenses to achieve the same angles-of-view that the A7R III was capable of.
The A7R IV continues to support the XAVC S format, which is based on the professional XAVC codec, and can record Full HD video at 120fps at up to 100Mbps, which allows footage to be edited into 4x or 5x slow-motion files, with an S&Q mode (Slow and Quick motion) on the shooting dial providing selectable frame rates ranging from 1fps to 120fps.
Real-time touch tracking, a feature taken from the A6400, is now offered on the full-frame series of Alpha cameras, along with real-time Eye AF for movies, again for the first time on any Alpha camera.
Press the Menu button on the back of the camera and a number of shooting and set up folders appear on screen, with white text on a black background aiding visibility.
The A7R IV uses the same recently revised menu system as the A6500 and A9, which is clearer and easier to navigate than on previous A7 cameras, although still frustratingly difficult to navigate though, with no less than 41 different screens of options.
As denoted by symbols on the side of the camera, the Sony A7R IV is wi-fi and NFC capable, and it also offers location data acquisition via a Bluetooth connection to a compatible mobile device.