Sony Cyber-shot DSC-WX500 Review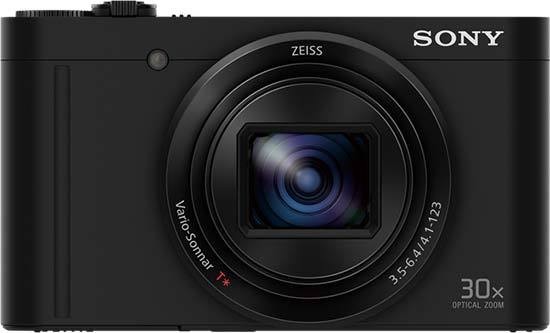 Introduction
Want a 30x optical zoom in the smallest possible package? Sony has the camera for you. The Sony Cyber-shot DSC-WX500 isn't much larger than the 20x WX350, yet it packs 30x zoom, a tiltable screen, a pop-up flash and a colossal 400-shot capacity battery. There's also a good set of features, including Wi-Fi with NFC pairing, full manual control and an advanced Superior Auto shooting mode that automatically enhances dynamic range and minimises noise. Image capture is taken care of by Sony's 18.2MP Exmor R sensor and Bionz X image processer, giving a maximum sensitivity of ISO 12800 and a 10fps continuous shooting speed. All this doesn't currently come cheap though, with the Sony Cyber-shot DSC-WX500 costing approximately £271/$328.
Ease of Use
When it comes to cameras, the title of 'world's smallest' often only means an incremental size difference compared to the competition. But Sony has good reason to shout about the WX500 being the world's smallest 30x optical zoom camera. At 101.6 x 58.1 x 35.5mm, It's noticeably smaller than rival cameras like the Canon PowerShot SX710 HS, Nikon Coolpix S9900 and Panasonic Lumix TZ70. If it weren't for the sizable lens bulge, the WX500 is barely bigger than the 20x zoom Cyber-shot WX350.
However, these petite proportions do compromise ergonomics. Where most superzoom compacts have large, grippy finger and thumb rests, the svelte Sony Cyber-shot DSC-WX500 has very little to hang on to and is worryingly easy to drop if operating it one-handed. The restricted real estate available for rear panel controls makes the buttons small and tightly packed, and you don't get a touchscreen to compensate.
The screen is hinged at the top though, making low-angle shooting a doddle, and as it'll flip up through 180 degrees to face forward, shooting a selfie is just as easy. The display itself is a 3-inch, 922k-dot LCD with excellent colour and contrast accuracy, plus decent viewing angles. Default brightness isn't particularly high and images can be difficult to see under bright sunlight, but there are five brightness levels. It'd be even better if you could switch to an electronic viewfinder such as Panasonic's TZ70 and Sony's HX90V offer, but then you'd need to pay more money.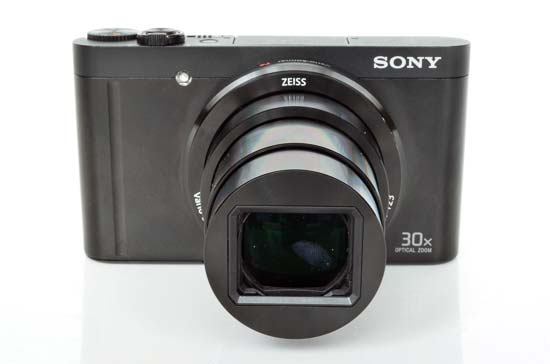 Front of the Sony Cyber-shot DSC-WX500
With its high resolution, the Sony Cyber-shot DSC-WX500's display shows off Sony's menu design well. When switching between modes you'll get some attractive graphics with a brief explanation of each mode, and the main menu design is simple but easy to read and navigate. The ordering of some settings is slightly odd though, with key options like ISO sensitivity, metering and white balance relegated to the third page of the camera settings tab.
Otherwise, operating the Sony Cyber-shot DSC-WX500 is as simple as any other typical compact camera, but there are two automatic modes to choose from. Intelligent Auto detects scenes and applies optimal shooting settings, whereas Superior Auto will use trickery like capturing multiple exposures to increase dynamic range or minimise camera shake and image noise. There's also a programmable auto mode which lets you take control of focus area, exposure compensation, ISO sensitivity, metering and white balance via the 'Fn' function button on the rear panel. Alternatively, these settings are also available in the camera's main menu.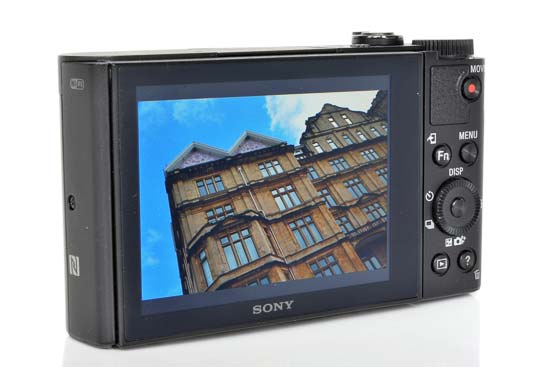 Rear of the Sony Cyber-shot DSC-WX500
As it's targeted at photography enthusiasts, the Sony Cyber-shot DSC-WX500 gets a full manual mode as well as aperture and shutter priority settings. However, as with most small-sensor compact cameras, the aperture range is quite limited, with a minimum of f/8 throughout the focal range, which isn't great for capturing long exposures. Once you've hit upon an ideal set-up for a particular scenario it can be saved using the Memory Recall feature and accessed by switching the mode dial to the 'MR' mode.
Various scene modes can be manually selected in the Scene setting, though it's unlikely you'll ever need to, given how well the camera automatically detects scene conditions in both of its full auto modes. The only scene setting you would need to manually select is the Sweep Panorama function, and this gets its own position on the mode dial.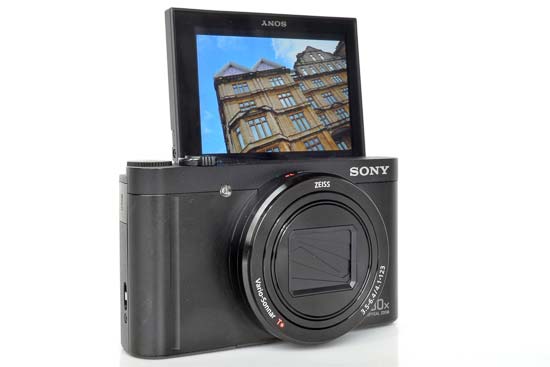 Tilting LCD Screen
The other top panel controls on the Sony Cyber-shot DSC-WX500 include a tiny power button, the flash release switch and a zoom ring encircling the shutter release. This as two speed settings, so slightly nudging the ring will gradually adjust focal length, whereas if you fully yank it round, the lens zooms fast. It's a pity Sony hasn't implemented a temporary 'zoom out' feature like Canon's Zoom Framing Assist in order to quickly zoom out and back in again, as it's all too easy to lose track of a moving subject when zoomed in to the max.
Move to the rear panel and you'll find a typical array of buttons, thought the Sony Cyber-shot DSC-WX500 does feature a control ring around the directional pad for quicker scrolling through menus and images. Pressing the D-pad upwards controls the amount of information in the display overlay, whilst pressing it left selects the drive mode. Options include single, continuous (up to 10fps), self-timer (2, 5 and 10-second delay options) and a continuous self-timer function where the camera will snap multiple images after a delay. Pressing the D-pad down will adjust exposure compensation when in program auto mode, or if you're in either of the fully automatic modes, it'll reveal brightness, colour and vividness options, plus the thirteen Picture Effect filters that'll help spice up a bland shot. Check out the image quality section of this review to see samples.
Another interesting control on the Sony Cyber-shot DSC-WX500 is labelled simply with a question mark and doubles as the delete button in playback mode. When shooting, it'll display helpful hints and tips applicable to the scene currently detected by the camera's automatic modes.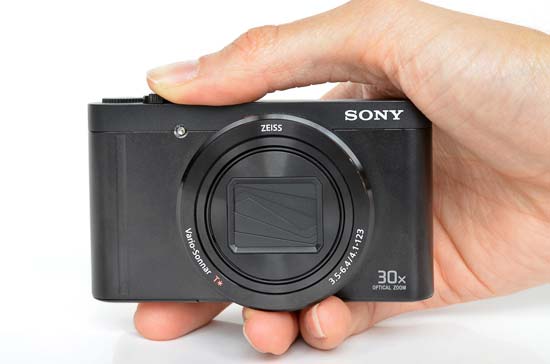 In-hand
Although it appears like the Sony Cyber-shot DSC-WX500 doesn't have a button to activate its Wi-Fi connectivity, you can send images straight to a smart device by pressing the Fn button whilst in playback mode. Alternatively, the camera's Wi-Fi hotspot is accessible via the main menu where you'll also find option for transferring to a computer, or viewing images on a smart TV. Then it's just a matter of downloading Sony's PlayMemories Mobile app for Android, iOS and Windows Mobile. NFC pairing makes connecting as easy as simply tapping an NFC-enabled smartphone against the camera. Once paired, you can browse the contents of the WX500's memory card from your smart device and a full-resolution image takes around eight seconds to transfer. Unfortunately the app won't let you remotely control the camera, but there is a way round that. The WX500 is able to download its own apps from Sony's PlayMemories camera app store. At the time of writing, only three are compatible with the WX500, but one enables remote camera control.
The Sony Cyber-shot DSC-WX500 will power on and snap a shot in a slightly lethargic 2 seconds, but it's quick to autofocus. In good light it'll focus almost instantly, and you'll get rapid focussing in low light, too. Only when using long focal lengths in low light can there be some slight focus hunting, but it's nothing serious.
Also worth a mention is the Sony Cyber-shot DSC-WX500's terrific battery life. The 1240mAh Li-ion rechargeable power pack is capable of a superb 400 shots on a single charge, giving it considerably more staying power than the Canon SX710 HS' 230-shot capacity and the 300-shot rating of the Nikon S9900 and Panasonic TZ70.